Ebonite The One Remix
Ebonite's The One bowling ball was exceptional, and the Remix boasts of being even better. The Ebonite The One Remix uses the original Centrex Asymmetric core but pairs it with a new GB formulation. The core provides an aggressive RG, differential, and mass bias while the GB 14.4 pairs well on current oil conditions by providing more reaction from the mid-lane to the breakpoint. This core and cover combination is finished with polish to offer length with a strong backend and match best with medium to heavy oil.
Color: Teal/Purple/Violet
All colors do vary somewhat from the picture shown
Coverstock: GB14.4 Solid
Core: Centrex Symmetrical Mass Bias
Finish: 500, 1000, 2000 Siaair/Crown Factory Compound
RG: 2.466 (for 15# ball)
Differential: 0.056 (for 15# ball)
Recommended Lane Condition: Medium to Heavy Oil
Reaction: Length with strong backend
Warranty: 2-Years from purchase date
A few tiny pit holes in the cover stock of the ball are normal
SKU: EBO60106817
Product ID: 14108
Brand: Ebonite
Category: Bowling Balls
Ball Performance: Upper Mid-Performance Balls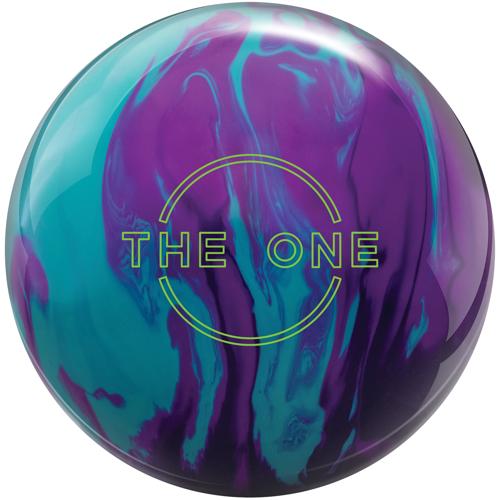 12/23/2022
By James from Maine
Pros:
strong rolling, big asymmetric solid, medium to heavy oil patterns
Cons:
light oil, burnt up house shots
Best Uses:
benchmark big asymmetric solid, medium-heavy patterns
Bottom Line:
Yes, I would recommend this to a friend
The One Remix: The ball that does it all!!
I was excited to see how The One Remix performed, especially after being such a big fan of the original The One. A lower RG ball, with a huge Diff and Int. Diff, combined with the Gb14.4 solid cover, you would think it would be an early rolling flare monster, but when I drilled it and threw it on a variety of conditions, it surprised me with how versatile it was. The One Remix features DOT technology, so you can drill it anywhere and not worry about voiding your warranty, and DynamiCore for more hitting power at the pins and increased longevity. The One Remix was drilled with a 45 x 5" x 60 layout, to stretch that transition from skid to hook to roll, while giving the ball enough length to use its massive firepower through the pins.

On a 41 ft. THS I was able to play deeper on the left side, around 17-18 at the arrows and swing to 4-5, migrating even deeper as the night went on, keeping good pin carry, even as I cut off my angles. I then used The One Remix on the 44 ft. Hardwick oil pattern, a higher volume sport shot, and that is where it really shined. I could play tighter inside around 15-16 at the arrows, keeping my breakpoint around 11-12 and still get fantastic hit and pin carry. The One Remix has a perfect blend of power and control, and even though the numbers say it should be a bigger specialty ball, it is fast becoming the first asymmetric out of my bag. If you are a serious tournament bowler, or someone looking to upgrade their arsenal, The One Remix HAS TO be in your bag. The One Remix is available now from Bowler Builders Pro Shops and pro shops everywhere!
12/22/2022
By Bob Newman from Pacifica
Bottom Line:
Yes, I would recommend this to a friend
Ebonite The One Remix
I didn't pick up this bowling ball right away as I just didn't think there would be room for it my arsenal. Then I started seeing friends post scores. Then I watched Dino Castillo throw it at the Senior Shootout in Las Vegas on three different length patterns. He scored very well on all three and I said I need to throw this myself. So glad I ordered one. For a solid it is very clean through the mid lane and then strong through the pins. It is a big engine ball so the carry on lighter hits is outstanding. It was good out of box, but I removed the polish and added 1500 surface and for me the roll was even better. Very versatile.
11/15/2022
By Dustin from Dublin, Calif
Bottom Line:
Yes, I would recommend this to a friend
Get One, The One Remix!
This ball quickly got a spot in my starting 6. Perfect Benchmark Ball that can get around the corner just when you need it most!
10/20/2022
By Eric A. from CA
Bottom Line:
Yes, I would recommend this to a friend
Right into the starting lineup
I am a tweener with above average ball speed and medium to low tilt. This ball just goes through the pins great. Ball motion is right between a sym and an asym ball. I have no other ball like it in the bag. The motion and the carry puts this ball in the starting lineup. Ball has worked great on THS and PBA patterns.
10/2/2022
By TheHopeDiamond22 from WA
Bottom Line:
Yes, I would recommend this to a friend
The ONE!!!!
For sure super pumped on this release from throwing all the Original one pieces. The Remix is sooo good. Easy length with a strong backend motion. Very responsive at breakpoint. Missed shots out get back with energy. This giving you a bigger miss area. More room=More strikes. There can be only one? Well, we remixed that pretty good. TJ whacked em with it back in the day. You'll do the same under todays conditions with no problem.
9/24/2022
By C Miller from CA
Pros:
length, strong motion, stores energy
Best Uses:
Medium to heavy oil
Bottom Line:
Yes, I would recommend this to a friend
The One Remix is the best ONE, yet!
Ebonite has done it again, The One Remix is hitting the lanes and you don't want to be the only "One" with out it!
The One Remix uses the same core design as the original, but uses the GB 14.4 coverstock for more mid-lane to breakpoint reaction.
What I see out of this beauty is a ball that easily gets down lane , starts making it's move in the middle, and with it's stored energy, coming off the pattern with a strong motion towards the pocket.

Customer Questions & Answers | Reviews
Thanks for answering another customer's question! Once approved it will be posted here.
Question:
would this ball be a nice addition to add to my polaris and polaris hybrid arsenal ?
9/2/2022 - By
army dad
Have an answer to this question?
Answer:
The One Remix would give you slightly more length than the Polaris and Polaris Hybrid but it would still work in medium to heavy oil conditions similar to the two Polaris bowling balls. I am not sure if you would need this option or if you would need more options for different lane conditions like medium to lighter conditions.

10/20/2022 - By

Bowling.Com Staff

0

of

0

customers found this answer helpful. Did you? Yes | No Did you find this answer helpful? Yes | No Thanks for your feedback!