Take $5 off your purchase of $50+ today!
Coupon excludes instant bonus items, hot deal items, and gift certificates.
Storm Electrify Pearl
Storm created the Electrify line of bowling balls to offer value performance along with control in motion. This line of balls works well for beginners to pros. The Electrify bowling balls feature the Circuit Core which uses a lower RG and medium differential to offer accuracy. The Pearl version of this ball utilizes the Reactor Pearl coverstock which offers control without too much motion at the backend on medium to light oil.
Color: Sky/Amethyst/Fuchsia
All colors do vary somewhat from the picture shown
Coverstock: Reactor Pearl Reactive
Core: Circuit Core for 14#-16# (Modified Centripetal Core for 12# & 13#)
Finish: 4K FAST (4000-grit) or Reacta Gloss
Recommended Lane Condition: Dry-Medium
RG: 2.51 (15#)
Differential: 0.030 (15#)
Fragrance: Frosted Cake
A few tiny pit holes in the cover stock of the ball are normal
SKU: STBBMTLF
Product ID: 12748
Brand: Storm
Category: Bowling Balls
Ball Performance: Mid Performance Balls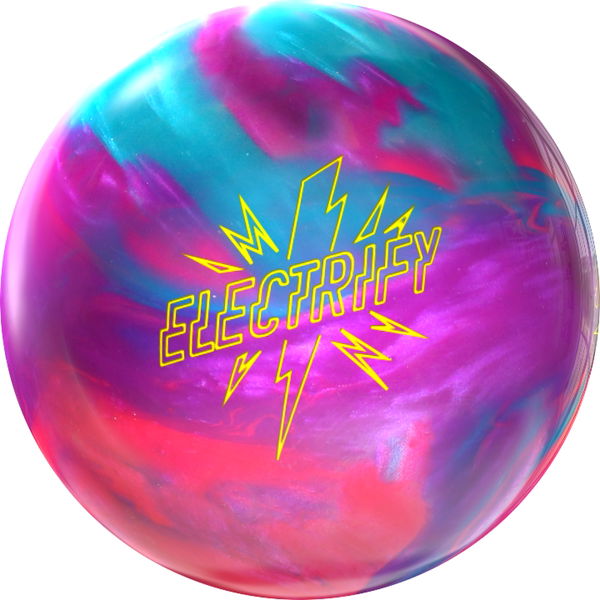 8/7/2023
By little bubba from Tennessee
Best Uses:
medium to oily lanes
Bottom Line:
Yes, I would recommend this to a friend
excellent ball roll
beautiful ball, rolls well on back end
7/26/2022
By pep from South TX
Pros:
Controllable slide, hard turns, smells great
Cons:
Reaction is very sensitive to axis rotation
Bottom Line:
Yes, I would recommend this to a friend
Mid performance my &$$
Take my review with a grain of salt (I am probably a tweener, too many unkowns and variables at play)... I bought this ball to complement my black widow assassin on dry lane days. I know layout is a big deal, but, my god, this ball is a MONSTER, it hooks like a beast, I have never hooked so much with such ease. I might have to redrill, with all my capable adjustments I am barely hitting the left pocket on dry conditions, it destroys the pocket on normal houseshot conditions. STORM should look into this, it is honestly wrongly branded, this ball just slides and breaks the heck out of those pins!
2/2/2022
By Have ball, will travel from San Antonio
Pros:
Works great on light oil, good for lower speed bowlers
Cons:
High speed bowlers, heavy oil lanes
Best Uses:
When lanes transition to dry, late in tournaments
Bottom Line:
Yes, I would recommend this to a friend
Great light oil ball
I bowled with the Electrify a few days and didn't like it's reaction, my speed is between 12 and 13.5, so I didn't use it for 2 months, one week in league play, the lanes were fairly dry for me, no matter what I did, I couldn't get my other balls to find the pocket, I figured what the heck, let's try the Electrify, OMG, this ball just kept going down lane and hitting pocket and striking, to think I was planning to sell this ball, definitely a tournament ball to have, it's my favorite now.
1/2/2022
By Dougiefresh from Longview Washington
Best Uses:
Get hook and strike ball
Bottom Line:
Yes, I would recommend this to a friend
Great ball fast shipping arrive on time
Great ball strong hook and nice all around smells goods and get lots of compliments
1/2/2022
By Tyler from PA
Pros:
Smell. hooks more on dry lanes or outside part.
Bottom Line:
Yes, I would recommend this to a friend
Very good ball for dry lanes
Best use is on dry lanes or if you want more on the dryer part on the lane. i am a two handed bowler and this ball is perfect for me. average instantly went up as i got the ball. i definitely recommend. the cake smell is very good as well. Overall a very good ball defintely would recommend to a friend.
1/1/2022
By Dj from Longview
Bottom Line:
Yes, I would recommend this to a friend
Great ball
Great ball strong hook
9/7/2021
By Caleb from MN
Cons:
Can't play in the middle
Best Uses:
Drier lanes or on the outside
Bottom Line:
Yes, I would recommend this to a friend
Really good with a higher rev rate
I'm a 2 handed bowler who got this ball to practice one handed bowling since I'm not good at it and wanted to get better for the fun of it. Honestly it hooks quite a bit for someone who can't hook a lot when I throw one handed. On the other hand when I tried throwing it 2 handed (about 520 rpm) it literally hooked half of the lane when it was a bit more dry. Definitely recommend it!
6/11/2021
By Charlie from California
Bottom Line:
Yes, I would recommend this to a friend
I LOVE THIS BALL
Im not super crazy into bowling but I'm in a league and wanted something a little better that would be able to work for me and something i can grow with. So far I absolutely love this ball it rolls so smooth and it feels very controllable. I'm excited to get to know it better and improve my game. Also a huge plus that it's cake scented, I actually didn't even see that when I bought it but now every time I bowl it puts me in such a happy mood because it smells so good! I'd definitely recommend it.
5/13/2021
By NANA from SAN ANTONIO, TX
Pros:
PREFECT BALL FOR DRY LANES
Bottom Line:
Yes, I would recommend this to a friend
PREFECT FOR DRY LANES LOVE IT HAS INCREASED MY AVERAGE
THIS BALL IS AWESOME IF DRILLED CORRECTLY FITS GOOD AND ROLLS GOOD
2/19/2021
By Peter G from Michigan
Cons:
It smell kind of goofy
Best Uses:
Dry lanes with high rev rate or low speed
Bottom Line:
Yes, I would recommend this to a friend
Yes
If the lanes are dry this thing is nice widit especially if you have a high rev rate or low speed
6/25/2020
By Kennon McFalls from Belmont, North Carolina
Best Uses:
Local Bowling Alley, Tournaments
Bottom Line:
Yes, I would recommend this to a friend
This ball is GOOD
The new Electrify Pearl is a new line that will be replacing the Match Ups. I loved many of the Match's and Match Up's so I was extremely excited for the new releases. I drilled this ball pin down because my ball roll makes the low end pearl balls over under for me sometimes. In order to try to control the down lane reaction I use stronger drillings. Out of the box, the Electrify Pearl is beautiful. The colors pop and the Cake smell is AWESOME. Within the first few shots, I knew this ball was special. It was quick off the spot and ran the 8 over. Unlike some of the low end stuff I have thrown, this ball didn't over skid in the oil. It feels comfortable in my hands. I feel that in the past I had to place, or try to split boards, with the low end balls in order to strike. With this one, I could just let it fly and trust that it would do the right thing. I think this ball will be good for a variety of players. High rev players will like this on medium to dry lane conditions and low end players can use it when the track is burned up. It will help keep the low rev players closer to the track and not force them deeper with higher rev players. Like I have said in the past, the conditions I bowl on are pretty dry. I can see myself using this ball a lot. Some balls speak for theirselves and this is sure one of them!
Customer Questions & Answers | Reviews
Thanks for answering another customer's question! Once approved it will be posted here.