Take $5 off your purchase of $50+ today!
Coupon excludes instant bonus items, hot deal items, and gift certificates.
Brunswick Quantum Evo Pearl
The Brunswick Quantum Evo line of bowling balls represents the evolution of technology through the history of Brunswick's Quantum series of bowling balls. The Quantum Evo Pearl continues with the identifiable mushroom-shaped core. The mushroom-shaped core found in this ball has been modified to include flow-through channels that allow DynamiCore2 to move into the core which helps with adhesion as well as durability and the ball's hitting power. The technological advances with this ball introduce DynamiCore2 which creates the same thick shell effect without the need for an actual thick shell allowing easier revving and more versatility. The Brunswick Quantum Evo Pearl features the QCS-24 core is the original mushroom-shaped core that has been modified to complement the Pearl coverstock. This core has a higher intermediate core value that is perfectly paired with the shiny cover of the Evo Pearl because of the higher response to friction.
Color: Royal/Ruby/Black
All colors do vary somewhat from the picture shown
Core: QCS-24
Coverstock: Evolution Pearl Reactive
Finish: 500, 1000, 1500 Siaair/Crown Factory Compound
RG: 2.511 (15#)
Differential: 0.053 (15#)
Hook Potential: High
Length: Late
Recommended Lane Condition: Heavy Oil
Reaction: Strong backend motion
A few tiny pit holes in the cover stock of the ball are normal
SKU: BRU60106652
Product ID: 13492
Brand: Brunswick
Category: Bowling Balls
Ball Performance: High-Performance Balls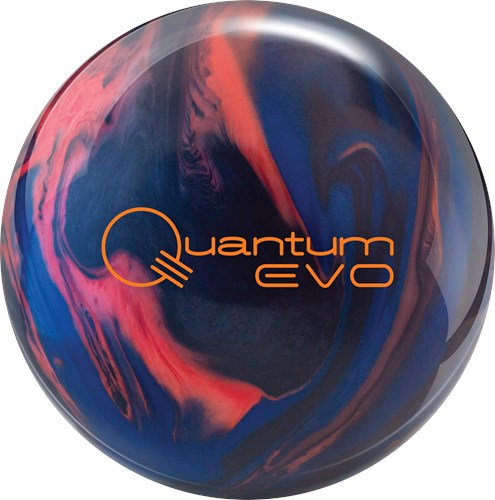 3/28/2022
By Trackstar85 from Renton, WA
Best Uses:
Medium To Heavy Oil
Bottom Line:
Yes, I would recommend this to a friend
Quantum Evo Pearl Is Amazing
Brunswick Evo Solid Now Has A New Companion To Use During Transition. As With The Brunswick Evo Solid You Will Definitely Get The Length And Back End Drive And Drive Through The Pins... When The Lanes Transition And Start To Hook You Will Take This Ball Out Of Your Bag And You Can Continue To Stay Where Your At On The Lane. You Can Keep Moving Left With This Ball And Keeping Your Target In The Middle Part Of The Lane Were The Oil Remains... This Ball Is Definitely A Great Bowling Ball For Tournaments And Even Drier Or Short Volume House Shots... This Ball Is Definitely Versatile From Multiple Angles And Rev Rates. Make Sure To Go Visit Your Local Pro Shop And Add This Ball In Addition To The Evo Solid Today!
1/27/2022
By Petro from California
Bottom Line:
Yes, I would recommend this to a friend
Evo Pearl
Brunswick chose to unveil DynamiCore2 – the next stage in outer core technology – with the Quantum Evo series. The Evo Pearl is a great 1-2 punch from the Evo Solid. When the lanes transition and there is a need for a bit more length without jeopardizing hitting power, the Evo Pearl is the way to go. The Evo Solid is a great benchmark ball for many oilier conditions. With an early pick up in the front section of the lane and a steady and controllable mid lane. This ball will not disappoint you.
1/27/2022
By C Miller from California
Pros:
length, strong motion
Bottom Line:
Yes, I would recommend this to a friend
Evo Pearl
The Quantum Evo Pearl by Brunswick is a strong asymmetric ball that will give you length and a strong motion when it sees friction.

Keeping your angles closed or open, the Evo Pearl allows for both while retaining energy, down lane.

This one is a keeper!!
1/23/2022
By TheHopeDiamond22 from WA
Bottom Line:
Yes, I would recommend this to a friend
EVO PEARL!!
The Evo Pearl is very unique. This pearl digs in the oil and is extremely strong down lane. By far the most angular ball I've had in my arsenal. The amount of hitting power is unreal. Even missed shots out still have consistent read and good continuation. Pulled in still hold and don't deflect. Pap 5 3/16 R and ¾ U. Layout is 60X5.5X20. Pin location is about 2 inches above the bridge with the mass bias in the thumb. Great compliment ball down from the Evo solid. If you are looking for angular and continuation. This is the ball you're looking for.
1/20/2022
By Gerard from Greensburg, Pa
Bottom Line:
Yes, I would recommend this to a friend
Quantum Evo Pearl
This ball is a great compliment to the solid! Once I move in on the lane I'm able to open up the lane and still get the ball to go through the pins strong. This ball is very clean but still gives a strong continuous motion on the back. I have ran into some issues where pearls tend to push too far down lane before picking up. This ball is still clean through the fronts but picks up early enough to still recover on the backend. This is a solid piece to add to anyone's arsenal!
1/18/2022
By cng260 from Greenville SC
Bottom Line:
Yes, I would recommend this to a friend
The Evolution of Backend
BALL SPECS

Ball Weight: 15 lbs



DRILL PATTERN


Ball: 110 x 3.5 x 35

X Hole (if there is one): none



BOWLER STYLE


Rev Rate: 375 rpms


Ball Speed:17.5 mph off hand



PAP/Track: 4 5/8 over 3/4 up



SURFACE PREP


Grit: 500 Siaair with Compound



BALL REACTION


Length:

Back End: Angular



COMMENTS


The Quantum Evo Pearl is a very strong revving pearl for moderate lane conditions. I tend to use this one after the stronger midlane reading balls start to hook too early. The pin carry of Evo Pearl tends to be very good and it works very well on our house shot. This Quantum should be a great ball for those with faster speeds or lower rev rates. This one clears the front part of the lane but stands up very quickly down the lane and goes left quickly. If you are looking for a pearl ball that will hit the friction and come back strong, the Quantum Evo Pearl is for you.
1/4/2022
By Clancy from Arizona
Bottom Line:
Yes, I would recommend this to a friend
EVO Pearl
The Brunswick EVO Pearl is a big hooking Pearl that isn't afraid of oil. This ball is the first pearl ball I have thrown that hooks in the center of the lane on normal house conditions. I like this balls recovery when I trow it to the dry and I like its hit when I miss in the puddle. Don't miss out on this one if you are looking for a new pearl.
12/1/2021
By Marissa Allison from Toledo, Ohio
Bottom Line:
Yes, I would recommend this to a friend
Evo!
This is definitely a stronger pearl for me. I find myself starting on a normal house shot in league about 5 boards further left than normal. It wants to pick up earlier than I am used to for a pearl but it stores its energy and hits very hard! I love the motion this ball has!! You can get in really deep with the Evo pearl and not worry about it dying on the back end or losing its energy one bit. By far my favorite Brunswick piece.
11/24/2021
By Bre from Bowie,MD
Pros:
Hits The Pins Well, Good Length
Bottom Line:
Yes, I would recommend this to a friend
Best Ball In My Bag!
Best ball in my bag right now! Anywhere I go, this ball comes with me. It's super versatile. It can dig through oil with a slight surface adjustment and does well on transition with length and backend.

And let's not forget...DYNAMICORE 2! Pins need to watch out when this ball goes down the lane.
11/8/2021
By Ian L from nyc
Bottom Line:
Yes, I would recommend this to a friend
great ball
Very impressed with this ball. Super clean through the front part of the lane with strong yet controlled backend motion. It handles the midlane extremely well other pearls tend to hydroplane in the oil. Comparing this to the Evo solid, i would say its a good 3 feet longer and 5 to 6 boards more backend.
10/31/2021
By jneral300 from Vienna, VA
Pros:
Strong Pearl with Great Hitting Power
Best Uses:
Great go-to-ball after the Quantum EVO Solid
Bottom Line:
Yes, I would recommend this to a friend
This Quantum EVO Pearl is Much Better
The Quantum name has been associated with Brunswick for decades. However, the new Quantum EVO Pearl is an entirely different bowling ball.

With Dynamicore 2.0 and a new core design, the Quantum EVO Pearl will give you more shape, more versatility, and faster response on the backend.

With my lower rev rate and ball speed, I sometimes have trouble with pearl equipment because the ball always seems to burn up its energy before hitting the pins. However, with the Quantum EVO Pearl, I can stay in the same part of the lane or square up and still stay in my comfort zone on the lane.

Whenever possible, I will switch balls as my second move after making a 1-2 board adjustment. I would rather see the same shape with a different ball than move to a completely different part of the lane or create a different shape. The Quantum EVO Pearl will allow me to do that, and that's a great piece of versatility in my arsenal I've been looking for because I haven't always been able to use a pearl piece that I like as much as this new Quantum EVO Pearl.

10/29/2021
By Bob N from Pacifica
Bottom Line:
Yes, I would recommend this to a friend
Brunswick Quantum Evo Pearl
Brunswick has given the people what they wanted with the new Quantum Evo Pearl. This is a shiny ball that reads in the oil, has a very big strong shape down lane yet still has the characteristics that Pearl cover-stocks are known for. It has easy length and very good hitting power. I expect to see allot of honor scores come from this ball.
10/21/2021
By Scott Crawford from Allen, TX
Pros:
length, backend, carry
Best Uses:
medium oil, house shots, transitioned sport
Bottom Line:
Yes, I would recommend this to a friend
Great length and backend shape
Really liking the new Quantum EVO Pearl. This ball is nice and clean through the fronts and has a lot left for some big backend motion. Carry looks a lot like you'd expect from a Quantum, really good. Even though it's not a 2-piece ball it still hits hard with the new Dynamicore2 in it. Like that it actually has a modified core compared to the EVO solid giving it even bigger ASYM numbers and DOT tops it off for any drill option you like. I went 60 x 4 x 39 and I'm pretty impressed so far with it. Going back a bit I compare it to my Prism Hybrid but a little cleaner and a little more flip.


Customer Questions & Answers | Reviews
Thanks for answering another customer's question! Once approved it will be posted here.
Question:
13pound ball hits react the same as heavy balls??
1/2/2022 - By
Marty
Have an answer to this question?
Answer:
A 13lb ball will not drive through the pins the same as a heavier ball so it is good to get more entry angle with a lighter ball to help the ball drive through the pins better. This ball will have a very sharp backend hook so it will have a very strong entry angle.

1/11/2022 - By

Bowling.Com Staff

0

of

0

customers found this answer helpful. Did you? Yes | No Did you find this answer helpful? Yes | No Thanks for your feedback!
Question:
What 14lb ball weights do you have in quantum Evo Pearl? Im looking for 14.10 thru 14.7lbs
9/10/2022 - By
Jame
Have an answer to this question?