Take $5 off your purchase of $50+ today!
Coupon excludes instant bonus items, hot deal items, and gift certificates.
Brunswick Uppercut
The Brunswick Uppercut uses the same successful core and base coverstock as the Melee Jab balls. The updated version of the Savvy Hook 3.0 spotlights Brunswick's textured pearl to offer more traction for added mid-lane reaction and continuation. The finish on this ball gives easy length and great backend. You have already hit the competition with the Jab so follow-up with the Uppercut!
Color: Black/Gold Sparkle
All colors do vary somewhat from the picture shown
Core: Melee Low RG Symmetric Core (14-16#)
Coverstock: Savvy Hook 3.0 Pearl Reactive
Finish: 500, 1000 Siaair/Crown Factory Compound
RG: 2.487 (for 15# ball)
Diff: 0.050 (for 15# ball)
Recommended Lane Condition: Medium Oil
Hook Potential: High
Length: Late
A few tiny pit holes in the cover stock of the ball are normal
SKU: BRU60106224
Product ID: 12461
Brand: Brunswick
Category: Bowling Balls
Ball Performance: Upper Mid-Performance Balls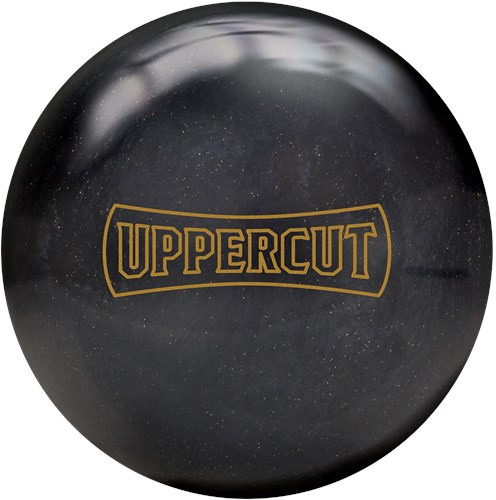 10/10/2020
By Michelle from Bend, OR
Bottom Line:
Yes, I would recommend this to a friend
AWESOME!
This has become my favorite ball EVER! It is the first one out of my bag, extremely versatile and hits like a truck! Not only am I able to start with it, but I can switch to it during game 3, 4, etc. You will not be disappointed with this purchase. Don't wait any longer!
3/27/2020
By Antonio from Los Angeles
Pros:
Clean Through the fronts, Versatile
Best Uses:
Great when lanes begin to breakdown
Bottom Line:
Yes, I would recommend this to a friend
It Is Really That Good
Sometimes you come across a ball that just fits perfectly with your game. That is the Brunswick Uppercut.
I generally struggle to generate consistent down lane motion symmetrical core, pearl cover balls, but the uppercut works perfectly for my game.
Also doesn't hurt that it looks amazing!
3/25/2020
By Sal B. from California
Bottom Line:
Yes, I would recommend this to a friend
This ball is AMAZING!!!!!
I love this ball. The Brunswick Upper cut with Dynamicore I feel already gives you an edge from extra carry on off the hitting power. This ball is very angular and very strong down lane. This ball has been very versatile on many patterns. This ball has worked best when you need something clean thorough the front part of the lane.
3/14/2020
By rvanscoyk from Kingston, NY
Bottom Line:
Yes, I would recommend this to a friend
Strong back-end!!
The Uppercut by Brunswick is a high-performance bowling ball that has good length with a strong continues mid-lane and back-end performance. The Uppercut has a hook rating and strength of 78 out of 100. This ball's coverstock is SAVVY Hook 3.0 with 500,1000 Siaair and finished with crown factory compound. This ball works best on league patterns with some oil. This ball will not disappoint on its angle to create strong hitting power to carry-out the corners. This ball compares to the Melee Jab as it has the same core and carries the same power. This ball would be a great ball during transition when you can move left and open your angle.
2/16/2020
By Russell Y. from San Francisco
Bottom Line:
Yes, I would recommend this to a friend
An awesome release from Brunswick
Have mine drilled 50 x 4 1/2 x 35 with the pin above the ring finger. Found the ball to be very smooth but has enough backend punch to carry very well. Would recommend this ball for most medium conditions. If you are looking for that benchmark type reaction, look no further than the Brunswick Uppercut. This ball really impressed and went immediately into my tournament bag. If you are dealing with tough conditions or would like a ball to use in order to read the lanes correctly, this ball is for you. Don't delay, you won't be disappointed.
2/11/2020
By Trackbowler Bob from Pacifica, CA
Bottom Line:
Yes, I would recommend this to a friend
Brunswick Uppercut
The Brunswick Uppercut uses the same core & similar cover stock as the Melee Jab Se and I am a huge fan of that ball so I was excited to see what this would do. I was not disappointed. Using a "textured" pearl cover the ball picks up much sooner than the Jab and has an overall smoother, rounder shape but still has that great finish through the pins. This is probably the biggest symmetric pearl I've thrown. When the lane breaks down you jump to the Melee Jab SE. Great combo.
2/7/2020
By Trackstar85 from Renton, WA
Bottom Line:
Yes, I would recommend this to a friend
ITS ALL IN ITS NAME UPPERCUT!
Its All In The Name Of The Ball..The Uppercut Gets A Smooth Downlane Reaction And Really Does Drive Through The Pins And Counters With An Uppercut..Definitely Good For Medium To Heavy Oil Conditions..Stay Aggressive WIth Your Hand Position With This Ball And Will Definitely Crush The Pin Deck! Been Using It On House Shot And Likes A Little Bit Of Friction But Its Amazing..Go Visit Your Local Shop Today And Get One And Make Sure To Send An Uppercut To The Head Pin!
2/1/2020
By jneral300 from Washington, DC
Bottom Line:
Yes, I would recommend this to a friend
This Ball Keeps Me Out of Trouble
I am a huge fan of the Melee Jab and so I was very excited to drill this ball and see what it could do. What I like about this ball is how it keeps me out of trouble. This ball isn't going to overreact or jump off the spot. It's a very predictable, benchmark-type ball, that rolls very cleanly through the mid-lane and continues off of the spot. There have been a few times where I have bowled on conditions that were very wet-dry or over-under, and this ball kept me out of trouble. This ball helps me manage the pocket well and when the conditions match, this ball is incredible. It's become my new benchmark ball.
1/16/2020
By cng260 from Greenville, SC
Bottom Line:
Yes, I would recommend this to a friend
Knock em Out
BALL SPECS
Pin Length: 3"
Starting Top Weight: 2.3 oz
Ball Weight: 15 lbs 3 oz
DRILL PATTERN
Ball: 55 x 4.5 x 70
X Hole (if there is one): none
BOWLER STYLE
Rev Rate: 375 rpms
Ball Speed:17.5 mph off hand
PAP/Track: 4 1/4 over 3/4 up
SURFACE PREP
Grit: 500 Compound plus polish
Type: (Matte, Polish, Sanded): Polished
LANE CONDITIONS
Lengths of patterns: 41 foot house shot
Volume: Moderate
Type: House
BALL REACTION
Length: Fairly long
Back End: Angular
Overall Hook: Moderate
Midlane Read: Late and pronounced
Breakpoint Shape: Angular
COMMENTS
Likes: Strong response to friction
Dislikes: none
The Uppercut is a strong midpriced ball most styles will love. It clears the front of the lane very well before beginning to slow down late in the midlane. This ball then stands up fast and makes a defined move toward the pocket. I find this ball to be slightly longer than the Hero and earlier than the Melee Jab SE. This one is right around the sweet spot for use on the house shot and medium patterns. I chose a smoother rolling larger angle type layout in order to allow me to close my angles a bit and get closer to the track area. I have found that this ball still makes a very big quick move at the breakpoint. The Uppercut definitely stores energy very well. It defies the stereotypes that Brunswick Balls don't move on the backend. If you are looking for a benchmark ball for medium conditions that is on the angular side of the spectrum throw a punch with the Uppercut.
1/9/2020
By Ian Lang from Nyc
Bottom Line:
Yes, I would recommend this to a friend
Great ball
For anyone that loved the Melee Jab, you're going to love the Uppercut just as much. For me the Uppercut is 3-4 boards stronger overall than the Jab and about 2 feet earlier in the midlane.  You can use these two balls as a nice 1-2 combo with the Uppercut on the fresh and finishing with the Jab when you need a little more length and backend
5/17/2020
By Joey G from South San Francisco, CA
Pros:
Not a skid flip reaction
Best Uses:
THS, medium and longer patterns
Bottom Line:
Yes, I would recommend this to a friend
Uppercut Above the Rest
I don't have a lot of games on my Uppercut, but have been impressed on the versatility of it. I can honestly say that the Uppercut is a great benchmark ball and will be easy to keep in play on medium to heavier oil patterns. The smooth, non flipping reaction keeps me out of trouble not needing to give away the pocket.
3/8/2020
By Joey G from South San Francisco, California
Pros:
Early mid lane response with smooth backend, Very versatile benchmark ball
Best Uses:
Great when you need a little help in the mids, medium to heavier oil patterns., very controllable smooth backend motion
Bottom Line:
Yes, I would recommend this to a friend
Hit Your Competition with an Upper Cut
The Brunswick Uppercut has impressed me a great deal. I like the early mid lane response and smooth predictable backend rolling motion that goes through the pins nicely. I look forward to using this piece on tricky patterns as well as league patterns.
Customer Questions & Answers | Reviews
Thanks for answering another customer's question! Once approved it will be posted here.
Question:

What ball is more aggressive on the backend the phantom or the upper cut
11/30/2020 - By
Slick watts
Have an answer to this question?
Answer:

The Uppercut will have the stronger backend hook while the Phantom will have an earlier read to have a more gradual arcing hook.

12/4/2020 - By

Bowling.Com Staff

0

of

0

customers found this answer helpful. Did you? Yes | No Did you find this answer helpful? Yes | No Thanks for your feedback!