DV8 Verge Solid
The DV8 Verge Solid upper-mid performance bowling ball is the most aggressive symmetric bowling ball offered by DV8 to date. This ball takes the Threshold core and covers it with the strong Inciter Max Traction solid reactive coverstock. The eye-catching orange and white bowling ball is finished with a 1500 Siaair pad to create a ball that has a strong overall hook and is ideal for heavy oil.
Color: Orange/White
All colors do vary somewhat from the picture shown
Core: Threshold
Coverstock: Inciter Max Traction Solid Reactive
RG: 2.476 (15# ball)
Differential: 0.049 (15# ball)
Finish: 500, 1000, 1500 Siaair Micro Pad
Recommended Lane Condition: Heavy Oil
Reaction: Strong overall hook
Hook Potential: High
Length: Middle
Manufacturer's Warranty: Two years from purchase date
A few tiny pit holes in the cover stock of the ball are normal
SKU: DV60106819
Product ID: 14140
Brand: DV8
Category: Bowling Balls
Ball Performance: Upper Mid-Performance Balls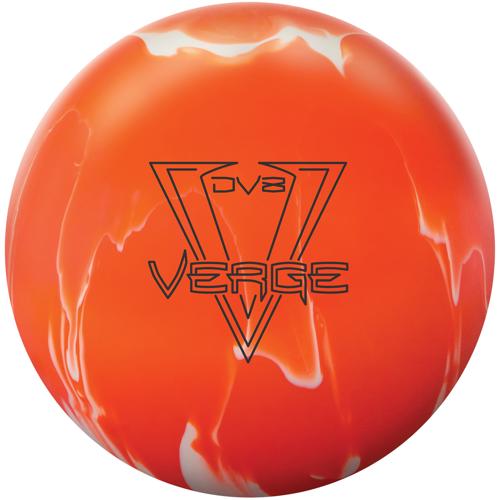 1/7/2023
By Steven A from Utica
Bottom Line:
Yes, I would recommend this to a friend
String symmetric
This ball has to be my favorite of the verges so far. It's a big symmetric ball with a pretty strong cover. I put just a basic pin up layout on it. This ball has been the first ball out of my bag since I've drilled it. It's best when I'm on fresh and need to keep my angles shut down a little which allows me to not give the pocket away. If you're looking for a strong sym ball for heavier medium to heavy oil this is the ball for you
11/19/2022
By Trackstar85 from Renton, WA
Best Uses:
Medium To Heavy Oil
Bottom Line:
Yes, I would recommend this to a friend
This Ball Is Definitely A Winner
Well First Off The Shelf Appeal On This Ball How Can You Miss It? I Mean Bright Orange Easy On The Eyes You Cant Go Wrong With This New DV8 Verge Solid.. All You Verge Line Fanatics DV8 Has Come Out With Another Winner To Compliment The Line Of Bowling Balls. This Ball Is Very Versatile For Any Rev Rate. You Can Throw This Ball From Multiple Angles And Can Strike For Days... I Have Done Quite Well From Playing Straight Up The Boards To Playing An Inside Shot Toward The Pocket. This Ball Gets Down Lane Very Smooth And Then Saves The Energy For The Back Part Of The Lane And Really Drives Through The Pocket. I Have Had Alot Of Success On Freshly Oiled House Shots And Have Thrown It At Tournaments So Make Sure To Go To Your Local Pro Shop And Order A DV8 Verge Solid Its Definitely Been One Of My Go To Bowling Balls And A Favorite Usually First Ball Out Of My Bag! #DV8 #DV8Bowling
11/4/2022
By chris from palm springs
Best Uses:
any tourney or league
Bottom Line:
Yes, I would recommend this to a friend
another verge
WOW!! strongest symmetrical bowling ball by far. you wont be disappointed with this one, especially the Verge line.
11/4/2022
By Marissa Allison from Cleveland
Bottom Line:
Yes, I would recommend this to a friend
Strong Symmetric!
Very strong symmetrical piece. This ball loves oil! Great starting ball for league. You can play straighter or even get left depending on your type of game, and still be able to hook it without losing its energy. The orange verge complements and completes (in my opinion) the entire Verge line by filling the empty spot for a strong piece in this line. It also works great on heavier oil patterns!
10/18/2022
By Sagirah Sue from Baltimore, MD
Best Uses:
For All Bowlers
Bottom Line:
Yes, I would recommend this to a friend
WOW!
Just WOW! This ball is strong! Whether the lanes are oily or dry, this ball is going to HOOK! I would prefer to start with this ball on fresh oil. The readability of the ball allows you to get it out and watch its' continuous roll right into the pocket. You have room to play straight or swing the lane. Very impressed with this ball's versatility for all ranges of bowlers. Definitely a MUST HAVE to your bag!
10/13/2022
By Tommy from Toledo ohio
Pros:
Strong, smooth, great shape, beautiful looking
Cons:
Needs oil unless you want to hook the entire lane
Best Uses:
All types of bowlers can use
Bottom Line:
Yes, I would recommend this to a friend
STRONG symmetric
This is one of the best and strongest symmetrical balls I have ever used. Super clean movement but loves to be inside where the oil is at. Has a great shape to it and going to be a great ball on heavy oil. I have only used on house shots so far but absolutely love the way it drives and carries. I recommend to any level bowler

10/10/2022
By Bryan Williams, PBA Member and DV8 Pro Staff from Plumas Lake, CA
Bottom Line:
Yes, I would recommend this to a friend
The Verge is Back and Stronger than Ever!
The new DV8 Verge Solid is one of the strongest symmetrical balls created by DV8. The new Verge Solid is designed for medium to heavy oil lane conditions. The new Verge Solid is wrapped in the proven Inciter Max Traction coverstock, combined with the super low RG Threshold Core, creating continuous ball motion as the ball moves down the lane. The new Verge Solid is finished at 1500. Like the DG Verge Solid, the surface can be altered to give a bowler a different ball reaction, for either length or earlier roll. This is by far one of the strongest symmetrical balls I have ever had in my hands. This ball fits perfectly in the Verge line. If you have had great success with any of the DV8 Verge balls, this ball will not disappoint. Remember, if you are not throwing DV8, you're just not bowling!
Customer Questions & Answers | Reviews
Thanks for answering another customer's question! Once approved it will be posted here.