Take $5 off your purchase of $50+ today!
Coupon excludes instant bonus items, hot deal items, and gift certificates.
Ebonite Game Breaker 2
Ebonite is bringing back the success of the Game Breaker with the Game Breaker 2 and it is better than ever. With the proven performance of the Game Breaker bowling ball line and it incredible value this ball is sure to be a hit. This ball takes the Enhanced V2 core and GB 10.7 coverstock and combines them to create a strong mid lane reaction. With the Game Breaker ball motion you can't lose.
Color: Black/Purple
All colors do vary somewhat from the picture shown
Reaction: Strong Mid-Lane
Coverstock: GB 10.7
Finish: 500, 2000 Abralon
Core: Enhanced V2
RG: 2.48 (15# ball)
Differential: .048 (15# ball)
A few tiny pit holes in the cover stock of the ball are normal
SKU: EBO29744103
Product ID: 8608
Brand: Ebonite
Category: Bowling Balls
Ball Performance: Mid Performance Balls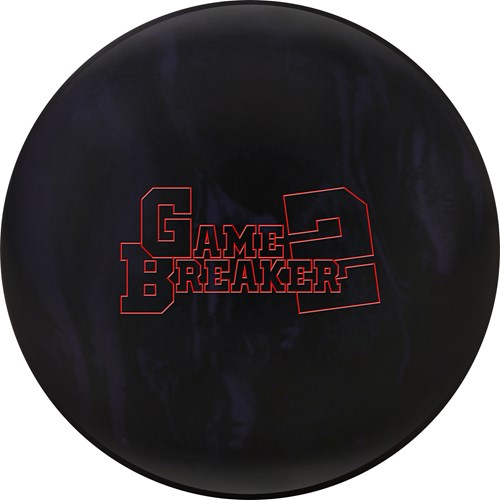 1/20/2017
By Doug Moss from dayton, ohio
Pros:
Clean and surprisingly angular for a solid cover, Gamebreaker replacement, great benchmark ball
Bottom Line:
Yes, I would recommend this to a friend
WOW FACTOR = A REMAKE THATS AS GOOD AS THE ORIGINAL
When i found out that Ebonite was re-making one of my favorite and most popular balls of all time, i was nervous and excited. Then i drilled one exactly like one of the gamebreakers i have had in hiding for a couple years and i was surprised and excited all over again. I drilled it Pin at 12oclock, with the CG kicked almost 2inches and a weight hole on my CG line 6inches over. What i saw was a ball with similiar motion to the original with MORE, i repeat MORE backend.
Where the original was a little earlier and rolled more in the mid lane, this ball goes through it clean and stores more energy for the backend. My Favorite part, was that i could play in the exact same spot as i could with the original. IF you loved the original and you havent bought this one yet, what are you waiting for? Since then, i have had 3 GB2s and all drilled differently and all to roll exactly like i was hoping. If you want one to be a bit earlier, smoother and more predictable, drill in pin down, if you want to polish one and get more backend, you can do that too. You can use this ball on everything. This ball is great. This ball made Ebonite Great Again.
11/20/2015
By Loose from Vernon Hills, IL
Bottom Line:
Yes, I would recommend this to a friend
Game Breaker 2. 'Nuff said.
The Game Breaker 2 from Ebonite is THE benchmark ball that should be in everybody's bag, this is the ball that should be the first one on the ball return before you even put your shoes on. If you're walking into a bowling alley that you've never been in and bowling on a pattern that you've never seen, one thing that should give you all the confidence in the world is the Game Breaker 2
The first Game Breaker 2 I drilled was pin over and pretty far right of the Ring Finger, CG about a half inch right of grip center with no weighthole and box finish. This layout caused the ball to roll very early and be very smooth on the backend, this motion allowed me to stay pretty far right on fresh oil and helped tame down strong backends. With my ball speed and rev rate this ball was extremely conditional and only came out of the bag on fresher tournament patterns and shots that called for very straight angles through the front part of the lane.
The second Game Breaker 2 I drilled was pin about two inches over bridge, CG in grip center with no weighthole and box finish. This layout gave me the typical benchmark motion that we're used to seeing out of the Game Breaker 2 and is usually the first ball out of my bag; if the lanes tell me I need something stronger I can switch to a Paradox and if the Game Breaker 2 is too much I can switch to the Game Breaker 2 Gold. Despite having a higher pin placement the strong core and duller surface prep (500-2000 abralon) helps this ball to grab in the midlane and give a smooth predictable motion on the backend. This ball is great on a wide variety of lane conditions and can handle everything except the extremely long or extremely short patterns.
In conclusion, this ball promises proven performance with incredible value and I couldn't agree more, the amount of hook out of a mid-performance ball cannot be matched by any other ball on the market. I would recommend this ball for all styles of bowler
10/14/2014
By Shades from Erie, Pa
Pros:
Benchmark, Performance, Versatility
Best Uses:
Medium to Heavy
Bottom Line:
Yes, I would recommend this to a friend
It's Back!
Description:
It's Back. And Better Than Ever.
Proven Performance. Incredible Value. New Enhanced V2 Core. GB 10.7 Coverstock. Game Breaker Ball Motion, Need We Say More?
Ebonite Game Breaker 2 Ball Specs:
- Core Type : Enhanced V2
- Coverstock: GB 10.7
- Color: V2 Color (Dark Navy)
- Factory Finish: 500/2000 Abralon
16 lb Game Breaker
- RG: 2.49
- RG diff: .041
- Recommended Lane Condition: Medium to Heavy
Personal
BALL SPECS
Pin Length: 3"
Starting Top Weight: 2.5 oz
Ball Weight: 16lb
DRILL PATTERN
Pin to PAP: 5" (above ring finger)
CG to PAP: 3 ¾"
X Hole: 5" over and 1" up from midline
BOWLER STYLE: RH - tweener
Rev Rate: 320
Ball Speed: 16.5
PAP/Track: PAP: 5 5/8" and 1" up
SURFACE PREP
Box Finish: Factory 500/2000 Abralon
LANE CONDITION
House Shot (several different)
COMMENTS
Everyone knows the V2 and/or Game Breaker in regards to performance - arguably the greatest "benchmark" ball of all time. The Game Breaker 2 again is my "benchmark" regardless of the pattern (my favorite of all time). This ball allows me to develop a lane play plan immediately. It will perform on most environments. (the surface will have to be modified on some patterns). It also gives me the opportunity to make the correct and fast decision on whether or not I need something different in ball motion. The RG has been slightly increased due to the updated USBC requirements with RG. The Persevere will perform extremely well in heavier volumes and even lighter volumes with a cover adjustment and a longer pin from the PAP. It also responds very well with a hand position change. This is what separates the Game Breaker from all the other "benchmark" balls. The Game Breaker responds perfectly to the bowler who can change ball speeds, axis rotations and loft zones. I haven't found another high performance ball that can match up to the Game Breaker in regards to versatility.
If you liked the previous versions (Vortex - V2 - Game Breaker) you will not be disappointed with the new Game Breaker 2. It has the same look, characteristics and ball motion. I actually think it is a tad stronger at the breakpoint than the original, which would make sense considering the higher RG. Thank you Ebonite for bringing "the benchmark" ball back to the game!
9/29/2014
By Zio300 from Woodstock, GA.
Bottom Line:
Yes, I would recommend this to a friend
What a ball!!!
This ball rolls exactly like the old Game Breaker. It's an aggressive ball with an out-of-box finish of 500, 2000. It was too aggressive for me. I put mine at 800, 3000. That tamed the backend out for me. I have mine drilled 75x 5 3/8 xV65 (V = VAL Angle). I can't believe the amount of hook this ball gets for the money.
Technical stuff about me: my rev rate and speed are med-high. My PAP is 4 3/4 right and 3/8 up. My axis tilt is 15 degrees and my axis rotation is 50 degrees. I am also on Ebonite Advisory Staff.
5/7/2019
By Antonio from Los Angeles
Pros:
Extremely reliable ball reaction
Cons:
Picks up lane shine quickly
Best Uses:
First ball out of the bag
Bottom Line:
Yes, I would recommend this to a friend
Must Have Benchmark Ball
I have been using my GB2 off and on for over 3 years now, and it still is a reliable ball that I would trust in the biggest of events. As I mentioned, the one con is how fast it develops lane shine, but as long as you put a little surface on this gem it will be good to go!
2/12/2017
By James Tucker from Milwaukee, WI
Bottom Line:
Yes, I would recommend this to a friend
Benchmark
Layout: 43x 4 3/4x55 hole 2 inches down on the VAL
This ball is great and very versatile. The GB2 gives me a predictable motion on almost every lane condition. Being a higher Rev player it allows me to play right with speed, or move inside and be softer at the release point to get the reaction I'm seeking. This ball has worked for many bowlers if its league or tournaments. Truly an asset to have.
1/10/2017
By ZachFylling from Kentucky
I've bought numerous
The Gamebreaker 2 is one of the most versatile balls I have thrown by any company. It's a great ball to use on a house pattern but it really shows its versatility on sport patterns. Short, medium, long, it doesn't matter, this ball gets thrown at some point in time during the day. On short its ability to get through the fronts and smooth back end makes it match up quite well. It is a great ball to start off with on your medium volume patterns because of its ability to have a very responsive, but predictable ball motion, and on the longer patterns it is usually a go to transition piece.
Customer Questions & Answers | Reviews
Thanks for answering another customer's question! Once approved it will be posted here.