Hammer Dark Web Hybrid
Hammer enthusiasts have embraced the Dark Web as a fantastic benchmark for its motion characteristics. Now, Hammer is thrilled to unveil the all-new Dark Web Hybrid, infused with cutting-edge HK22 technology. Widely regarded as the hottest cover technology in bowling, HK22 creates a remarkable reaction shape precisely where bowlers desire it most. The Dark Web Hybrid retains the beloved modified Spheroid core, complemented by a dense flip block that played a significant role in the popularity of the Dark Web Solid. With the inclusion of HK22 and a 2000 Siaair finish, Hammer fans can expect a more robust mid-lane presence and enhanced backend motion, delivering a phenomenal performance on the lanes.
Color: Blue/Purple/Black
All colors do vary somewhat from the picture shown
Coverstock: HK22 - Aggression Hybrid
Core: Modified Spheroid
Finish: 500, 1000, 2000 Siaair Micro Pad
Reaction: Strong mid-lane and backend
RG: 2.514 (15# ball)
Differential: 0.048 (15# ball)
Hook Potential: High
Length: Middle
Recommended Lane Condition: Medium to heavy oil
FCC Rating: Total-25.75, Finish-8.75, Core-7.25, Cover-9.75
Manufacturer's Warranty: Two years from purchase date
A few tiny pit holes in the cover stock of the ball are normal
SKU: HAM60106953
Product ID: 14497
Brand: Hammer
Category: Bowling Balls
Ball Performance: Upper Mid-Performance Balls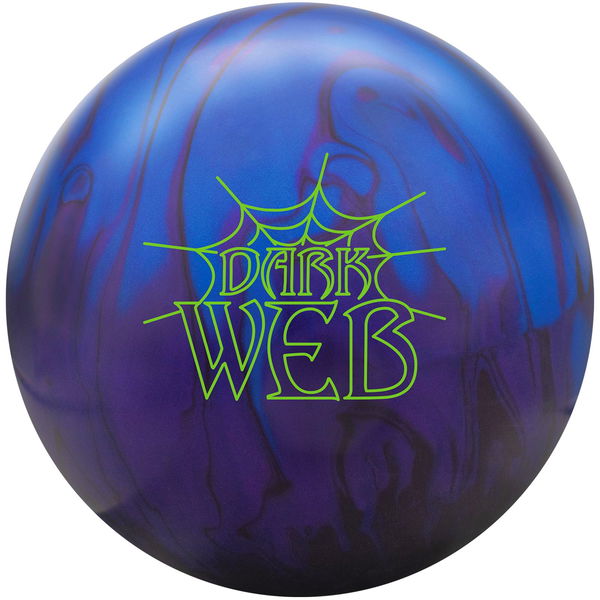 8/30/2023
By Craig Hohn from MONTANA
Bottom Line:
Yes, I would recommend this to a friend
Hammer Dark Web Hybrid
Like the original Dark Web, this ball is very forgiving and continuous in the move it makes. The aggression reactive hybrid cover, along with the HK22 cover helps push further than the original Dark Web to give you more energy on the back of the lane when you move in, for more hitting power. With an RG of 2.514 and Diff of .048, this ball will give you mid-lane motion with continuous down-lane motion. Shots pulled in the oil still recover to get the corners out and shots sent out have enough motion to get back and carry. I prefer the core of the Web series, as it is very consistent when you don't pure every shot. The ball is very forgiving on shots missed at the bottom of the swing and doesn't violently jump if you squeeze the shot, which I thought might happen more with the HK22 cover.
7/24/2023
By Joe Somd from Seattle
Bottom Line:
Yes, I would recommend this to a friend
Hybridmania
I drilled this similar to my Dark Web – but I wanted to see a more defined motion downlane. The Dark Web while controllable for me can sometimes not finish as well as others as the lane transitions. So for my Dark Web Hybrid, I went with basically the same layout as my Dark Web just shifted 1 inch over to be a little bit stronger. This ball blew me away. I wasn't expecting as much backend movement as I got with my Dark Web Hyrbid. This piece is really controllable and has a little more pop down lane than the original Dark Web. I have noticed it is a really good complement to my Game Breaker 4 Hybrid and a nice step under my Black Widow Hybrid 2.0. As league season is coming up, you should look at adding this ball to your control category of your bag. Smooth reaction and tremendous hitting power with some nice downlane pop and movement.
7/14/2023
By Bob Newman from Pacifica
Bottom Line:
Yes, I would recommend this to a friend
Hammer Dark Web Hybrid
The new Hammer Dark Web Hybrid looks to be an excellent choice for a benchmark type of ball. It picks ups the mid lane nicely without grabbing too hard and has plenty of shape going through the pins. It is smooth and controllable. Where this ball separates itself from others in the "benchmark" category, in my opinion, is you are able to stay in this ball longer. When the transition forces you left, benchmark balls tend to lose energy a little early and you start leaving pesky corner pins. The DWH has a little thing called HK22 built into the cover stock, which I believe allows the ball to keep more energy and hitting power. Let's call this one a Benchmark Plus.
7/4/2023
By Sweetpea Bowl from Worcester, Massachusetts
Bottom Line:
Yes, I would recommend this to a friend
Hammer Dark Web Hybrid
I recently drilled the brand new Hammer Dark Web Hybrid. The Dark Web Hybrid features the same core as the original Hammer Dark Web wrapped by the Aggression Hybrid cover with the HK-22 base. The color is blue/purple/black. The video was shot on leftover THS. I decided to drill one Dark Web Hybrid with a weaker pin placement. I went with 40 x 5 3/4 x 25 at box surface.(2000 Siaair) My "vitals" are a 405 rev rate with a PAP of 5 9/16 over and 1/8 up. I drilled a Melee Jab Blood Red with a 40x6x25 layout and I have tried this ball on a variety of THS, fresh and burnt.

I decided to do one Dark Web Hybrid with a weaker layout so that I could hopefully use straighter angles and stay more on top of the dry. I was NOT disappponted! The original Dark Web, even with surface taken off of it, was a pretty early and smooth ball...a good benchmark option. The new Dark Web Hybrid, to me, has more downlane motion even with the duller surface on leftover THS. This is exactly the shape I was trying to achieve with this ball. It still revs quickly and it is not the ball with the quickest response. It feels like an original Dark Web but with pop off the spot. The ball is very easy to read and shows continuation without being super angular. Again, this will be a good benchmark, symmetrical core ball option. I will try this ball with different surfaces to see what it does. Thus far, however, this ball achieves the motion/shape I wanted to see.

The Dark Web Hybrid releases officially on July 13, 2023. See your local pro shop for more information.

Customer Questions & Answers | Reviews
Thanks for answering another customer's question! Once approved it will be posted here.