Take $5 off your purchase of $50+ today!
Coupon excludes instant bonus items, hot deal items, and gift certificates.
Hammer Redemption Pearl
Redemption is a beautiful thing and even better when we are talking about a high performance Hammer bowling ball. The Hammer Redemption Pearl ball moves through the heads easily and has an angular backend reaction. With the combination of the Redmeption core and the Aggression NE Pearl coverstock this ball goes long and finishes strong. This bowling ball utilizes DOT and is Carbon Fiber Infused! DOT allows you to drill anywhere on the ball and offers toughness to the ball. Carbon fiber is one of the toughest materials on earth. Hammer decided to add this material to the outer core of this ball for added strength and durability allowing them to offer an incredible 2 year warranty.
Color: Black/Blue/Gold
All colors do vary somewhat from the picture shown
Core: Redemption with Carbon-Fiber Outer Core
Coverstock: Aggression NE Pearl
Reaction: Aggressive backend
Finish: 500 Siaair/Crown Factory Compound
RG: 2.498 (15# ball)
Differential: 0.053 (15# ball)
Recommended Lane Condition: Medium to heavy oil
Length: Late
Hook Potential: High
FCC Rating: Total- 26.5, Finish- 8.5, Core- 8.5, Cover- 9.5
Manufacturer's Warranty: 2 years from purchase date
A few tiny pit holes in the cover stock of the ball are normal
SKU: HAM60106256
Product ID: 12500
Brand: Hammer
Category: Bowling Balls
Ball Performance: High-Performance Balls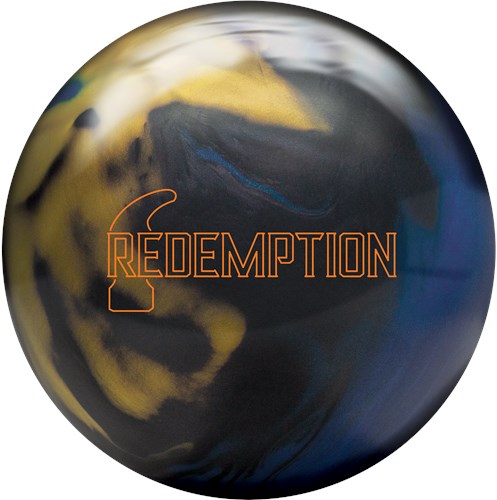 2/8/2021
By Bill from Illinois
Pros:
Rolls true and has strong impact into pocket.
Best Uses:
Medium to heavy oil
Bottom Line:
Yes, I would recommend this to a friend
Power
Drilled to go long and move into pocket with strength.
10/27/2020
By Joebowler from San Bruno, CA
Bottom Line:
Yes, I would recommend this to a friend
Skid Flip just like I like
The Redemption Pearl is an excellent 1-2 punch with the Redemption Solid. For me, this ball is a little more skid flip down lane and allows me to play angles that the solid won't. It also allows me to continue on the same line once the solid becomes overly aggressive because it has a very predictable down lane motion. I highly recommend this for any tournament bag.
8/15/2020
By Trackstar85 from Renton, WA
Bottom Line:
Yes, I would recommend this to a friend
Redemption Solid Fans Need This Ball
For Those Of You Who Loved Your Redemption Solid This Redemption Pearl Will Be A Great Compliment To The Solid...When The Solid Is Hooking A Little Too Much The Redemption Solid Will Definitely Be A Great Ball To Bring Out Of Your Bag.. You Get The Length Down-lane And Backend Drive Through The Pins.. You Can Move Left With The Pearl And Stay Tight In The Middle Part Of The Lane Where The Solid Was Just Hooking Off The Spot! This Is Definitely A Great Tournament Ball To Have And Great During Transition Or Medium To Heavier Volume Oil Patterns!
5/6/2020
By Tinkerbell from Fredericksburg VA
Bottom Line:
Yes, I would recommend this to a friend
MUST HAVE PEARL!!
I only had a few times to throw this ball before everything shutdown, but it was a treat. Clean through the fronts with continuous motion through the mids and ALL of the energy was still in the backend of the lane. The ball never quit! Quite versatile to say the least. I was able to play multiple parts of the lanes on a "typical" house shot pattern. I cant wait to get back on the lanes to throw this one.
4/24/2020
By Michael Thompson from Sarasota, FL
Pros:
Awesome colors, Big Backend Motion, Heavier Medium Lane Patterns
Best Uses:
Heavier Medium Lane Patterns
Bottom Line:
Yes, I would recommend this to a friend
Strong Pearl Ball
Excited to throw the 1st Hammer balls by Brunswick, Redemption Solid & Redemption Pearl. The Redemption Pearl is a very versatile pearlized ball that I have used on a variety of lane patterns and quite happy with the motion that I see. Very clean through the front end and offers a strong backend motion off the spot for the heavier medium lane patterns. The Redemption Pearl allows me to open up the lane when the Redemption Solid is too much or rolling too early. Great compliment for both Redemption balls. With the lack of oil where I bowl in South Florida, I have used the Redemption Pearl more often on the fresh and gives me the ability to move into the lane when the patterns break down a little bit. Very impressed with the motion that I seen with this ball for a lot of various styles of bowlers. You will be impressed with the new Hammer Redemption Pearl and will love the strong backend motion that it provides. Get yours today!
4/12/2020
By Hammerhead216 from Cleveland Ohio
Bottom Line:
Yes, I would recommend this to a friend
Redemptuon Pearl
Redemption Pearl
This pearl is perfectly aggressive! I tend to have a hit or miss with pearl surfaces out of box. This ball I had no problem with the box finish. Drilled this with putting the pin in the ring finger with a pin distance from pap about 3.25. This layout gives me a great skid flip motion that I havent seen in awhile with using this layout which shows me the pearl shell is aggressive. Ball allows you to play many different angles . If playing straighter near the track the ball still gives the cleaness through the front and explodes down lane through the pins. BUT once the lanes open up....GET LEFT AND GET AT IT! Ball will not burn up and quit after getting down lane. The Pearl AND Solid are an awsome 1 to 2 punch that you can build an arsenal around.
3/19/2020
By Joe Somd from Seattle
Bottom Line:
Yes, I would recommend this to a friend
Redemption Achieved
This is the first higher end pearl ball from Brunswick in the Hammer line. The name along with its counterpart is appropriately called The Redemption Pearl. Such an interesting piece in that its much like my Hammer Rip'd Hybrid and My Hammer Statement Pearl however, this piece seems to be a little more even rolling. It has the roll of the Rip'd Hybrid and the angularity of the Statement Pearl. Very much a keeper in the bag. I love Asymmetric pearl balls but sometimes they get a little flat downlane for me - this ball does not do any of that. Usable from game 1 to game 3 however I must say on the fresh - I liked the Solid a little bit more and then transitioned to the pearl and kept my angles open. From there, I ruled the boards with no fear of "Hook-Stop" - the ball kept coming!
Add the DOT technology and wow - drillable from any angle you wish.
Bravo and get this ball and the Solid.
3/8/2020
By Joey G from Sputh San Francisco, California
Pros:
Attractive ball with fantastic characteristics, Carbon Fiber infused for strength and durability, Extremely versatile on a variety of patterns
Best Uses:
Absolutely sexy on THS!!!!, Medium,to Heavy oil and sport patterns
Bottom Line:
Yes, I would recommend this to a friend
Redemption Pearl - An Absolute Gem
The Redemption Pearl is a benchmark ball that will see lots of play because of it's versatility. I have used it on THS, on Chameleon in a sport league where every pattern plays extremely hard, and looking forward to using it in PBA50 competition in two weeks in Oregon.
2/24/2020
By Sweetpea Bowl from Worcester, Massachusetts
Best Uses:
Benchmark ball, Medium to higher volume patterns, Variety of pattern distances
Bottom Line:
Yes, I would recommend this to a friend
Hammer Redemption Pearl
Here is my take on the new Redemption Pearl, one of the very first Hammers made under the Brunswick umbrella. The Redemption Pearl features a low RG/high diff asymmetric core (using DOT technology) wrapped by the Aggression NE Pearl cover. Factory finish is 500 Siaair finished with Crown Factory Compound. Color is Black/Blue/Gold.
My vitals are 403 rev rate with a PAP of 5 9/16 over and 1/8 up. I've tried this new Redemption Pearl at box surface and 2000 Abralon. I've used the ball on leftover Abbey Road, THS, and Route 66. The layout used was 50 x 4 1/2 x 50, no weight hole.
This ball has grown on me in a very short period across the variety of patterns. At all surfaces, even on burnt patterns, the Redemption Pearl shows excellent length and unlike other asymmetric core balls which can often spin up too quickly and lose energy, the Redemption Pearl continued through the backend efficiently. I also found the ball to be in play easily on the medium sport pattern, longer sport pattern as well as THS and was a good benchmark ball to judge the pattern. Given this level of versatility, I expect that this ball will work for a variety of styles and rev rates. Further, I believe this release will be in play on a variety of patterns both in terms of volumes and lengths, except for the extremes.
Check out the brand new Redemption Pearl from Hammer.
Customer Questions & Answers | Reviews
Thanks for answering another customer's question! Once approved it will be posted here.