We'd like to offer you $5 off your purchase of $50 or more today!
Coupon excludes instant bonus items, hot deal items, and gift certificates.
3 Reviews | Ask a Question
- Perform extremely well on both medium and oily patterns.
- Perfect combination of strength and control.
- Great traction in the mid-lane while giving the bowler plenty of hook.
Get Details & Specs
Hammer TNBA Rhodman
Hammer is honoring the legend of The National Bowling Association with the Rhodman bowling ball. Bill Rhodman was a legend in the TNBA which is why they dedicated all of the regional events in his memory by calling them "Rhodman" events. The Hammer Rhodman ball features a solid Juiced Maxx coverstock which is finished with a 2000 grit Abralon pad and is paired with the strong, symmetric Spheroid core. This combination provides strength and control as well as mid-lane traction and plenty of hook on medium to oily lane conditions. This ball is a great compliment to the original Hammer Scandal bowling ball. This bowling ball is Carbon Fiber Infused! Carbon fiber is one of the toughest materials on earth. Hammer decided to add this material to the inner core of this ball for added strength and durability allowing them to offer an incredible 3 year warranty.
Color: Black

All colors do vary somewhat from the picture shown.

Core: Spheroid
Coverstock: Juiced Maxx
Finish: 500/2000 Abralon
Hook Potential: Medium/High
Length: Medium
RG: 2.48**
Differential: 0.048**
** RG and Diff are based off of 15 lb. balls
Recommended Lane Condition: Medium to Heavy Oil
FCC Rating: Total-26.5, Finish-9, Core-8, Cover-9.5
Manufacturer's Warranty: 3 year
A few tiny pit holes in the cover stock of the ball are normal
SKU: HAMHMRHODMN
Product ID: 10494
Brand: Hammer
Category: Bowling Balls
Ball Performance: Upper Mid-Performance Balls
Extra Information:
Bill Rhodman
In 1948, Bill Rhodman secured his place in bowling history by becoming the first African-American to roll a certified 300 game in competition. Thw as just one event of many that contribute to his legendary status.
During the 1953-54 bowling season, while at the peak of his bowling game, Bill was stricken with a blood disease and was told by doctors his bowling days were over.
After a three year convalescence, Rhodman returned and embarked ona remarkable comeback, especially for the time period.
In the 1956-57 season, he carried a composite average of 207 in three leagues. He rolled a 300 game and had a series of 748 and 760 in competition.
He refused to yield from bowling until 1959, when, at a new peak in his career, he had to have both of his legs amputated. Even then, he was relentelss in his passion for the game, spending most of his time at the lanes coaching, teaching and mentoring young bowlers from his wheelchair.
In 1961, Bill Rhodman passed away at the age of 47 and remains a legend, easily being regarded as one of the greatest African-American bowlers of his era.
In 1997, nearly 50 years after the legendary 300 game, William "Bill" Rhodman was inducted in the American Bowling Congress' (now USBC's) Hall of Fame in the category of "Bowling Pioneer" for his efforts in expanding the interest in bowling within the African-American community and to youngsters. He was also an accomplished instructor, promoter and competitor.
In 1972, the TNBA Eastern Region hosted the very first "Bill Rhodman Singles Classic Tournament" at Madison Square Garden and was soon followed by all of the other regions. That legacy continues today.
Back to Top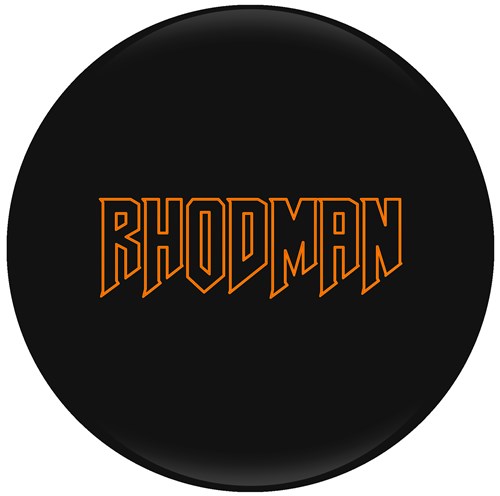 Similar Balls: Same Hook Potential, Lane Conditions & Coverstock as the Hammer TNBA Rhodman.
5/24/2017
By
PDN
from Fort Worth, Tx.
Bottom Line:
Yes, I would recommend this to a friend
Yes, I would buy again!
Ball is a beast, rolls a bit earlier and as strong as black widow legion. In league, i start with the Rhodman and bowl into the 3rd game before making a ball change. I prefer to change balls rather than move in and change my release angles. I am a high track,15-16 mph medium rev house shot bowler. This ball will not disappoint someone with a similar bowling style.

5/30/2017
By
Sweetpea Bowl
from Worcester, Massachusetts
Pros:
Early, smoooth ball motion, Heavy Oil
Cons:
not for light volume oil
Bottom Line:
Yes, I would recommend this to a friend
If you liked Bad Intentions, you'll love the Rhodman
Here is my take on the new Hammer Rhodman. The Rhodman features the same "Spheroid" core as the Bad Intentions with the "Juiced Maxx" cover. The box finish is 2000 Abralon and comes in black. Like all Hammers, the Rhodman comes with a 3 year guarantee.
I drilled my Rhodman with a 50 x 5 x 25 with a weight hole on PAP layout and have thrown it at box surface. I have tried the ball on PBA Wolf and several different house patterns. My "vitals" if you wish are a PAP of 5 9/16 over and 1/8 up with an average speed of around 17-18 mph. My rev rate is around 400.
The Rhodman has a very interesting history behind its name. The Hammer website has that interesting story.
Not surprisingly, this ball reminds me a lot of the original Bad Intentions. The ball has a very early and smooth type of ball motion to it. As such, given its aggressive cover and low RG core, the ball definitely excels on heavier volumes. I actually had very good success with the Rhodman on PBA Wolf as the ball picked up before the end of the pattern yet controlled the back part of the lane very easily. If you are on a wet/dry house shot with a heavier volume, the Rhodman may work very well to blend out any over/under reactions. In trying the Rhodman on lighter volumes, I felt it was a little too early and smooth and had better success with more angular equipment. Overall, like with the original Bad Intentions, the environment in which the Rhodman will excel is heavier volume/fresh patterns with medium to shorter length. The Rhodman will be in play for a variety of styles/rev rates when again, control on fresh is needed.
Check out at your local pro-shop the new Hammer Rhodman- available now.

6/26/2017
By
jkaseehammer
from Knoxville, TN
Bottom Line:
Yes, I would recommend this to a friend
TNBA Rhodman!
I was a massive fan of the Hammer Bad Intentions so I was very excited to drill this one. I used a 55 x 4 3/4 x 65 layout which but the pin under the bridge. This ball is very strong but the down lane reaction is very smooth and controlled. In comparison, it's not as early for me as my Scandal is and is 2 boards or so stronger than my Bad Intentions. This ball is a must have for a tournament bag!. I will try to load a video but if it won't take you can seach Average Joe Review to watch a ball reaction video.

Customer

Questions

& Answers

| Reviews