Take $5 off your purchase of $50+ today!
Coupon excludes instant bonus items, hot deal items, and gift certificates.
Innovative Personal Bowling Ball Revivor
This Personal Ball Revivor is a modified version of a professional revivor machine. This unit can hold one bowling ball at a time and extracts oil from the ball by circulating heat evenly around the ball. By drawing out the oil with heat the ball is restored back to it's original condition. This product is a safe way to maintain your bowling ball and should be used about every 25-30 games, depending on the amount of oil your ball encounters.
Extracts oil from ball, then easily removed with a cleaner and towel
Maintains the surface of the bowling ball
Warranty: 1 Year Manufacturer's Warranty
SKU: INPERSREVIVOR
Product ID: 8187
Brand: Innovative
Category: Bowling Accessories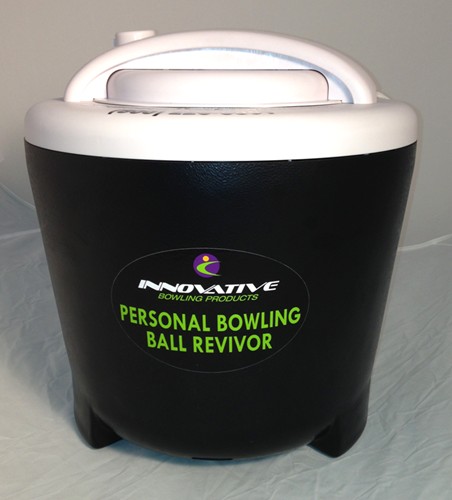 6/28/2018
By Lew from California
Bottom Line:
Yes, I would recommend this to a friend
Stands by Product
My heating element stopped working after 2 years. I contacted John Wise at the company. Without hesitiation he is sending me another one. I have tremendous respect for his decision. He wasn't required to do this, but it shows a lot of integrity both on the part of him and his company.
4/25/2017
By Bruce from Delray beach Florida
Bottom Line:
Yes, I would recommend this to a friend
Would recommend this product.
Used it twice and could not believe the oil coming out of the ball. Just follow the directions and you will be amazed at how well this product works. I bowl 3 days a week and I feel it will pay for it self.
1/12/2016
By thom b from indian land sc
Bottom Line:
Yes, I would recommend this to a friend
wow great transaction
Awesome
9/2/2015
By John from Lynchburg, VA
Pros:
Performs as advertised, Simple to use
Best Uses:
Regular Ball Maintenance
Bottom Line:
Yes, I would recommend this to a friend
Great product and an asset to the dedicated bowler
Works as advertised; provides the dedicated bowler with a tool for bowling ball maintenance; eliminates making the trek to the pro shop for the same outcome
5/12/2015
By Satisfied from PA
Pros:
Doesn't Overheat The Ball, Oil Comes To The Surface
Bottom Line:
Yes, I would recommend this to a friend
Revivor Works
Bowling balls lose reaction over time as they absorb lane oil. The Revivor was the best solution to remove the oil without potential harm to a bowling ball. This is a must-have for serious bowlers.
3/5/2015
By Jamey from Kinnelon, NJ
Pros:
Easy to use, Effective, Portable
Cons:
No OnOff Switch, No timer
Bottom Line:
Yes, I would recommend this to a friend
This product works!!!
Just bought the reviver oven to get the oil out of my bowling balls and it definitely restores the backend snap as if I just bought the ball! My 1st time bowling after extracting the oil I shot 763 and my ball was hitting like an anvil! Just follow the simple instructions and you won't be disappointed with this purchase!
4/9/2014
By Digdoug from Tucson, AZ
Pros:
Easy to use, Works as advertised
Cons:
No on and off switch, No timer
Bottom Line:
Yes, I would recommend this to a friend
Put the New Back in the Ball
This is a league bowlers answer to retoring a ball back to factory conditions. This machine will pay for itself in a very short time, considering what Pro shops charge for removing the lane oil. The only things I would change is an on/off switch so you dont have to unplug it ever time you turn the ball. The other addition I would make is a bulit in timer, I bought one and now when the bell dings I know it is ready to turn or remove. Other than those to minor items it works great and since I have had it only one week I have put 20 balls through it and loaned it out twice, not one problem.
12/20/2013
By HaOsLsE from Little Rock, AR
Pros:
Easy And Efficient Build, Nice size, Perfect Temps
Best Uses:
De-oil Any Ball With 1 Hr
Bottom Line:
Yes, I would recommend this to a friend
Great product - just as advertised
1st of all, best price on the net...and much cheaper than the competitors version.
I used this to de-oil all of my balls, my families balls, and one of my friends. 1 full cycle is 1hr...15 minutes each. I can confirm with several different balls...old and new (one was 8 yrs old and never de-oiled) that 1 full cycle is all that is needed. The 2nd time I tried it did pull a little oil...very little. Not even worth the bother of running it through again. I did not immediately run it through a 2nd time as I didnt want to damage the core of the ball by overheating it. I waited several hours after I went through every other ball. I experimented with the 2 cycle thing with 3 or 4 balls...each were the same results. 2nd run didn't really pull any oil, so I will only run it through 1 time from now on. I bowled with my ball and my family and friends did and noticed their SNAP was back and the balls rolling strong again.
There are breather slits or something at the bottom...I was able to put a meat thermometer through there and could touch my ball. I let it sit there and for several minutes noticed it sat right around 130-135 constantly. Even after several balls ran, in use for hours...the machine worked flawlessly and within the desired temps.
As soon as I received it I noticed the base part was a little flemsy, but that was just due to the box it was in. It was slightly bent (it's plastic) out of the box. So it was a little hard to get the lid on properly. However, I did not call because I thought after a couple uses the heat would put it back to it's original form. I was right, after one use...the base easily fit snug and proper to the lid.
11/24/2013
By Tolf from Hope Mills, NC
Bottom Line:
Yes, I would recommend this to a friend
No more oil
Used this for the first time last night and I was very satisfied. If directions are followed properly it works like a charm and is safe. I used it on a STORM SYNC with over 75 games on it and after 2 one hour sessions with this product there was no more oil in the cover stock. This will extend the life of your bowling balls and is worth the money spent.
4/21/2016
By Jimmer from Menasha, wi
Bottom Line:
Yes, I would recommend this to a friend
Brand new ball
Works great. Like throwing a new ball again.
3/26/2015
By Camera ON from NYC
Pros:
Light Weight, Use It Outside, easy to use, heats up nicely
Cons:
Has Tha Plastic Smell, Makes Your Stomach Queezy
Best Uses:
Getting Oil Out Your Ball
Bottom Line:
Yes, I would recommend this to a friend
GETS the OIL OUT
I Use this to get Oil out my balls. Works as advertised. The plastic had that Cheap Plastic smell that makes your stomach queezy sometimes. But I use it outside and problem solved. But they say use in well ventelated area. So its Right on the Box if you choose to not follow directions that's on you. Given that you do follow directions this thing is all good and more cuz its a great price and gets tha job done like a BOSS!!! =D
7/29/2014
By JUST AN AVERAGE BOWLER from COLORADO SPRINGS, CO
Cons:
Could Use A Locking Lid
Bottom Line:
Yes, I would recommend this to a friend
GOOD BUY FOR YOUR MONEY
VERY GOOD PRODUCT AND IT IMPROVED THE LIFE OF MY OLD BOWLING BALLS, AND MY SCORE IMPROVED BY 15 PINS.
9/14/2019
By Koma from Santee, CA
Best Uses:
No, I would not recommend this to a friend
I would NEVER buy this product again,
I have used this product on several different balls, as per instruction, and the results were unsatisfactory.....not even a speck of oil bled from the balls. I tried 30 minutes on each half of the ball, and still no oil. About the only thing this product accomplishes is it increases your electric bill. I get much better results by leaving the ball in the sun for about 10 minutes. This product doesn't even deserve a 1-star.
1/24/2018
By KRB61 from Alexandria VA
Best Uses:
No, I would not recommend this to a friend
It's a bust
Bought this for my son for Christmas. We have several balls that have seen many games and this machine didn't sweat a bit of oil from any of them. It's made of cheap plastic, the top doesn't fit properly and should have a way to turn and lock it down. No timer , no on off switch and it's expensive.
Customer Questions & Answers | Reviews
Thanks for answering another customer's question! Once approved it will be posted here.