We'd like to offer you $5 off your purchase of $50 or more today!
Coupon excludes instant bonus items, hot deal items, and gift certificates.
Robbys Revs III Right Hand
Robbys Revs III Right Hand
Made of feather-light duraluminum, the Robbys Revs is a breakthrough in wrist support, because it conforms to your exact needs. The extended finger support provides maximum power for oilier lane conditions. Lateral adjustments allow your hand to be in position to alter the amount of forward roll and spin on the ball. Four forward wrist-cup positions allow for rev control.
Right Hand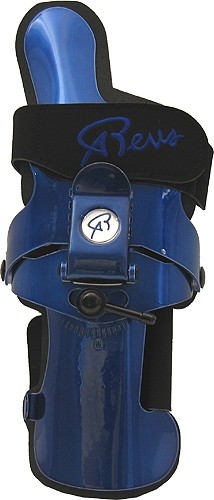 3/18/2014
By
Kimchi Angry
from Sierra Vista, AZ
Pros:
Great feel, Easy to adjust, Durable, Change Angle Of Wrist, Constant Release, Change Cup Angle
Best Uses:
Change Cup Angle, Nice Support, Constant Release, Helps Weak Wrist, Constant Side Roll
Bottom Line:
Yes, I would recommend this to a friend
great feel and constant release
I bought this wrist support due to a carpal tunnel surgery. This gave me the support to my weaken wrist and allowed me to keep my wrist stable and to release the ball constantly. I can change the cup angle on spare shots. Its easy to adjust and very comfortable. The finger extension helps in a stable release. I have use this for 4 months and I'm still rolling the ball perfect. Only one bad issue is you may overroll.. I constantly work on good release and follow through my shot.

11/28/2012
By
Bob
from Kokomo, Indiana
Bottom Line:
Yes, I would recommend this to a friend
Great product would purchase it again
I use this product all the time while bowling...even when I throw my spare ball. I like the feel and consistency...Since I am a league bowler this gives me more consistency when I release ball..I have found that is ball is hooking too much just decrease cup and you are back in the game.....

1/12/2015
By
Keaian
from Monaca, PA
Pros:
Consistancy, Adjustable
Bottom Line:
Yes, I would recommend this to a friend
Consistancy
Wasn't sure when I purchased this on how I would like it. Never owned any type of brace before. First time using it took some getting use to but after a few games I could really see the difference it was making. Love the consistency in the ball rotation. can easily adjust for different types of lane conditions.

3/23/2016
By
robert
from colorado
Bottom Line:
No, I would not recommend this to a friend
The latch system is a piece of ****
The latch makes it hard to take on and off plus it is to close to the hand which makes it uncomfortable.

2/7/2010
By
probowlers
from ny
Pros:
It's real good one
Cons:
And it's help me bowl
Best Uses:
Better games 300
Bottom Line:
Yes, I would recommend this to a friend
Robbys Revs III Right Hand
•Things that aren't so great about it •Things that are great about it

2/6/2013
By
phillyw\
from AUSTIN TX
Bottom Line:
No, I would not recommend this to a friend
didnt ;ioke the feel
it was good for helpimg you hook your ball
it would he;p you hold your vall yje same all the time
didmt like the fimher extension on iy

2/2/2017
By
League Bowler Tony K.
from Atlanta
Bottom Line:
Yes, I would recommend this to a friend
I would buy again!!!
It's better than my first Rev.

5/16/2017
By
pjmckeown
from Mississauga, Canada
Pros:
Easy to take on and off, Consistent ball grip experience
Cons:
You hand/wrist can get very warm, Fingers feel very squished while bowing
Bottom Line:
No, I would not recommend this to a friend
Great for when you need extreme wrist support
I was apprehensive when purchasing this as I couldn't find anywhere in person to try it on and see how it fit. Decided to order it anyway. It is not the most comfortable device to wear, but it hasn't negatively impacted my game. I like that it keeps my grip, wrist and release very consistent, and I hope that I get used to getting my fingers in the balll, and using it.

Customer

Questions

& Answers

| Reviews
Question:
How do you determine size?
9/27/2016 - By
Butch
Have an answer to this question?
Answer:
There is not currently a size chart from Robbys on this support. If you have any other Robbys supports or gloves you may use that as a guide first. If you did not have Robbys, if you have a different brand of support or glove, you may use that as a guide. Or if you know someone that has a support you could try on this may be the next best option. Lastly, if you have any type of glove, even if it is not bowling related, you may use that as a size guide to determine the size on this. The support is adjustable to an extent so if you get close you should be able to adjust and get this to fit.
10/3/2016 - By
Bowling.Com Staff
2

of

2

customers found this answer helpful. Did you? Yes | No
Did you find this answer helpful? Yes | No
Thanks for your feedback!