Storm Fate
The Storm Fate bowling ball continues the line of signature bowling balls in partnership with Jason Belmonte "Belmo". This high-performance ball introduces the F-8 Core which has more differential than any of the previous Belmo balls. This core allows for more recovery and hitting power as well as the ability to play several angles and provide elite performance regardless of rev rate. Pairing the F-8 core with the ReX Pearl Reactive coverstock creates a midlane read plus backend reaction.
Color: Sapphire
All colors do vary somewhat from the picture shown
Core: F-8 Core
Coverstock: ReX Pearl Reactive
Finish: Reacta Gloss
Recommended Lane Condition: Medium to Heavy Oil
Hook Potential: Medium-High
RG: 2.52 (based on 15# ball)
Differential: 0.053 (based on 15# ball)
Fragrance: Cherry Berry Smoothie
A few tiny pit holes in the cover stock of the ball are normal
SKU: STBBMVFA
Product ID: 14153
Brand: Storm
Category: Bowling Balls
Ball Performance: High-Performance Balls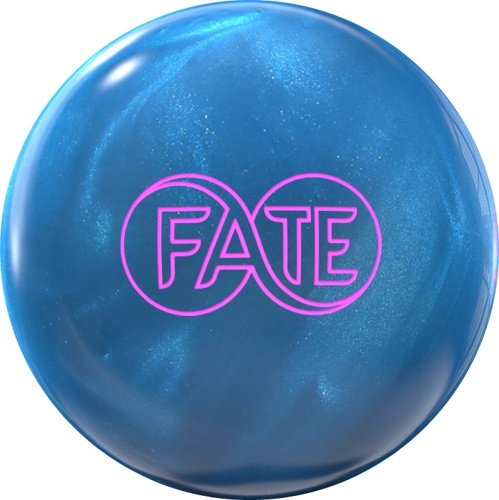 1/19/2023
By Blocke from Buffaloe Lanes North
Bottom Line:
Yes, I would recommend this to a friend
Storm Fate
Belmo is back with yet another collaboration with Storm! This time Storm brings the f-8 core which features a slightly higher RG than your typical benchmark pieces, which helps get the ball down the lane just a touch more. Think of Hy-Road with a little more mid-lane read! Doesn't that sound amazing!
The Fate will be beneficial in league for myself especially in a bowing center where there is a ton of friction in the fronts. The mid-RG and Reacta-Gloss finish help to clear the ball through the fronts but maintains enough mid-lane read where my ball doesn't jump off the back of the pattern. It has also looked great on some medium length sport patterns when I need to create a little more shape and a little less traction!

Check out my YouTube Video of the Fate in a comparison the Storm Revenant as well!

Coverstock: REX pearl - Reacta Gloss
Core: F-8
RG: 2.52 - Differential: .053 (15lbs)
Layout: 5 x 6 x 4 2LS
Pap: 5 1/4 right, 1 5/8 down
Rev Rate: +-500
Speed 17-18mph
11/26/2022
By Gill B from North Carolina
Bottom Line:
Yes, I would recommend this to a friend
FATE
FATE Fragrance is Cherry Berry Smoothie. Who thinks of these. I don't know but thank you it's amazing and doubles as a car freshener on the way home. Was excited to thrown this with all the hyped that surrounded it and it did not disappoint. Layout in 4 1/4x4 1/4x 3. This new f8 core wrapped in the REX pearl cover(Can't go wrong with the REX cover) This ball is super smooth, controllable and continuous amazing. Have used this on the fresh and the mess and it amazing. I can get left and open them up or get right and slow them down. My favorite Belmo piece was the Pro-Motion but after this I don't know. Def add one to your bag because everyone else is
11/18/2022
By PD Patrick D. from Parma, Ohio
Pros:
Clean through the fronts with continuous backend.
Best Uses:
Good piece all around for medium oil patterns.
Bottom Line:
Yes, I would recommend this to a friend
Fate – WWRD 11/18/2022
Cover: ReX Pearl Reactive
Weight Block: F-8 Core
RG 2.52. Diff. 0.053
Reacta Gloss Finish

Storm's new Fate is a Symmetrical Pearl piece that is good for Medium conditions. PAP is 5 5/16 R 1 3/16 Up. Rev Rate: 400. Fragrance is Cherry Berry Smoothie. Drilled this piece with the Pin up between the fingers and CG kicked out 2" from the palm. Out of Box ball motion is clean through the fronts with a smooth continuous motion on the backend. Compared to the Phaze V, the Fate was about 3-4 boards stronger all around and better recovery. This piece was 2-2 stronger than the Trend 2. This piece is good for all types of styles.

Customer Questions & Answers | Reviews
Thanks for answering another customer's question! Once approved it will be posted here.