Take $5 off your purchase of $50+ today!
Coupon excludes instant bonus items, hot deal items, and gift certificates.
Storm Omega Crux
Storm has brought back the Catalyst Core in the Storm Omega Crux high performance bowling ball. This popular core has been known for its unmatched power, increased entry angle, as well as allowing more room for drilling error due to dynamic asymmetrical design and vertical cavity technology. The GI-20 Pearl coverstock used in this ball stands for Game Improvement 2020. This special coverstock was specifically designed to improve performance in the modern difficult bowling environment. The GI-20 Pearl Reactive coverstock used on the Omega Crux is best used on heavier oil conditions and has a really good skid, hook and then roll reaction. This ball can recover for almost anyplace on the lane.
Color: White/Copper/Graphite
All colors do vary somewhat from the picture shown
Core: Catalyst (Asymmetrical)
Coverstock: GI-20 Pearl Reactive
Finish: 3000-grit Abralon
RG: 2.50
Differential: 0.052
** RG and Diff are based off of 15 lb. balls
Recommended Lane Condition: Heavy Oil
Fragrance: Cinnamon
A few tiny pit holes in the cover stock of the ball are normal
SKU: STBBMTOZ
Product ID: 12484
Brand: Storm
Category: Bowling Balls
Ball Performance: High-Performance Balls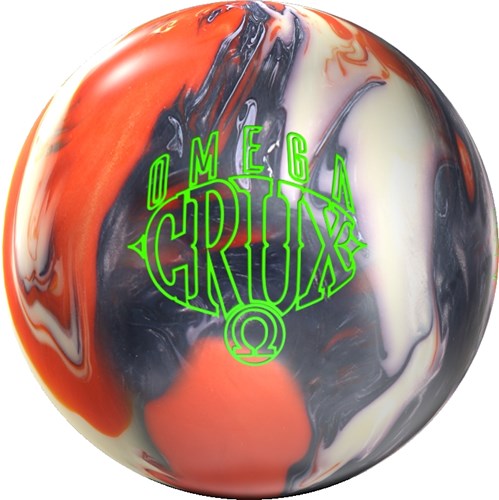 7/4/2020
By Nick from Oceanside, Ca
Bottom Line:
Yes, I would recommend this to a friend
Omega Crux
The ball is a beast and destroys and the pins, I love the ball. I'm super happy with the layout I was given!
6/25/2020
By Dan Marriott from Cleveland, OH
Bottom Line:
Yes, I would recommend this to a friend
Omega Crux by Dan Marriott
I love how I can bring this ball everywhere with me and I know if nothing else is working I can go to this ball.
6/25/2020
By Tommy Gun from Harrisburg, PA
Bottom Line:
Yes, I would recommend this to a friend
Omega Crux review by Tommy Gollick
The Omega Crux is a factory sanded pearl ball with a cover called GI-20 in the premier line of Storm bowling balls. The Omega comes from the factory at a 3000 grit abralon finish, and has a color combination of white, copper, and graphite. The numbers in 15 lb weighted balls are 2.50 Rg, 0.052 diff, with an intermediate diff of 0.017. The Catalyst core is the same core used in all the previous Crux balls.
I drilled the Omega Curx with a layout of 5 x 3.5 x 2.5. This layout creates a lot of motion in the late mid-lane, toward the end of the oil pattern. I went with this layout to use this ball to open up softer backends, and lanes that aren't really crisp at the breakpoint. Comparing the Omega Crux with my 4 x 4 x 2.5 Crux Prime, the Omega is a lot more defined through the back part of the lane. The Prime is good when the backends are fresh, and the Omega is great to go to when the backends tighten up. The Omega starts up a few feet later than the Prime. Both of these layouts seem to work a little better when there is some built in area in the pattern. So far, the Omega has been really good on 41-43 foot patterns, with a nice crown shape built in. The GI-20 cover on the Omega seems to hold the surface fairly well.
I like the Omega Crux. I can see this ball as being user friendly for most any bowler, provided they use the right layout and the ball on the right pattern. Rev dominant bowlers will get use from this ball on heavier volumes of oil and won't need super strong layouts to get motion. Matched rev rate to ball speed players will be able to use this ball on the widest range of patterns, just drill to flare accordingly. Speed dominant players will want to use stronger layouts, and should see a ball that still has some change of direction for them. Thank you for reading my review of the Omega
6/24/2020
By Gil B from Long Island Ny
Bottom Line:
Yes, I would recommend this to a friend
Omega Crux
Introducing the 5th in the Crux line the Omega Crux with the legendary catalyst core. This omega also features the new Gi-20 pearl core. This ball gets done lane with ease and very strong reaction backend but keeps a strong punch through the pins. This ball is great on the fresh and really handles the transition well. I'm loving this ball right now from house shots to sport shots its got a place in my bag
3/5/2020
By Dunk300 from Fulton, Missouri
Bottom Line:
Yes, I would recommend this to a friend
Storm Omega Crux
Storm Omega CruxLayout: 4 X 4 X 2 Storm Vector LayoutRev Rate: 325 rpm, 7 degree of axis tilt, 40 degree of axis rotationTesting Information: 41-foot THS (medium to light volume)Kegel Machine - Brunswick AnvilaneThe Storm Omega Crux (OC) is a new release in the Premier line. The Premier line has a long history of producing some of the best releases to date. The OC fits the bill. The OC utilizes the Catalyst Core, the same core used throughout the Crux series. The Catalyst Core is wrapped in the new GI-20 pearl reactivecoverstock. I have been able to use the OC on some senior house pattern tournaments and have been impressed. The recovery and carry have been the two most impressive features. A lot of balls have the recovery but don't carry. The OC possesses both qualities. During one recent senior tournament, I had 5 different instances when the messenger flew across the pin deck in the air and took out the 10-pin. Wow! I am not even a high rpm guy. The OC will be able to be used as your 1A or 1B tournament ball. I don't see it being effective late in a tournament unless you shine it, which I have seen and it looks good shined. The OC is a longer, stronger version of the Crux Prime in my opinion.Continue to bowl up a Storm!Visit your local Storm VIP Pro Shop to order yours.#Stormnation
3/1/2020
By Dan Marriott from Cleveland, Ohio
Pros:
Attractive, Comfortable Grip
Best Uses:
Local Bowling Alley, Tournaments
Bottom Line:
Yes, I would recommend this to a friend
I will be ordering a least 1 more of these
It's so different that I can use it anywhere I go, it is always in my bag!
Video Submitted by Reviewer:
Customer Questions & Answers | Reviews
Thanks for answering another customer's question! Once approved it will be posted here.