We'd like to offer you $5 off your purchase of $50 or more today!
Coupon excludes instant bonus items, hot deal items, and gift certificates.
Track Heat X-Treme
Track has learned from the success of the Heat line and they are taking it to the X-Treme! The Track Heat X-Treme bowling ball pairs the Modified Tri-Core with the QR-5 Solid coverstock and is finished with a 500 then a 2000 Abralon pad. This combination provides max traction at the mid-lane while offering control and predictability when used on medium to heavy oiled lanes.
Color: Red/Orange/Black

All colors do vary somewhat from the picture shown.

Coverstock: QR-5 Solid
Core: Modified Tri-Core
Finish: 500/2000 grit Abralon
RG: 2.50**
Differential: .038**
Reaction: Strong Overall Hook
Recommended Lane Condition: Medium to Heavy Oil
** RG and Diff are based off of 15 lb. balls
A few tiny pit holes in the cover stock of the ball are normal
SKU: TKTMHEATXT
Product ID: 10048
Brand: Track
Category: Bowling Balls
Ball Performance: Upper Mid-Performance Balls
Back to Top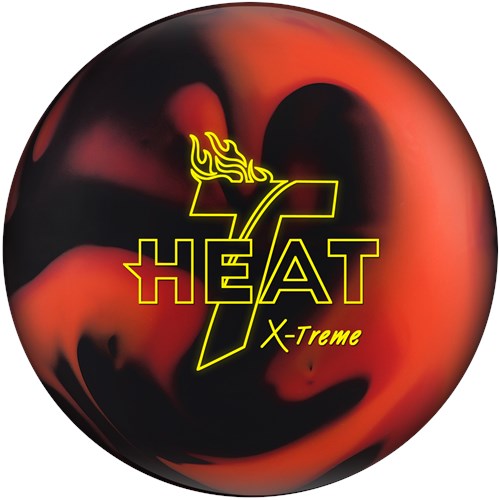 Similar Balls: Same Hook Potential, Lane Conditions & Coverstock as the Track Heat X-Treme.
8/4/2016
By
Dave Han
from Birmingham, AL
Pros:
Great hooking coverstock
Best Uses:
Heavy Oil, Wet/Dry Transitions
Bottom Line:
Yes, I would recommend this to a friend
High Performance Ball at a Mid-Performance Price
The Track Heat-Xtreme has a very strong solid coverstock wrapped around the Heat core, which if you have ever thrown the Heat - you know that core creates a great "motor" to generate a very strong motion. I got to speak to Jason Couch prior to drilling up my Heat X-Treme, and he told me that I should expect the coverstock to react like a "high-performance" ball - and he was right!

I drilled my Heat-Xtreme with a similar layout to my Columbia Raw Urge, with the pin about 2" below my ring finger and the CG kicked right with a weight hole. The strong solid coverstock on this ball is clean enough to get through the heads, yet is able to get the ball into an earlier roll in the mid lane than any other mid-performance ball I've ever thrown. The back end motion is strong and continuous as you would expect from a ball with the Heat core. What you wind up with is a ball that you can pull out for both fresh heavy oil AND early transition to get your ball to respond on tricky mid-lanes when other balls may be too weak or too strong and give you that over/under reaction.

If you want a "high performance" ball at a mid-performance price point that you can lay out to get the ball motion you need - this is YOUR ball. I will be using mine when I need to open up lanes that are tight and tricky and will come into play on many sport patterns as well as 1st transition or high volume for my THS fall leagues.

Dave Han
Track Advisory Staff
Vise Regional Staff

8/4/2016
By
Michael Thompson
from Sarasota, FL
Pros:
Clean with strong backend motion, Looks great
Best Uses:
Medium to Medium Heavier Lane Patterns
Bottom Line:
Yes, I would recommend this to a friend
Versatile Ball from Track
BALL LAYOUT: 70 x 5 ¼ x 35

The Heat Xtreme is a solid version of the popular Heat from earlier this year. This core matches up with all styles of bowlers and with the solid coverstock will allow you to play on heavier medium lane patterns. Very excited about this ball as I loved the original Heat, the Xtreme is still clean in the fronts and offers a strong motion in the midlanes and a rolly motion in the backends that does not quit. This Heat is definitely gonna be in my bag for future tournaments for sure!
This Heat Xtreme should be the 1st ball out of your bag when bowling on medium lane patterns and you can keep moving left if needed. Amazing amount of control throughout the lanes and will be a great addition for the tournament bags too. This is one of the favorite balls from Track that the Ebonite International National Staffers as well as many of the amateur pros loved at Bowl Expo in June!
A very versatile ball... You will be impressed with the Heat X-Treme!

8/9/2016
By
Trackbowlr
from Wisconsin
Bottom Line:
Yes, I would recommend this to a friend
Heat X-Treme
Ball: Heat X-Treme
Layout: 80 x 5 x 45 - Pin above bridge
Surface: Box

Bowler specs

Rev Rate: 335 RPM
Ball Speed: 15 MPH
Pap: 5-3/8 - 1-1/8 UP

Comments
I drilled the Heat X-Treme pin up to match my Cyborg to do a comparison with the same 500/2000 surface. The Heat X-Treme is a couple of boards stronger that the Cyborg and the pin carry is outstanding. I am really starting to prefer symmetrical balls over Asymmetrical, they seem to store their energy better. Check out the Heat X-Treme, you won't be disappointed.

Thank you Track

Dan Paul

8/5/2016
By
Freeswing
from Washington, DC
Bottom Line:
Yes, I would recommend this to a friend
Push It To The Extreme
I have to say I am not sure I would see a ball that could be stronger then my Delirium Shock this ball is extremely close to it, I drilled them both the same just to see how close they are and to me it is close. What I like the most about the Heat Extreme is the overall hook I can really let this one fly off my hand and watch it bend the corner and finish just as strong as if it were taking a straighter path to the pocket. I have also played those straighter tighter lines with the Heat Extreme when the pattern allowed and it rolls heavy and finishes a little to strong at times but I will take that over weak finish or barely finishing any day. I knocked off the box surface then used a fresh 1000 pad by hand, the very first shot off my hand I thought I got it a little to far outside my target that was not the case the Heat Extreme had plans to show me it could make it back and finish. I am happy with the overall roll and reaction of the Heat Extreme, this ball can be strong if that is what is desired or it can be the step above the Heat when that pearl cover is going just a little to long.

11/2/2016
By
Zhammer
from Peru, IL
Bottom Line:
Yes, I would recommend this to a friend
Extreme Heat is best name for this ball
Very Versatile ball, Strong back end. Easy to read and play many different angles.

1/10/2017
By
Daston300
from Louisville, KY
Bottom Line:
Yes, I would recommend this to a friend
Lots of hook for Less $$$
More hook than you'd expect from a mid price ball. Can't say enough good things about this ball. Rolls really smooth with a lot of hitting power. Don't be afraid to get deep with this one...its coming back!

Hammer Staffer
Louisville Kentucky

1/20/2017
By
Doug Moss
from Dayton, OH
Pros:
Can throw it on longer patters with lighter volu, Good ball on short, Good for Medium Patterns
Bottom Line:
Yes, I would recommend this to a friend
HP BALL WITH A MID PERFORMANCE PRICE TAG
My Title says it all. This ball was made as an accident and was supposed to be an HP ball and someone goofed up and made it a mid performance price. This ball i have had a ton of success with, including a couple honor scores, a 299 with a stone 8 and a 299 with a stone 9. This ball could very well be the ball of the 16-17 bowling season for me. How can anyone not like a ball that they can throw on a wide array of shots and still strike with me. I drilled mine Pin at 12oclock stacked. What i got, was a ball that rolls very strong in the mids and continues. It keeps the pins low to the deck and sends a large number of messengers. I have made more than 5x the amount that this ball costs with this ball and that has been in just a few short months of owning this piece.

If you polish it, then it becomes a ball that is pretty flippy and clean through the fronts. If you put more surface on it, you can throw it on longer, heavier volume oil patterns. This is a jack of all trades ball. You can play first arrow, or left of the 4th arrow, depending on the shot.

Cheap ball, with a ton of strikes put in each ball. I can see why track is called Smart Bowling.

Customer

Questions

& Answers

| Reviews
Question:
I just bought an Extreme Heat. Is there a preferred cleaner for this ball type?
4/13/2017 - By
Vaughn
Have an answer to this question?