Take $5 off your purchase of $50+ today!
Coupon excludes instant bonus items, hot deal items, and gift certificates.
Track Stealth Pearl
The Track Stealth Pearl has been identified as a bowler's favorite! The Stealth core is wrapped with the QR-9 Pearl coverstock and the HK22 base to create a strong pearl reaction. This upper-mid performance ball has a clean reaction through the front of the lane, starts up in the mid-lane, and offers a fast and powerful reaction on the backend with continuation making it a desired ball when stronger balls start to react early. This skid/flip reaction is ideal on medium to heavy oil conditions.
Color: Raven
All colors do vary somewhat from the picture shown
Core: Stealth
Coverstock: QR-9 Pearl Reactive (HK22)
Finish: 500, 1000, 1500 Siaair/Factory Compound
Recommended Lane Condition: Medium to heavy oil
Hook Potential: Medium-High
Length: Late
Reaction: Skid/Flip
RG: 2.482 (15# ball)
Diff: 0.056 (15# ball)
Manufacturer's Warranty: Two years from purchase date
A few tiny pit holes in the cover stock of the ball are normal
SKU: TK60106919
Product ID: 14456
Brand: Track
Category: Bowling Balls
Ball Performance: Upper Mid-Performance Balls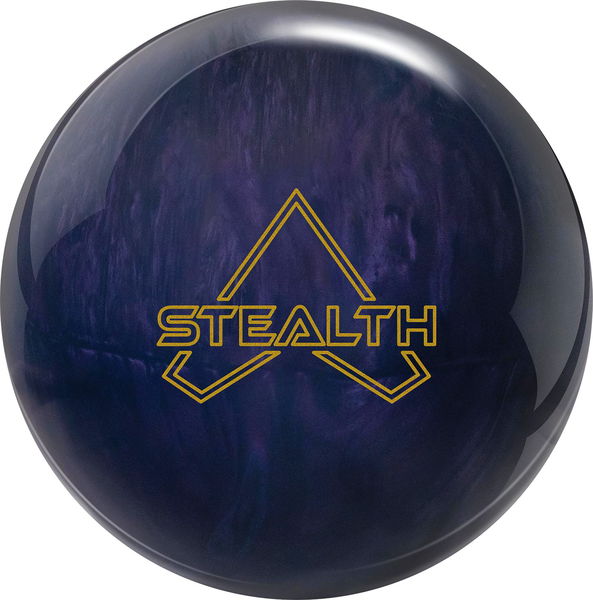 11/22/2023
By Holeshot from Oregon
Bottom Line:
Yes, I would recommend this to a friend
Stealth Pearl
Stealth Pearl, I know I am late to the party. The Stealth was a bit too much core in the solid cover. The Pearl version is perfect. Clean but not overly sharp off the end of the pattern. Goes through the pins fantastic at the local centers I bowl. I didn't adjust the surface because it was so smooth.
I drilled it 40x4.75x50 which is one of my benchmark Symmetrical layouts. My PAP is 4" over and 1.0625" up. Hope this helps!

8/31/2023
By Eric A. from CA
Bottom Line:
Yes, I would recommend this to a friend
The perfect complement to the original Stealth.
The Stealth Pearl is the perfect complement to the original Stealth. When the Stealth starts to pick up too soon (when the fronts start to burn up), or when the Stealth stops making the corner (oil has carried down), the Stealth Pearl is the go-to ball. Being a pearl with the HK22 cover stock, it is both cleaner in the front and has more motion on the back.
7/24/2023
By Chris J from Palm Springs
Bottom Line:
Yes, I would recommend this to a friend
sleeper
The Stealth line is quite amazing. i am glad they came out with the pearl version and this ball does not disappoint. clean through the mids and very angular off the spot and so much hitting power. i would recommend this bowling ball to anyone. it is great for a bench mark bowling ball in league and will work great in tourneys.
7/4/2023
By Mike from New Port Richey, fl
Bottom Line:
Yes, I would recommend this to a friend
I have the stealth now. The pearl to me is even better
I used the stealth pearl out of box and shot 707 with it on house shot. Great ball would recommend getting this ball
6/30/2023
By Dave Han from Birmingham AL
Pros:
HK-22, Versatile, Skid/Flip
Bottom Line:
Yes, I would recommend this to a friend
Unlike Any Other Symmetric Pearl
The Stealth Pearl is something that was desperately needed in the Track line and does not disappoint!

This is a STRONG, SYMMETRIC pearl ball that is able to provide an excellent skid/flip motion that rolls through the pins with power. In my years of throwing Track balls, this is a unique ball, reminiscent of the old Scandal pearl. The Stealth Pearl is extremely versatile for both house and sport shots, and a wide range of lengths and volumes.

The HK-22 coverstock makes this unlike any other symmetric pearl ball on the market. I can not recommend the Track Stealth Pearl more highly!

Dave Han
Track Regional Staff
VISE Regional Staff

6/23/2023
By Sweetpea Bowl from Worcester, Massachusetts
Bottom Line:
Yes, I would recommend this to a friend
Track Stealth Pearl
Recently, I had a chance to drill the brand new Track Stealth Pearl. I have had very good luck with the original Stealth winning a NEBA with one back in December, 2022 so I figured I would give the pearl version a try. The Stealth Pearl has the same symmetrical core as in the original Stealth- low RG/high diff. The main difference between the 2 is the QR-9 pearl reactive cover featuring the new HK-22 base to enhance back end motion. I drilled the new Stealth Pearl with a slightly different layout than the original. (New Stealth- 50 x 4 1/2 x 25, original Stealth- 45 x 4 3/4 x 35). I also went over the cover with a 4000 Siaair pad.

I am very pleased with what I see in the new Stealth Pearl as it appears to have met its intended goal of being a little "longer and stronger" version of the original Stealth. A comparison between the original and the new Pearl shows the original Stealth being a little further left on the oil where the Stealth Pearl shows a little quicker response and thus, had to be a little further right. This ball will be a great benchmark ball on medium to lighter volume patterns or as a "go to" ball when the lanes are breaking down and you need a cleaner, more responsive ball downlane. The new Stealth Pearl definitely has a quicker response to friction than the original Stealth.

The new Stealth Pearl by Track is currently available. See your pro shop for more information!

6/22/2023
By Bob Newman from Pacifica
Bottom Line:
Yes, I would recommend this to a friend
Track Stealth Pearl w/ HK22
So last year I was a big fan of the Track Stealth. It was a very smooth and controllable ball that hit hard. The Pearl version in my opinion is cleaner, but not as much as I would have expected. I see it reading the mid-lane and having a large footprint like a hybrid might have. It has the new HK22 built into the coverstock and from what I've seen in other balls, the HK 22 likes to react to friction so that may explain the large footprint and extra power. No matter the reason, I like what I'm seeing from this ball. I was drilled at 65 x 3-1/2 x 25.
6/20/2023
By Kyle from Utah
Best Uses:
House shot, as a ball down option from a High end solid.
Bottom Line:
Yes, I would recommend this to a friend
The perfect pearl
The Stealth Pearl is the absolute perfect follow up to the original Stealth. I was shocked how well the pearl HK22 coverstock paired with the Stealth core. The ball is incredibly clean through the fronts with a huge amount of recovery without being too sharp off the pattern. If you liked the Stealth or are just looking for a new symmetrical pearl option, definitely get the Stealth Pearl.
Customer Questions & Answers | Reviews
Thanks for answering another customer's question! Once approved it will be posted here.