Dexter Mens DexLite Pro BOA Black Right Hand
The DexLite Pro brings together the BOA Disc lacing system you love in high performance shoes, with the Aero Spacer Mesh for a lightweight and comfortable feel! You will love the convenient BOA Fit System to provide a customer fit with the breathability of the mesh material!
Color: Black/Red trim
DexLite Pro Interchangeable outsole
Aero Spacer Mesh breathable upper
BOA Disc lacing system
Removable blown EVA footbed
Interchangeable S8 Slide Sole
Lightweight EVA midsole
Fixed Aero-Traction push off sole
Right-hand specific ONLY
Rubber non-marking toe for toe drag protection
Speed groove raised rubber heel
Raised Rubber heel on both shoes for a faster, straighter and more consistant slide on any approach
SKU: DEXDM992
Product ID: 12198
Brand: Dexter
Category: Bowling Shoes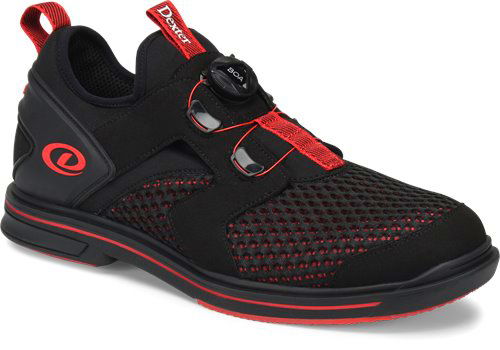 11/25/2023
By Anthony from Louisiana
Pros:
interchangeable slide pads, no coming untied
Cons:
no cons about this pair of shoes
Best Uses:
any approach sticky or slippery, just get the right slide pad
Bottom Line:
Yes, I would recommend this to a friend
best pair of shoes i've had yet.
These shoes are the best pair I've had yet. The interchangeable slide pads is a big help. With the nob to tighten it instead of shoe laces you'll never have to worry about your shoes loosening. These are great shoes and are affordable.
8/29/2023
By Dead Weight 1 from Europe
Bottom Line:
Yes, I would recommend this to a friend
Great Shoes!
Great shoe! Very comfortable and the slip on with the dial for tightness is great!
5/19/2022
By Big Al from Florida
Pros:
Arrived fast, perfect condition
Bottom Line:
Yes, I would recommend this to a friend
Got to me really quick and in good condition.
Good
2/7/2021
By Daniel E from Tennessee
Pros:
Light, comfortable, BOA is awesome, slides deep down lanes, Good look
Cons:
Few and far between these will take you on a slip, but I've never fallen or fouled
Best Uses:
Speed, high Rev and RPM
Bottom Line:
Yes, I would recommend this to a friend
Built to take you Further
These are the real deal. The BOA system is very convenient. Extremely good and fair price. Worth every penny!
1/22/2021
By Robert from De Pere, WI
Pros:
Very comfortable, great slide, reasonable price, reputable company with great customer service
Bottom Line:
Yes, I would recommend this to a friend
Great Shoes!! Very comfortable
I purchased these shoes to replace a pair of Strike Force shoes that I could not get to slide and that left my feet hurting by the end of the night at league. These shoes had great slide right out of the box and are very comfortable, my feet felt as good at the end of the night as they did when I put them on.
1/25/2020
By Luap from Palm Bay, Florida
Bottom Line:
Yes, I would recommend this to a friend
Light and Airy
I have alway preferred leather for my sporting shoes, but this is Florida and between heat and humidity feet sweat. These shoes are Breathable, well ventilated and the BOA system ensures stability as well as comfort.
I only wish there were an extra slide pad and a shoe protector. Will they last? Time will tell.
9/7/2019
By Mike from Bolingbrook, IL
Pros:
BOA system, affordable, comfortable, lightweight, modern, practical, stylish
Bottom Line:
Yes, I would recommend this to a friend
Comfortable, stylish, and practical!
I bought these shoes to replace an older pair of Dexter's that lasted me for about 10 years. I definitely wanted to get something with a replaceable slide sole as that seems like a great way to prolong the life of the shoe. There are so many options out there, it's a bit overwhelming. It also didn't help that there were almost no reviews on most of the shoes I was looking at. Hopefully, this review can make someone's life easier.
PROS
1) Very Comfortable - I never buy shoes online because I am always afraid that even if they do fit, they won't feel comfortable. I gambled on these shoes and won. Very comfortable and lightweight.
2) BOA Lacing System - At first, I thought this was just a gimmick. My first thought was "what happens when/if the system breaks". I did some research though, and BOA has been doing this with all different types of shoes for years now. Most importantly though, they have a LIFETIME GUARANTEE on their system. This gives me peace of mind, that if for some reason the system ever did break, I wouldn't be without this pair of shoes for long. Overall though, the system works really well and offers you the ability to make the shoes as loose or tight as you want.
3) Practical - They just work. It took me only a few shots in practice to adjust from my old Dexter's to these.
CONS - none
DISCLAIMER
For me, these shoes are great since sliding isn't a huge part of my approach. For someone who is more sensitive to lane tackiness depending on the weather or the house, these shoes may not be the best choice, and it may be wise to spend the extra money for shoes with replaceable soles AND heels. This pair only has the replaceable sole on the slide foot. The heel on the slide foot, as well as the sole/heel on the right foot are non-replaceable.
OVERALL IMPRESSION
While I only have thrown with these shoes for a few games, I already like them a lot. They work perfectly with my game. I look forward to being able to wear these shoes for years!
11/23/2020
By ZEUS 300 from BROOOKLYN, NEW YORK
Bottom Line:
Yes, I would recommend this to a friend
GREAT PURCHASE
LOVE THE SHOES....
3/10/2020
By Indian Jim from Sand Diego, CA
Cons:
Bottum is to difernt colours
Best Uses:
No, I would not recommend this to a friend
The bottum is two differnt colours and i dont like that!
Would buy again if shos not colour differnt
Customer Questions & Answers | Reviews
Thanks for answering another customer's question! Once approved it will be posted here.