We'd like to offer you $5 off your purchase of $50 or more today!
Coupon excludes instant bonus items, hot deal items, and gift certificates.
DV8 Freakshow
The DV8 Freakshow bowling ball is a freakshow because it offers great length and a powerful down lane ball reaction at a value price. This bowling ball pairs the Freakshow Symmetric core with the Class 6V Pearl Reactive coverstock to create a ball that works well on medium to light oil conditions. The Freakshow is too much ball for the price, and that is a great thing.
Color: Blue/Platinum

All colors do vary somewhat from the picture shown.

Core: Freakshow Symmetric
Coverstock: Class 6V Pearl Reactive
Finish: 500 Siaair, Royal Compound, Royal Shine
RG: 2.481 (15# ball)
Differential: 0.054 (15# ball)
Hook Potential: 170
Length: 125
Recommended Lane Condition: Medium to Light Oil
A few tiny pit holes in the cover stock of the ball are normal
SKU: DV60105820
Product ID: 10013
Brand: DV8
Category: Bowling Balls
Ball Performance: Mid Performance Balls
Back to Top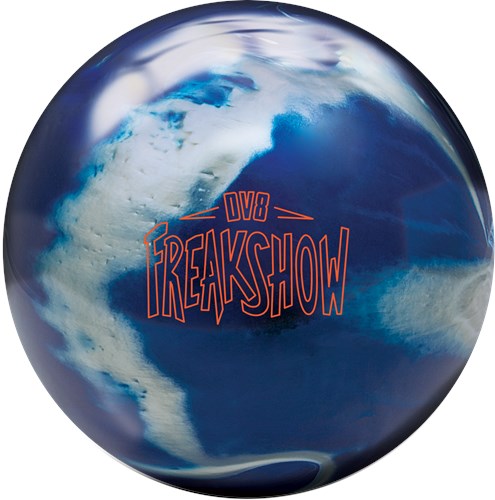 Similar Balls: Same Hook Potential, Lane Conditions & Coverstock as the DV8 Freakshow.
7/1/2016
By
mrrevsss
from kalamazoo,mi
Bottom Line:
Yes, I would recommend this to a friend
Surprising preformance!!
I like to move right and play the Freakshow down and in, Stores lots of energy and explodes the pins.

7/10/2016
By
TheMilkMan
from North Adams, MA
Pros:
Value and Performance, Great length and backend
Best Uses:
Medium-light oil, Oil patterns with defined friction
Bottom Line:
Yes, I would recommend this to a friend
Bang for your buck! Value and performance!
DV8 Freakshow

Left Handed
PAP: 4-7/8x1/4
Rev Rate: 355
Speed: 18.5 mph at release
Rotation: 40°
Tilt: 11°

Drilled 55x4.5x25 no balance hole.

The DV8 Freakshow is a completely new offering from DV8, especially at this price point. This new offering pairs the new 2.481 RG 0.054 Differential Freakshow Core with the new Class 6V Pearl cover. I have tested the Freakshow on a 43ft 24mL 13.5:1 house shot on wood as well as a 43ft 25mL 11:1 on brand new SPL synthetics. I was thoroughly impressed with the performance that this ball offers for the price point. Each time I began by targeting 12-7 using an "up the back" type delivery. The ball was really clean through the heads and had a smoother arc into the pocket with great continuation through the pins. After 6 frames, I was warmed up and ready to see what it could do. I started moving in and used the built in friction to get the ball back. It was at the point when I was as deep with my feet as I normally go with my Thug Life. This new Freakshow is so clean down lane that it really pops on the backend when fed to the dirt. This ball just keeps surprising me. My friend said it best, "It looks like the ball gets bigger at the pin. It just sends them flying and there's no chance." Brian Graham has compared this to Brunswick's Melee Jab and I would have to agree. At the out of box surface the Freakshow is cleaner than the Melee Jab but it has a strong response off the dry like the Jab. This ball is one that should be on your radar. At this price point, you are getting a lot of ball. This ball has a lot of shelf appeal and would be a great ball to introduce bowlers to DV8. I feel it will be a big hit for many league bowlers. This is going to be my go to ball in my medium-light oil THS leagues.

8/6/2016
By
TB
from Reading, PA
DV8 Freakshow
The DV8 Freakshow is freakishly good at it's price point. Don't let the price tag fool you, this is a lot of bang for the buck. The Freakshow's cover glides easily through the heads, but it's low RG core really starts to make the ball pick up in the midlane and produces a nice continuous arc on the backend. This ball really drives hard thru the pins making it's carry percentage insane! This ball definitely performs its best on broken down conditions. When the stronger balls are starting to burn up just a little too soon, that's the time the Freakshow will excel. This is a ball every tournament bowler should have in their bag. At this price, you just can't go wrong. Step right up and see the Freakshow!!

11/3/2016
By
DUSTIN BEARDEN
from GERALDINE ALABAMA
Bottom Line:
Yes, I would recommend this to a friend
BIT HIT GREAT PRICE
You won't be able to find a ball right now that's as good as the DV8 FreakShow on medium to dry lanes. It has fantastic colors, to start with, so when it's throwing pins everywhere, it's extremely noticeable. The pearl cover gets this ball extremely clean through the heads, and then it hits the break point, and makes a good strong turn left. The ball finishes great through the pins, and on good shots, rarely leaves anything standing. It's clean enough that, many times, no ball change from it is even needed in the course of a standard three game set. DV8 has a big winner with the FreakShow in the versatility category with the FreakShow!

7/25/2016
By
JS
from Scranton, Pa.
Bottom Line:
Yes, I would recommend this to a friend
Freakshow Review
Layout:::: 50 X 4 1/4 35
Box Surface
Rev Rate ::: 300 - 325
Ball speed:::: 16 mph
Condition:::::40 ft. House shot

I had the DV8 Freakshow drilled 50 X 4 1/4 35. What I was lookiing out of the Freaksow was this,
I knew the freakshow would be real clean down lane and long but I also want to see the ball make a stronger move off the dry on Med Lane conditions.
What I saw out of the Freak show was what I was looking for. The Freakshow was quite a bit cleaner down lane than my Diva XOXO but it gave me more of a strong motion at the breakpoint than the XO for me and the ball didn't seem like it slowed down.
The Freakshow at this price point is a ball that will be that ball for when the lanes transitions .

The opinions expressed are solely those of the writer.

Jim Sabatell
DV8 Regional Staff

8/4/2016
By
Kayla
from Minnesota
Bottom Line:
Yes, I would recommend this to a friend
Freakshow is a must have!!
The DV8 Freakshow is a must have benchmark ball this season. This is one of the most versatile and reliable bowling balls that I have ever carried in my bag. For myself, I can use this ball on high friction and open up the lane while conserving energy or square up my angles on medium to heavy oil conditions. This ball is at a great price point and is a must have for every bowler!

8/31/2016
By
Ballstar76
from Grand Rapids Michigan
Bottom Line:
Yes, I would recommend this to a friend
I would buy this product again
Great product, fast shipping, would do business with them again.

3/29/2017
By
Yeti
from Philadelphia
Pros:
massive energy stored / destroys pins, clean thru the heads, able to play multiple angles with same drive
Cons:
I didnt buy this ball sooner
Best Uses:
med/light oil, tournaments, late leagues
Bottom Line:
Yes, I would recommend this to a friend
Great Med-dry oil ball Must have for tournament or light oil
Drilled up the Freakshow cause I wanted something a step down from my Xeno Pearl and man did I make a great choice. For med-dry this ball gives me more angles to play on the lane then I could have hoped for. For a ball that gets down lane so easy and stands up and drives so hard it just destroys the pins. Drilled with a 5 1/2 pin up I never want to put this ball down.

Customer

Questions

& Answers

| Reviews
Question:
Does this ball go fairly straight down the lane with a dive at end?
10/15/2016 - By
Certified knight
Have an answer to this question?
Answer:
Hi! Yes this ball will go straight and have a hook at the end. There are bowling videos for this ball on this page. You can watch how the ball performs.
10/19/2016 - By
Bowling.Com Staff
3

of

3

customers found this answer helpful. Did you? Yes | No
Did you find this answer helpful? Yes | No
Thanks for your feedback!
Question:
can I get a ball with 3-4 inches to the pin?
3/19/2017 - By
ron
Have an answer to this question?
Answer:
Hello Ron. You can request for your pin under the weight selection tab in the blue box where it says "click to request pin/top weight".
3/20/2017 - By
Bowling.Com Staff
0

of

1

customers found this answer helpful. Did you? Yes | No
Did you find this answer helpful? Yes | No
Thanks for your feedback!