We'd like to offer you $5 off your purchase of $50 or more today!
Coupon excludes instant bonus items, hot deal items, and gift certificates.
DV8 Grudge Hybrid
The DV8 Grudge pairs a Composite Hook Hybrid coverstock with the Grudge Low RG asymmetric core and is finished with a 500 then 4000 Siaair micro pad. This bowling ball offers an aggressive ball motion and a strong backend motion when used on medium to heavy oiled lanes.
Color: Black/Red/Yellow

All colors do vary somewhat from the picture shown.

Core: Grudge Low RG Asymmetric
Coverstock: Composite Hook Hybrid
RG: 2.490 (15# ball)
Differential: 0.056 (15# ball)
Hook Potential: 250 (scale 1-250)
Length: 125 (scale 1-235)
Finish: 500, 4000 Siaair
Ball Motion: Maximum Backend Reaction
Recommended Lane Condition: Medium to Heavy Oil
A few tiny pit holes in the cover stock of the ball are normal
SKU: DV60105843
Product ID: 10012
Brand: DV8
Category: Bowling Balls
Ball Performance: High-Performance Balls
Back to Top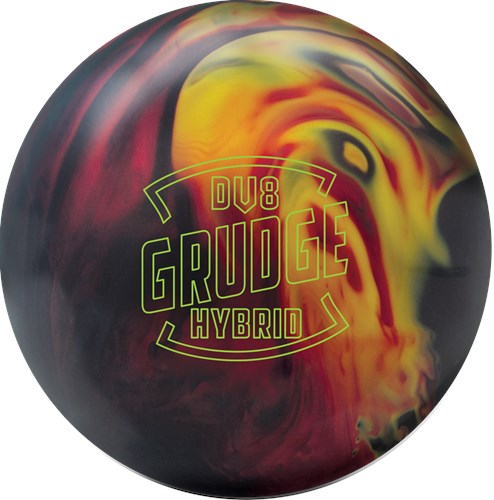 Similar Balls: Same Hook Potential, Lane Conditions & Coverstock as the DV8 Grudge Hybrid.
7/1/2016
By
mrrevsss
from Kalamazoo MI
Bottom Line:
Yes, I would recommend this to a friend
Great compliment to the Grudge!!
longer and stronger backend reaction with consistent motion. THS or Sport pattern must have this in your bag.

7/10/2016
By
TheMilkMan
from North Adams, Ma
Pros:
Great compliment to the original Grudge, Strong, angular backend
Best Uses:
Medium-Heavy oil, Opening up the lane
Bottom Line:
Yes, I would recommend this to a friend
Baby got back!
DV8 Grudge Hybrid

Left Handed
PAP: 4-7/8x1/4
Rev Rate: 355
Speed: 18.5 mph at release
Rotation: 40°
Tilt: 11°

Drilled 45x4-3/4x35
Lane conditions: 43ft 11:1 25.5mL THS and 43ft 20.3mL 2012-2013 PBA Shark

The Grudge Hybrid is the second release in the Grudge line. While the original Grudge handles the heaviest of oils and provides bowlers with a strong, smooth ball motion. The Grudge Hybrid is cleaner and much more angular down lane. This is a great step down as the lanes transition and you need to chase it in and open up your angles. Don't be fooled though, the Grudge Hybrid still uses the fast revving, low RG Grudge core, and the Composite Hook Hybrid cover is still plenty strong. This ball will be best on medium-heavy oil conditions.

I decided to drill this ball with the same layout that's on my original Grudge. On the THS, I had to move 3 board left of where I was with the Grudge but the shape on the backend was much more angular. The Grudge Hybrid allowed me to relax and not worry about the shots wide of target down lane. With the cleaner reaction in the front of the lane, it allowed the ball to not lose energy too early and hit weak in. Instead, the ball had good continuation through the pins and enough pop to send the pins flying. On the Shark pattern, the Grudge Hybrid was strong enough to use at the start, but afforded me less miss room than the original. I liked the look, but with the 43ft pattern, and being the lone lefty, I decided to wait until I had taken a little more oil from the end of the pattern and allow me a bigger target window. Once the lane started to transition, I was ready to open up my angles and let the ball shine. I love hybrid balls because they give you the best of both worlds, a little more traction in the mids like a solid and a stronger response of the dry like a pearl. I will report back with how it looks on some medium length sport and challenge patterns. League and tournament bowlers will love this ball.

7/15/2016
By
Dr J
from Bradenton, Florida
Pros:
Smooth Roll, not flippy
Bottom Line:
Yes, I would recommend this to a friend
DV8 balls are my favorite
I received my ball on 7/13/2016 as I had preordered. I have the DV8 unruly, and the first DV8 Grudge. I had it drilled at the pro shop where I bowl in Bradenton, Fl. The first thing my pro shop noticed was that the pins (P and L) were real short so he was unhappy that he had difficulty drilling the ball to roll aggressive like I wanted. He told me the alpha crux was a better made ball quality wise for the money. I average 208 and I shot 659 with it so I'm satisfied.

7/25/2016
By
Jim S
from Scranton, Pa
Bottom Line:
Yes, I would recommend this to a friend
Highly recommend ed !
Layout:::: 50 X 4 1/2 X 45
Box Surface
Rev Rate ::: 300 - 325
Ball speed:::: 16 mph
Condition:::::40 ft. House shot

The Grudge Hybrid is the second release in the Grudge line. The Grudge Hybrid uses the low RG Grudge core which I like Low RG balls.Grudge Hybrid is longer than my original Grudge but still gives me a more angular motion down lane into the pocket than the original Grudge.
I saw about 3 boards less than the Original Grudge on the fresh.
Halfway into the second game as I broke the lane down I have to make a move about 3 boards left and open the lane up a little more. If I missed a little right with the shot I wasn't worried about the ball not having enough to make pocket. It definately gives you margin for error when the lanes open up.The Grudge Hybrid compliments the Original Grudge perfectly.
Jim Sabatell
DV8 Regional Staff
Disclaimer !! The opinions expressed are solely those of the writer.

7/29/2016
By
dustinbearden
from Geraldine, Alabama
Bottom Line:
Yes, I would recommend this to a friend
Great Performance
The Grudge Hybrid is a great addition to the DV8 line of products. In my current arsenal, It is about 3 boards weaker than my regular Grudge and Vandal Smash. It is about 1.5 to 2 boards weaker than my Ultimate Nirvana, and it is 1 to 2 boards stronger than my Deviant Solid. Hopefully, this can paint some kind of picture as to the place this ball will have in a tournament arsenal. I have it drilled with the pin 1 inch above the bridge, the CG is under the ring finger, and the mass bias is just right of the thumb. The Grudge Hybrid has proven to be great for me on medium to the lighter side of heavy oil. It will get clean enough through the heads for you to use it on into your set, but it rolls early enough to help carry the corner pins. It is great off the turn, and the pins fly all over the deck. I would recommend this ball to anybody who is looking for a transition ball on heavy oil. Or, if you are looking for a good starting ball for normal house condition, the Grudge Hybrid is DEFINITELY for YOU!

Dustin Bearden

8/4/2016
By
Kayla
from Minnesota
Bottom Line:
Yes, I would recommend this to a friend
Grudge Hybrid
The DV8 Grudge Hybrid is the newest release in the Grudge line. For me, this ball picks up in my midlane sooner than my grudge and is smoother off the breaking point. I can close up my angles more with this ball than with my Grudge, and I am seeing a smoother reaction throughout the whole lane.

12/9/2016
By
Kennon Clark Superman
from Gastonia, NC
Pros:
Attractive, Predictable, Rolls Great
Bottom Line:
Yes, I would recommend this to a friend
Most versatile Hybrid Asym ever made.
This product never lets me down. Its perfect for the middle transition games of the longer patterns as well as blending the over under of a over walled house condition!!

Customer

Questions

& Answers

| Reviews