Ebonite Emerge
Although the Ebonite line has seen remarkable releases as of late, there is still a demand for a powerful asymmetric pearl ball featuring the HK22 base. Enter the all-new Emerge, a game-changer with its innovative core, cover, and additive blend. Designed to cater to bowlers seeking exceptional length and a dynamic backend reaction, the Emerge is poised to become a beloved choice on the lanes.
Color: Black/Silver/Purple
All colors do vary somewhat from the picture shown
Coverstock: HK22 - Optimize Pearl Reactive
Core: Emerge (14-16#)
Finish: 500, 1000, 1500 Siaair/Factory Compound
RG: 2.510 (for 15# ball)
Differential: 0.053 (for 15# ball)
Recommended Lane Condition: Medium to heavy oil
Reaction: Length with strong backend
Warranty: 2-Years from purchase date
A few tiny pit holes in the cover stock of the ball are normal
SKU: EBO60106985
Product ID: 14499
Brand: Ebonite
Category: Bowling Balls
Ball Performance: High-Performance Balls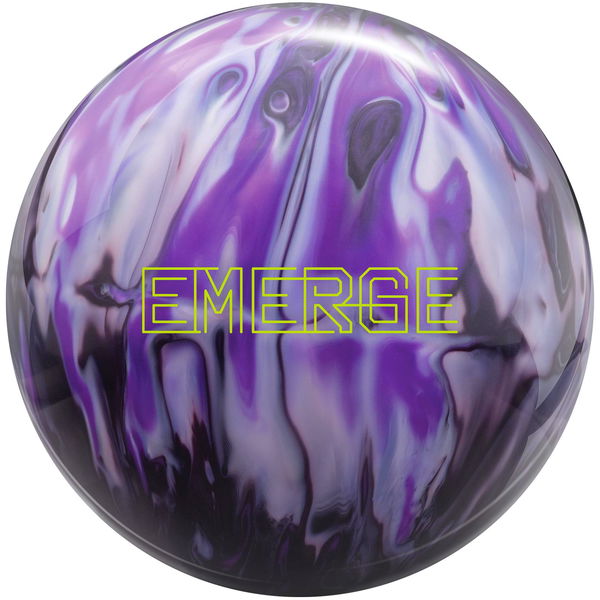 9/2/2023
By jaybird from de
Bottom Line:
Yes, I would recommend this to a friend
thumbs up
strong pearl ball. can handle fresh well on typical house shot and as the lanes get drier can move inside more and ball keeps coming
8/7/2023
By Robbie from AZ
Pros:
angular piece that Ebonite was missing.
Cons:
Can be too response off the dry
Best Uses:
Blended house shots and/or Sport shots.
Bottom Line:
Yes, I would recommend this to a friend
Angular ball Ebonite was missing
I drilled the Ebonite Emerge with a 4 1/2 inch pin putting the mass bias close to my thumb. The result was a very angular, very aggressive reaction when the ball saw any type of friction. It loves to go from left to right ( right handed), as long as the lanes are blended a little. If there is a big puddle in the middle and really dry boards outside of that puddle, you can see some over reaction off the dry. Ball goes through the pins with bad intentions as well.
7/26/2023
By Bryan Williams, PBA Member and DV8 Pro Staff from Plumas Lake, CA
Bottom Line:
Yes, I would recommend this to a friend
A Great Complement to the GB4 Hybrid
Ebonite continues to create dynamic balls with incredible ball shape, ball motion and hitting power. The new Ebonite Emerge with the HK-22 additive added to the coverstock provides bowlers at all levels a very controllable and strong rolling ball for bowlers looking for length, but a very controllable backend reaction. The asymmetric core wrapped in this pearl coverstock provides great ball motion on medium -medium heavy oil lane conditions. I drilled the new Emerge with a 45x4xEmerge35 layout, giving this ball a smooth and continuous ball shape. If you are a fan of the GB4 Hybrid, then you will absolutely love the new Emerge.
7/19/2023
By James from Maine
Pros:
angular, big asymmetric pearl, medium to heavy oil patterns
Cons:
light oil, burnt up house shots
Best Uses:
benchmark asymmetric pearl, medium-heavy patterns
Bottom Line:
Yes, I would recommend this to a friend
Ebonite Emerge, a new era in Ebonite performance!
The Emerge from Ebonite ushers in a new era of asymmetrical performance. The Emerge features the HK22-Optimize Pearl cover, and a new weight block that puts the emphasis on length with a strong backend reaction. Ebonite hit a homerun with The One Remix, and the Emerge gives bowlers that perfect strong pearl compliment to add to their lineup. I drilled my Emerge 50 x 3.5" x 40 to be strong and burn tilt slower as it makes its move on the lane. The Emerge is my go-to ball when I need something strong, but not early, and delivers on everything from medium to medium-heavy house and sport patterns. I can also play deeper on the lane and still retain tremendous pin carry, showing the strength of that weight block / coverstock combo on the Emerge. I have the Emerge about 1-2 boards less overall hook than The One Remix, but about 2-3 feet cleaner through the front part of the lane before it starts its "boom-stick" move to the pocket. The Emerge is available to order NOW from Bowler Builders Pro Shop, so go ahead and "Emerge" victorious now!

Check out my video of the Emerge here: https://www.youtube.com/shorts/YlOZOs445k0
7/8/2023
By C Miller from Calif.
Pros:
length, strong backend, HK22 coverstock
Best Uses:
medium to heavy oil conditions
Bottom Line:
Yes, I would recommend this to a friend
Strong Asymmetric Pearl
Who needs a strong asymmetric pearl ball? Look no further. The EMERGE by Ebonite is the answer!
I've been throwing the EMERGE for the last four days, putting 15-20 games on it. All on the local house pattern, sometimes fresh and leftovers from the day before. What a ball!
It gives you length, it corners, has continuation, and hitting power. It is fun to throw.
Safe to say, the EMERGE is high on my list of balls. You don't want to overlook this one!
Customer Questions & Answers | Reviews
Thanks for answering another customer's question! Once approved it will be posted here.