Take $5 off your purchase of $50+ today!
Coupon excludes instant bonus items, hot deal items, and gift certificates.
Ebonite Game Breaker 4
Ebonite carries on the success and value of the Game Breaker line of mid-performance bowling balls with the Game Breaker 4 Solid. This ball features the Enhanced V2 core which is wrapped with the famous GB 12.0 coverstock in a Solid Reactive version. This ball is ideal for medium to heavy oil and offers a strong mid-lane and backend reaction.
Color: Dark Red/Red
All colors do vary somewhat from the picture shown
Coverstock: GB 12.0 Solid
Core: Enhanced V2
Finish: 500, 1500 Siaair Micro Pad
Reaction: Strong midlane and backend
Recommended Lane Condition: Medium to heavy oil
RG: 2.48 (15# ball)
Differential: .048 (15# ball)
A few tiny pit holes in the cover stock of the ball are normal
SKU: EBO60106494
Product ID: 13154
Brand: Ebonite
Category: Bowling Balls
Ball Performance: Mid Performance Balls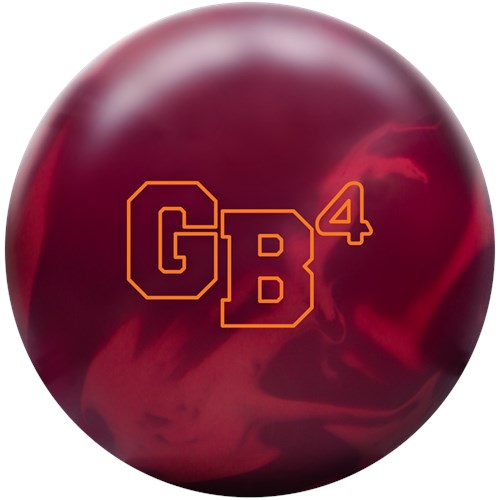 12/24/2021
By Greg G. from United States
Bottom Line:
Yes, I would recommend this to a friend
Top Notch Benchmark Ball
Bowler Stats: 18 mph (off hand), 420 RPM, Axis: 4 ⅞" right, ¾" up

Ball: Ebonite GB4

Layout: 45 x 4 ½" x 70

Surface: Multiple

Review:

Ebonite's GB4 is a true benchmark ball. Paired with a modified version of the tried and true V2 core and the GB 12.0 coverstock, provides a smooth rolling motion on medium oil that allows for bowlers to control and read the pattern. The GB4 finds its success on fresh medium oil patterns. The 500, 1500 Siaair finished cover provides adequate levels of traction on all but the slickest patterns. When bowling on these heavy oil patterns, the GB4 provides an easy read to know you need to "ball up" and choose a ball with a bigger and stronger coverstock.

The GB4 provides a relatively large usability window in its box finish, but as the lanes start to transition and more angle is created through the front it can begin to labor downlane resulting in reduced carry. Switching to something cleaner like a GB Asym provides the opportunity to store more energy downlane resulting in more backend motion and improved carry.

Summary:

The GB4 provides an opportunity to add a true benchmark reaction to the bag through its smooth and controllable reaction downlane. The ball provides an ideal controllable ball motion on medium oil patterns but can struggle to create the desired motion on the truly slick patterns. To handle the heaviest of patterns, a ball with a stronger coverstock will be needed to get the ball to pick up in the right part of the lane. As the lanes begin to transition and more angle is needed through the front part of the lane, more success can be found by utilizing something with a cleaner cover in order to store more energy through the pins.

Rating:
9/10

10/1/2021
By Mike Romero from Monterey, CA
Bottom Line:
Yes, I would recommend this to a friend
GB4
The Ebonite GB4 is your best new benchmark ball. It is an absolutely incredible ball and is your ideal league/tournament (medium to heavy oil) and sport/challenge shot ball. This ball should never leave your bag! It has a controllable shape, but has strong continuation through the pins that will help you carry a lot! The history of the Game Breaker series is one in its own and continues to be a fan favorite! Drilled mine 55 x 4.5 x 30.
9/14/2021
By Antonio from Pittsburgh
Bottom Line:
Yes, I would recommend this to a friend
Great Bench Mark Ball
The Gb4 is an excellent benchmark ball. Very predictable through the mid-lane, with a surprising amount of energy down lane. This ball will be the first ball out of my tournament bag!
8/16/2021
By Brian Green from Batavia, NY
Pros:
Versatile, shelf appeal
Best Uses:
House shot, First ball out of the bag
Bottom Line:
Yes, I would recommend this to a friend
Lives up to the GameBreaker Nameplate
The GB4 had some big shoes to live up to being in the Iconic GameBreaker family of bowling balls. The GB4 lives up to the GameBreaker name and looks good doing it to. The two shades of red and the the orange logos on top of it really make the GB4 stand out on the shelves and on the lanes.
I drilled mine 60 by 4 1/2 by 30 as this is my favorite benchmark layout for me. The GB4 takes over the benchmark spot in my bag with authority. The GB4
Is very readable to find out how the lane wants to be played and it's powerful enough to strike from multiple angles on pretty much everything but the extremes.

To sum this up: Get an Ebonite GB4, drill it with your favorite layout and you've got arguably the best benchmark bowling ball that's out right now. You won't be disappointed
6/18/2021
By Joe from Discovery Bay, CA
Bottom Line:
Yes, I would recommend this to a friend
GB4...Need I Say More
The GB4…need I say more? There's a reason the Gamebreaker series has been so well respected by many many bowlers over the years and the GB4 really showcases it. The GB4 is that benchmark ball that you can pull out to get a quick read on the lanes due to the pure predictability of the ball. For me, I can take it out of the bag and expect the same shape and movement every time which is something special because if you trust the ball, the scores will be right there with it.
6/14/2021
By Beast from FL
Cons:
Can only use in 2 games
Best Uses:
Depending on the shot 1st ball out
Bottom Line:
Yes, I would recommend this to a friend
Straight Fire. 1st ball out of bag
Amazing line by Ebionite. Reminds me of other good ball series By Ebionite The One series and The Choice
6/4/2021
By Richard from CA
Bottom Line:
Yes, I would recommend this to a friend
GB4
The Ebonite Game Breaker 4 is truly a benchmark ball! It's can be your first ball out of your bag to get the best read on the oil condition. The Game Breaker series has been a fan favorite and know it's even better. Box finish is 500/1500 which helps this ball read lane and gets you to play in more oil. It's a motion that you can see and depend on. Talk about smooth and continuous! It also takes surface changes very well. To much mid lane the shine it up, not enough then take the surface down even more. Great price, great looking ball and it's a Game Breaker!! It's a winner!!!
5/3/2021
By D Kozlak from Colorado Springs, CO
Pros:
Versatile, affordable, PERFORMANCE
Best Uses:
Benchmark ball, THS killer
Bottom Line:
Yes, I would recommend this to a friend
Symmetrical benchmark
Speed: 17.9
RPM: 480
PAP: 5 7/8 RT x 2 1/4 DN
No-thumb, one league per week, tournaments when I can.

The Ebonite Game Breaker 4 (GB4) is a contender for THE 'benchmark' symmetrical ball and THS killer. Easily a "first ball out of the bag".

The Game Breaker series from Ebonite has been the brand's most famous in recent years because of it's performance and value. The core engineers dissected the Enhanced V2 core to recreate the physical shape and numbers, knowing that this was the root of the GB line's success. The GB4 is a solid reactive, featuring the proven GB 12.0 veneer, ensuring the performance and success us bowlers demand from a Game Breaker branded ball.

With the out of box surface at 500/1500 and the Enhanced V2 core this ball reads the mid lane and digs it's teeth in the back end to give me a motion that's more of a hard arc than smooth and continuous. And that's with an all purpose layout that I chose (70x4.5x35). But don't get me wrong, this ball has excellent continuation. This ball is an excellent option to start a shift for league and, depending on the pattern you're rolling on, should be plenty useful late into that shift even if you need to move to a deep inside line like I do. Don't be afraid to adjust the cover (before your USBC sanctioned event starts) with some polish/shine to get the GB4 further down lane as you'll still be able to get that shape that you're looking for.

With the Dark Red/Red colored cover stock and Orange lettering this ball looks great sitting on the ball rack and rolling down the lane, crushing the pins.

Moderately priced, the GB4 outperforms expectations and the price point. With the intent for medium/med-heavy patterns I see the GB4 excelling on heavier volume patterns and with some polish/shine can be just as useful on lighter patterns or when the pattern transitions and a solid with surface is reading too early.

Be well, rip racks ...and shred pins.
3/23/2021
By dsarno from Colorado
Pros:
Consistency, Versatility, Hitting Power
Best Uses:
getting a read on the lanes, blending out a pattern
Bottom Line:
Yes, I would recommend this to a friend
Impressively Versatile
This ball is absolutely incredible.

I was in need of a new benchmark ball. After a long weekend of using it on sport, house, and challenge patterns I could not be happier. What surprised me most about the piece was its versatility. As all the famous GB's of the past the GB4 fits squarely into the very predictable motion category. What's awesome though is that its not a "use it for a game and then switch" ball. For example, bowling on Krypton for a set of 8 games I was able to start with this piece from 13 at the arrows to 10 at the break point and stay with it after 7 games rolling at 25 at the arrows and never lost carry. In fact, my last two games were better carry than early in the set. For a lower rev, speed dominant player I could not ask for more.

I would highly recommend this ball for it's consistency, reliability, and most impressively versatility.
3/20/2021
By CMiller from California
Pros:
It's a Game Breaker! benchmark, aggressive, continuation
Best Uses:
medium to heavy oil, sport patterns
Bottom Line:
Yes, I would recommend this to a friend
GB is Back!
The GB4 is the latest release by Ebonite. With the GB 12.0 solid coverstock and the Enhanced V2 core finished at 500/1500 Siaair pad, I found this GB to be earlier with more continuation down lane.
If your a fan of the Game Breaker series, do yourself a favor and pick up a GB4. Make this dark red/red beauty a part of your arsenal!
3/15/2021
By Richard from New York
Bottom Line:
Yes, I would recommend this to a friend
Your missing out If this ball isn't in your bag!!
Drilled my Ebonite GB4 aggressive, 3.75 x 20. It reads the mids and continues through the pins like a truck. I get about 15-20 frames from it before I have to ball down to something less aggressive. This is probably the strongest mid-lane ball I've ever thrown and was quite surprised by how much this ball actually hooks!! Your really missing out If this ball isn't in your bag!!
3/12/2021
By Bob N from Pacifica
Bottom Line:
Yes, I would recommend this to a friend
Ebonite GB4 continues the great Game Breaker series.
The Ebonite Game Breaker 4 ( GB4 ) finds a way into my bag for sure. The big weight block & these core numbers 2.48, 0.048 have always worked well for me. I bowled on burned up Scorpion oil pattern and compared it against my Brunswick Knockout and my DV8 Damn Good Verge. All good pieces, but on this day the GB4 picked up sooner than the other two, It had more overall hook and good continuation. It has a nice rounded, controllable shape. It will be my big benchmark. Love the dual red rolling down the lane as well.

4/11/2021
By Joey G. from South San Francisco, Ca
Pros:
Versatility, smooth roll, hitting power
Best Uses:
Medium to Heavy oil
Bottom Line:
Yes, I would recommend this to a friend
GB4
The history of the Game Breaker series has been one of my favorites. I have drilled a few of these gems and will now continue that tradition with a couple more of the GB4. This ball will not disappoint in any way. I like it best on medium oil but it can handle the heavier oil patterns as well. Don't be afraid to scuff it and don't be afraid the buff it. There's plenty of uses for this sweetie. Get it in your bag TODAY!!
Customer Questions & Answers | Reviews
Thanks for answering another customer's question! Once approved it will be posted here.