Hammer Envy
Make your competition envious with the Hammer Envy high-performance bowling ball hooking and striking performance. This ball was engineered to be the strongest ball from Hammer to date. The Envy features the new Launcher core which utilizes both a flip block and Hammer's radial disc technology. This core technology helps to move mass away from the center of the ball which creates a more powerful reaction down the entire lane. This ball also uses the Envy Solid coverstock which helps create ample hook in heavy oil.
Color: Black/Red/Orange
All colors do vary somewhat from the picture shown
Core: Launcher
Coverstock: Envy Solid
Reaction: Aggressive midlane and backend
Finish: 500, 1500 Siaair Micro Pad
RG: 2.505 (15# ball)
Differential: 0.055 (15# ball)
Recommended Lane Condition: Heavy oil
FCC Rating: Total- 28.75, Finish- 9.25, Core- 9, Cover- 10.5
Manufacturer's Warranty: 2 years from purchase date
A few tiny pit holes in the cover stock of the ball are normal
SKU: HAM60106815
Product ID: 14106
Brand: Hammer
Category: Bowling Balls
Ball Performance: High-Performance Balls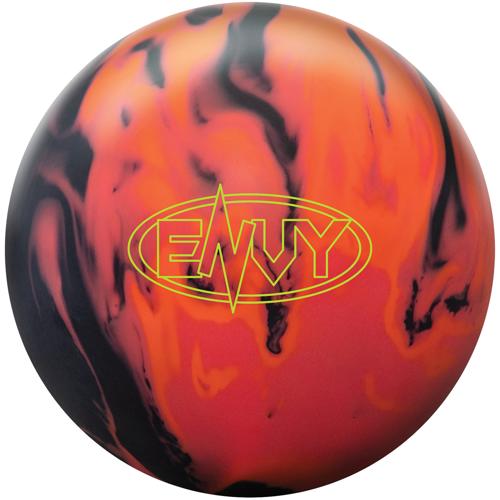 1/8/2023
By Joey G from Vacaville, CA
Pros:
Great look, hits really hard
Bottom Line:
Yes, I would recommend this to a friend
Hammer Envy
Be the Envy of your fellow bowlers with this new hook monster from Hammer. This is the strongest ball from Hammer to date and is definitely what you need on heavier oil and longer patterns. Great look and hard hitting power making it a no brainer to get one in your hands!!
Pros:
A real beast in heavy oil.
Cons:
Not the best choice at least for me on house shot.
Best Uses:
Heavy Volume oil patterns, particularly sport oil patterns
Bottom Line:
Yes, I would recommend this to a friend
As Advertised.
I really like this ball. It Reminds me a lot both my Redemption solid, but about 2- 3 boards stronger overall, and it also reminds me of my statement solid. With a a little more overall hook, and back end then my statement, but with a little less length..
The slightly less length is most likely the reason I can't really use my Envy in my house league. I really like it though In my PBA experience league, and in tournaments. Especially on the heavier volume patterns. Overall a good ball for me. I'm glad I decided to make the purchase.
12/1/2022
By Jake from USA
Bottom Line:
Yes, I would recommend this to a friend
Hammer Envy
Is the Hammer Envy the strongest ball ever released by Hammer? YES, this is going to be that BIG Asymmetrical piece that you will need in your arsenal of equipment for league but especially for those tournament conditions!
The Hammer Envy is my go to ball on longer length patterns with mid to higher volume! The ball for me does tends to read a earlier but still gives me that strong continuous motion off the backend! At the end of the pattern it still has more than enough energy to go through the pins properly on those harder tournament conditions!
Ball Layout for myself is : 45 x 4.25 x 75
11/26/2022
By C Miller from CA
Pros:
early read, strong backend motion, it's a Hammer
Best Uses:
higher volume, longer patterns
Bottom Line:
Yes, I would recommend this to a friend
Envy is strong
The Envy by Hammer is your big asym ball that needs oil. Right out of the box, I could see the ball pick up early with a strong, continuous backend motion.
When you encounter high volume or longer oil patterns, Envy will be the ball to turn to. By far, the Envy is the strongest ball Hammer has ever created.
Nothing Hits Like a Hammer!
10/3/2022
By Joe Somd from Seattle
Bottom Line:
Yes, I would recommend this to a friend
A STAR IS BORN
The most hooking ball Hammer has ever made. This ball is Strong!! The midlane roll and continuation downlane is amazing. It keeps the pins low and the ball drives through the 8-9 pocket with more force than I have ever seen from a ball before. This ball needs oil and just let it roll. The more contact with the lane surface the better it is. This reminds me of the Redemption solid and Obsession solid with the early roll but this ball also has a ton of downlane motion showing its separation. A truly iconic piece!!!
Video Submitted by Reviewer:
10/2/2022
By TheHopeDiamond22 from WA
Bottom Line:
Yes, I would recommend this to a friend
PEOPLE WILL "ENVY" YOU
Hook Monster. I don't think there is a surface on the planet this will not hook on. The Envy is an absolute must have in the bag. When you have to tackle the heavy oil conditions this will be your ball. Very strong midlane with loads of hitting power. Usually, balls that are this highly responsive tend to lose power at the transition point. Yeah, not the case here. Right now, I would say is the strongest ball on the market. If you need to dig a ditch on heavy oil. The Envy is the perfect piece to make it happen.
9/27/2022
By Sweetpea Bowl from Worcester, Massachusetts
Best Uses:
high volume patterns
Bottom Line:
Yes, I would recommend this to a friend
Hammer Envy
Here is my take on the new Hammer Envy. The Envy features the Launcher asymmetric core wrapped by a black/red/orange Envy solid coverstock. (Same cover on the original Obsession) Box surface is 1500 Siaair. I have tried the new Envy on Kegel Neon which is our house shot. The layout on the ball is 45 x 4 3/4 x 30 and was thrown at box surface.

The Envy, at box surface, definitely requires higher volumes of oil. Kegel Neon is a lower volume long pattern and our lanes surface is older AMF SPL synthetic. The Envy clearly is early in its response to the pattern with a slower more rounded shape to its motion. Yet, what is also clear is that the Envy does continue splitting the 8-9. The new Envy will be best suited to fresh patterns with higher volumes. In this environment, the Envy will be most effective. Depending on layout, I see the Envy best on medium to longer distance patterns. I have not tried any surface changes but will do so in the future to see how it responds to lower volumes.

The new Hammer Envy is readily available. See your local pro shop for more information!

9/21/2022
By Trackstar85 from Renton, WA
Best Uses:
Medium To Heavy Oil Patterns
Bottom Line:
Yes, I would recommend this to a friend
Envy Is Amazing All I Can Say
OMG This Ball Looking At The Numbers Before It Came Out I Thought It Was Definitely Worth Looking Into And Numbers Dont Lie And Proved It Once I Got It Drilled Up And Got To Throw It. Its Definitely Going To Be First Ball Out Of My Bag On The Fresh And Is Going To Be Great For Those Longer Heavier Volume Oil Patterns. I Will Start Straight Up The Boards And Migrate In As The Transition Hits And Still Moving Inside Playing A Tight Line To The Pocket Still Drives Through The Pins! This Ball Is Very Versatile And Good For Any Skill Level Or Rev Rate. Bowling At House With A Heavier Volume House Shot Keeps Me In Play And Gets To Pocket With A Very Smooth Predictable Motion Down Lane And Toward The Pocket. I Recommend Visiting Your Local Pro Shop Today And Buying One Especially All Of You Hammer Fans Needing That High Performance Bowling Ball For Your Bag!
Customer Questions & Answers | Reviews
Thanks for answering another customer's question! Once approved it will be posted here.