We'd like to offer you $5 off your purchase of $50 or more today!
Coupon excludes instant bonus items, hot deal items, and gift certificates.
Motiv Revolt Havoc
This Motiv bowling ball is so strong it is going to wreak havoc on your competition. The Motiv Revolt Havoc has the Vanquish weight block that is covered by the Helix HFS Reactive coverstock and finished with 3000 Grit LSS These features combine to create a ball that is designed to read medium-heavy oil conditions early and provide continuation like never seen before. This ball combines strength with great continuation through the pins. The strength of this ball makes it a good match for bowlers with speed and low revs. Because of it's unbelievable continuation this ball is also a good ball for competitive bowlers with high rev rates.
Color: Purple Solid

All colors do vary somewhat from the picture shown.

Core: Vanquish
Coverstock: Helix HFS Reactive
Finish: 3000 Grit LSS
Recommended Lane Condition: Medium-Heavy Oil
RG: 2.47 (for 15# ball)
Differential: 0.056 (for 15# ball)
A few tiny pit holes in the cover stock of the ball are normal
SKU: TLMTVBRHPS
Product ID: 9452
Brand: Motiv
Category: Bowling Balls
Ball Performance: Upper Mid-Performance Balls
Back to Top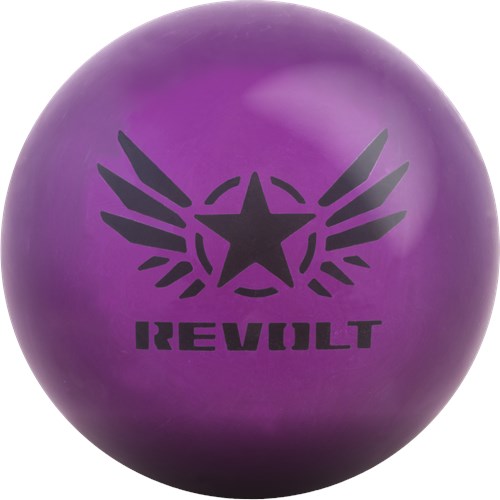 Similar Balls: Same Hook Potential, Lane Conditions & Coverstock as the Motiv Revolt Havoc.
9/25/2015
By
Mags
from Detroit, MI
Bottom Line:
Yes, I would recommend this to a friend
#Controlfreak
#Controlfreak
Description: The Revolt Havoc maintains the same Vanquish core as the original Covert Revolt and Revolt Vengeance. As usual though MOTIV doesn't like to repeat coverstocks and this ball is no different, using the new Helix HFS Reactive coverstock. The Revolt Havoc has a vibrant solid purple cover which also provides great shelf appeal.
Reaction: There is no doubt that the Covert Revolt was a unique piece that MOTIV initial provided, but the Revolt Havoc is honestly going to be a legit replacement. It is very simple, the Revolt Havoc is significantly earlier than the Covert Revolt and it may be hard to believe, but it is also more continuous and provides even more hook potential. So the purpose of this release is still to fill that void of a hook AND control piece. My first layout (70 X 4.5 X 60, no hole) is the earlier and stronger of the two layouts. This layout will be best on flatter and heavier patterns. It isn't a ball that will be used a lot in league or typical house patterns as it is just too early and too strong overall to open the lane up on those types of patterns. My second layout (60 X 5.5 X 35, no hole) is the more versatile layout. So far I have been able to successfully use this on fresh house patterns. It has allowed me to move into the heaviest part of the lane and really blend out the very wet/dry house patterns, which has really opened the lane up because it never loses continuation. Even though this layout is cleaner and has more continuation it is still plenty strong enough throughout the entire lane.
Comparisons: MOTIV always does a very good job at placing balls into their lineup…this one is no different. The Revolt Havoc is replacing the Covert Revolt, but it's not just a change in color. "To mimic or re-create the Covert Revolt would have been an insult to our customers and boring for us." Brett Spangler-MOTIV Tour Representative. So with that being said yes, the Revolt Havoc is earlier and stronger than the Covert Revolt. As for other comparisons, the Revolt Vengeance is now much cleaner and provides much more shape down lane, but the hook potential is noticeably less than the Revolt Havoc. The Primal Rage Remix is once again much cleaner and has a much faster response down lane, but doesn't quite catch the hook potential of the Revolt Havoc.
Summary: Well, there are no tricks to this ball, you know exactly what you're getting. An earlier rolling ball with amazing continuation. I am not going to tell you that this ball is good for all conditions, it is designed for when you want the ball to start sooner and maintain control and a lot of continuation.
Mike Magolan
MOTIV Staff | Turbo Staff | Boom Apparel Staff
Video Submitted by Reviewer:

9/28/2015
By
Adam Chase
from North Babylon, NY
Pros:
Strong, Continuous, Handles Heavy Oil Well
Cons:
Needs Head Oil, May Need A Surface Adjust
Best Uses:
House Patterns, Medium Sport Patterns, Long Sport Patterns
Bottom Line:
Yes, I would recommend this to a friend
Super Continuous
The new Revolt Havoc can handle heavy oil with the best of high performance bowling balls. The popular vanquish core is brought back with a new solid cover that's great on the slickest of lanes. Even though the Havoc rolls very early in the midlane, it has extreme continuation making it great for any style of bowler on most lane conditions. Being a high rev bowler, I had to polish the Havoc so it can get through the front part of the lane clean enough for me. The continuation is just unbelievable for a ball that rolls as early as the Havoc does. Those who have the Covert Revolt and think that it can't handle enough oil will absolutely love this ball!

10/20/2015
By
autumnhunter33
from Elk River, MN
Bottom Line:
Yes, I would recommend this to a friend
Hits Like a Mack Truck
I throw about 17 mph with 500 revs. This ball has become my benchmark ball in my bag. This ball hits so hard when it enters the pocket, it is the hardest hitting ball I have thrown from Motiv so far. First series out of box was 730. This ball has the most continuation that I have seen so far this year, the best part is when you miss outside or pull it in the oil more, the ball still wants to get to the pocket and this ball never over reacts that I have seen. I am not sure this ball can be thrown on all conditions, but I have thrown it on dry and oily and still the best ball i have seen.

Customer

Questions

& Answers

| Reviews