Take $5 off your purchase of $50+ today!
Coupon excludes instant bonus items, hot deal items, and gift certificates.
Storm Proton PhysiX
The Storm Proton PhysiX high-performance bowling ball was designed to offer traction and hook on just about any heavy oil condition you might come across. This bowling ball is the third in the popular PhysiX line and continues the success of the Atomic core. The low RG of the core assists in producing spin on the ball and when combined with the NeX Solid Reactive coverstock this ball is unstoppable on heavy oil conditions. The Proton PhysiX offers a good midlane read while generating a strong entry angle that will maximize pin carry.
Color: Magenta/Black/Violet
All colors do vary somewhat from the picture shown
Coverstock: NeX Solid Reactive
Core: Atomic
Finish: 2000-grit Abralon
RG: 2.48 (based on 15# ball)
Differential: 0.053 (based on 15# ball)
Recommended Lane Condition: Heavy Oil
Fragrance: Frosted Cupcake
A few tiny pit holes in the cover stock of the ball are normal
SKU: STBBMTNB
Product ID: 13054
Brand: Storm
Category: Bowling Balls
Ball Performance: High-Performance Balls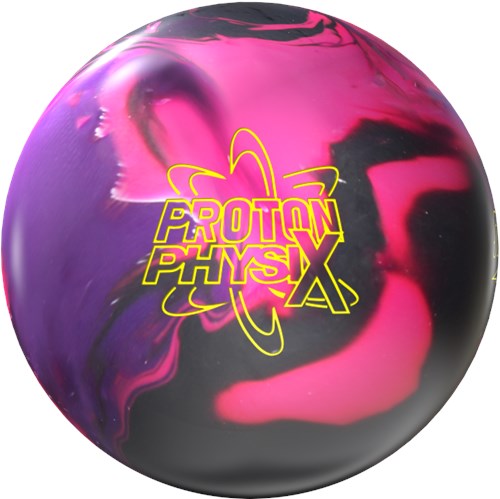 10/26/2021
By Mudbug from Texas
Pros:
Strong back end, hits like a truck and laughs at heavy oil.
Best Uses:
First ball of the night, heavy oil, very predictable and strong.
Bottom Line:
Yes, I would recommend this to a friend
Great first and heavy oil ball.
This is the first ball out of my bag followed by Phase II and then Phase III. Been looking for a first ball and heavy oil ball for a while now and finally got it. This ball gets through the oil and bows up and crushes pockets. Great ball!
Pros:
Works great in heavy oil lanes
Cons:
Not the best on dry lanes
Bottom Line:
Yes, I would recommend this to a friend
Great Ball
I love this ball. This ball has improved my game because it's aggressive and moves in heavy oil lanes. I recommend it to anyone that needs an awesome hook ball for heavy oil
7/7/2021
By MD from Punta Gorda, Gl
Pros:
Got it in Reno at Women's Nationals, this ball rolled like there was no heavy oil!!!!
Best Uses:
Early rolling ball on oil, steady roll to the head pin…
Bottom Line:
Yes, I would recommend this to a friend
Fabulous Ball
Just love this ball…purchasing another w less weight….
5/26/2021
By Kiera from TX
Bottom Line:
Yes, I would recommend this to a friend
2/28/2021
By Danny from Seattle
Pros:
Hooks, smells great, looks pretty, very durable
Best Uses:
Fresh / Heavy Oil Conditions
Bottom Line:
Yes, I would recommend this to a friend
Great hooking ball
This ball is very versatile in my opinion you can play it in so many ways , very happy with my purchase :) Get one of these bad boys in your arsenal
2/4/2021
By Bryan from Tennessee
Pros:
Strong, Doesn't burn up energy
Cons:
Just don't drill it too strong
Best Uses:
Fresh Oil, Sport
Bottom Line:
Yes, I would recommend this to a friend
More than I expected
Being a 900 Global staffer, I did not have the opportunity until recently to throw Storm and knew I wanted to get a strong asymmetrical solid as I've always known they have always delivered good equipment. I've always struggled with getting strong asymmetrical to turn the corner and carry the 10 or not burn up. The Proton Physix was everything I've been missing. I drilled in 50x4 1/2x45 and I have a slower ball speed and have 12 degrees of tilt. After drilling I was very impressed with the continuous early roll without the loss of hitting power. I did eventually put a little polish by hand just to have the ability to play a little deeper and have it turn the corner better which now helps being able to stay with this ball during a full league session. After throwing this ball for a week the overall strength impressed me as well as the ability to keep moving left, but the thing that impressed me the most is the NeX cover. I was expecting it to be strong which it is, but was not expecting it to work as well on lanes that are very wet dry. I don't have to be afraid move left and send it to the dry. The NeX cover doesn't over react off the dry nor does it burn up too much like you could see from strong asymmetrical solids. I am really excited for the Hyroad Maxx and look forward to that being a good down ball from the Proton Physix.
2/4/2021
By Lewis martin from Tampa
Pros:
Very strong in the mid lane
Bottom Line:
Yes, I would recommend this to a friend
Strongest ball ever
have never had a ball that goes through the pins as good as this one on the fresh, picks up very strong in the mid lane and doesn't quit down lane, flat out amazing ball
2/2/2021
By msinger95 from Reynoldsburg, Ohio
Pros:
Colors, Heavy Oil, Overall great addition to the Physixs line
Bottom Line:
Yes, I would recommend this to a friend
Amazing Physix Addition
This ball is just WOW. I've loved every Physix ball, and this one compliments them all and hits the pins like a truck so that's a plus! As soon as I let go of the ball it is so smooth and get down the lane. This is overall an amazing ball and I would recommend it for anyone looking to add a ball to their arsenal.
2/2/2021
By Cameronsinger300 from Ohio
Pros:
This ball shines on heavy oil conditions
Cons:
Ball burns up to much on dry conditions
Best Uses:
Best used on longer more volume patterns
Bottom Line:
Yes, I would recommend this to a friend
Striking machine
The proton physix has been a great addition to storms high end solid line it has provided a great replacement to maybe balls people have loved such as the code x, wild streak, idol and even the original physix. This is just an amazing solid ball I would recommend anyone to have in their arsenal
1/5/2021
By Kassy from Olympia, WA
Pros:
Smooth, controllable, loves OIL.
Best Uses:
Heavy Oil conditions
Bottom Line:
Yes, I would recommend this to a friend
Proton Physix
This is undoubtedly the strongest ball I have had in my bag in quite some time. I am just going to come out and say the ONLY thing I don't like about this ball is that it is pink. But that is obviously a very personal opinion of something that doesn't affect the balls performance on the lanes. Seeing as the original Physix is one of my all-time favorite balls I was very excited when Storm announced they would be wrapping the Atomic Core with the NeX solid cover. Even though the Proton is an asymmetrical bowling ball the NeX cover stock has allowed me to have "control" over this ball. I never feel as if it jumps off of the spot too quick like an asymmetric pearl would. The only ball I could compare its strength to is the Sure Lock, it just digs into the oil unlike anything I have seen since the Sure Lock was released.
12/17/2020
By Dean Stewart from Erlanger, Ky
Bottom Line:
Yes, I would recommend this to a friend
Storm Proton PhysiX!
Introducing the brand new Proton PhysiX! This is Storm's new big asymmetrical ball! This ball features the NeX Solid Reactive coverstock wrapped around the Atomic core! The NeX Solid Reactive was featured in the Axiom and, the atomic core was featured in the original PhysiX! This ball just flat out hooks and, is known as a "Hook Monster"! For me this is a great ball for heavier lane conditions or, for when the transition hits and, the backends don't have as much friction. Compared to my Axiom this ball is more aggressive overall where as my Axiom is cleaner through the fronts and aggressive down lane.
Do yourself a favor and go get one! Everyone needs a ball like this in their bag!
9/9/2022
By DubC from San Francisco Bay Area
Pros:
Great smooth motion...clears the deck
Cons:
Not a true match up on heavy oil
Best Uses:
Medium-Medium Heavy Oil
Bottom Line:
Yes, I would recommend this to a friend
Better on Medium-Medium Heavy
I've been in need of a heavy oil beast and decided to give the Proton Physix a try based on the online reviews. Our lanes conditions are a 41' Fresh House Shot, but there's also a PBA Pattern League that finishes up about an hour before we get started....So the conditions are definitely tricky from week to week. On the fresh, the Proton just would not roll up for me...until I put more surface on it...Sometimes 500-1000. The better ball for me on our mixed shot on the fresh has been the 900 Global Reality. As the lanes transition to Medium Heavy-Medium, this is when the Proton Physix shines for me and is my main ball for games 2-3. This is why I have to give it 4 or 5 stars.
Customer Questions & Answers | Reviews
Thanks for answering another customer's question! Once approved it will be posted here.