Storm Virtual Energy Blackout
Check out the Storm Virtual Energy Blackout Bowling Ball – A Fusion of Power and Precision!Step onto the lanes with confidence, armed with the cutting-edge performance of the Virtual Energy Blackout. This remarkable bowling ball takes the renowned foundation established by the Shape-Lock HD Core and elevates it to new heights of sleek sophistication. The Virtual Energy Blackout seizes control with its captivating tour-inspired 1-tone design, a testament to its dominance on the lane. Rekindle your passion for the game, as this ball brings back a shape that you didn't realize was missing until now.Unleash the true potential of your game with the Virtual Energy Blackout's groundbreaking features. The "HD" in the core's name stands for high density, a quality that works in tandem to enhance the ball's performance. By lowering the RG and boosting the weight block's differential, this ball is primed for extraordinary flare potential. With each rotation, this ball exposes a fresh section of its coverstock to the oil, ensuring consistent and dynamic gameplay that adapts to every lane condition.Traditionally, a "hybrid" coverstock implies a combination of solid and pearl components. However, Storm's pursuit of excellence led them to redefine the hybrid concept entirely. Enter the revolutionary pairing of R2S and NeX in their state-of-the-art laboratory. The outcome surpassed even Storm's loftiest expectations. Rigorous testing revealed that the NeX foundation yielded backend and entry angle figures akin to those of R2S, with a unique twist. The slight compactness of R2S's chemical porosity compared to NeX forged a new frontier of performance.Thus, the birth of ReX, aptly known as "Reactor Extreme," emerged as a testament to Storm's unwavering commitment to innovation. The Virtual Energy Blackout Bowling Ball is more than just a bowling ball – it's a game-changer that reshapes your approach to the sport. Dominate the lanes with unparalleled power, finesse, and control. Experience the fusion of cutting-edge technology and expert craftsmanship!
Color: Blackout
All colors do vary somewhat from the picture shown
Core: Shape-Lock HD (14#-16#)
Coverstock: ReX Pearl Reactive
Finish: Reacta Gloss
RG: 2.48 (15# ball)
Differential: 0.052 (15# ball)
Recommended Lane Condition: Medium-Heavy Oil
Fragrance: Orange Pop
A few tiny pit holes in the cover stock of the ball are normal
SKU: STBBMVEK
Product ID: 14660
Brand: Storm
Category: Bowling Balls
Ball Performance: High-Performance Balls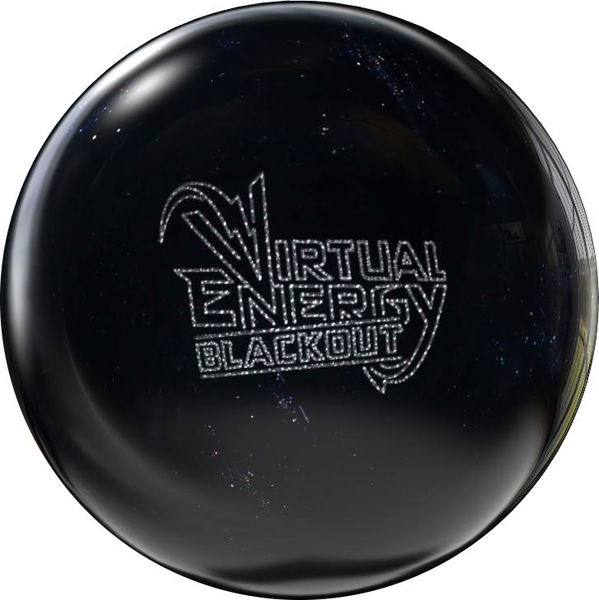 10/29/2023
By Glenn from Tennessee
Best Uses:
When Back End is needed
Bottom Line:
Yes, I would recommend this to a friend
Virtual Energy Blackout Review
Ball Specs:
Storm Virtual Energy Blackout
REX Pearl Reactive Cover
Reacta Gloss Polished
Shape Lock Core (Asymmetric)
Layout 4.5 x 4.5 with 1.5" Pin Buffer

Bowler Specs:
Right Hand. PAP 5" Over 1/2 up
Rev Rate 300. Tilt 20. Rotation 50.
Speed at release 17

Review:
The Virtual Energy Blackout gives me the most angular motion down lane that I have had in quite a while. The Blackout covers more boards than I was expecting from such a glossy finish. The Blackout gets down the lane nicely but does not go too long probably due to the ball being asymmetrical. The sharp motion on the back drives through the pins hard. This ball is great when you need higher entry angles. I still love black color bowling balls and the silver logos give this ball an elegant look. The Virtual Energy Blackout hooks more than my Fate but a little less than my Exotic Gem. I was very impressed by how this ball comes back from almost anywhere on a typical house shot. I carry some poor shots I don't deserve due to the sharp entry angle of this ball. I did have a stretch where I kept leaving ring 10's and at this point I switched to a ball whit a smoother shape on the back and the problem was solved. When I can use this ball in league, I will due to the recovery it provides, but like any ball you have to know when to change lines, speed, or release. I would recommend this ball to anyone who wants that hockey stick angular shape with a strong back end that most look for in a ball. The Blackout has already been popular at our shop.

Summary:
The Virtual Energy Blackout is a very angular ball.
The core and cover on this ball match up nicely.
This ball looks great and the Orange Pop scent is very nice!.

Glenn Wendel
Storm Pro Shop Staff

gwendel@comcast.net
www.stormbowling.com



10/17/2023
By Crispy from CA
Pros:
picks up, great hook potential
Best Uses:
Great Strike ball
Bottom Line:
Yes, I would recommend this to a friend
Blackout
It rolls smoothly and picks up on the hook when you need it to. A great strike ball with explosive pin action.
Customer Questions & Answers | Reviews
Thanks for answering another customer's question! Once approved it will be posted here.