We'd like to offer you $5 off your purchase of $50 or more today!
Coupon excludes instant bonus items, hot deal items, and gift certificates.
900Global Desert Ops
Out maneuver your competition with the 900Global Desert Ops bowling ball. 900Global took their popular S70 Pearl coverstock and combined it with the Break asymmetric core. This pairing creates a bowling ball that offers the perfect combination of friction and backend reaction as well as controllable flare when used on dry to medium-dry lane conditions. 900Global raised the RG while lowering the differential so that when paired with the S70 Pearl coverstock this ball will perform well on those dry lane conditions.
Color: Burnt Orange/Gold

All colors do vary somewhat from the picture shown.

Core: Break LD Asymmetric
Coverstock: S70 Pearl
Finish: 1500 Grit, Polished
RG: 2.57 (15# ball)
Differential: 0.030 (15# ball)
Recommended Lane Condition: Dry-Medium Dry Oil
A few tiny pit holes in the cover stock of the ball are normal
SKU: GLBBMGDE
Product ID: 10414
Brand: 900 Global
Category: Bowling Balls
Ball Performance: Mid Performance Balls
Back to Top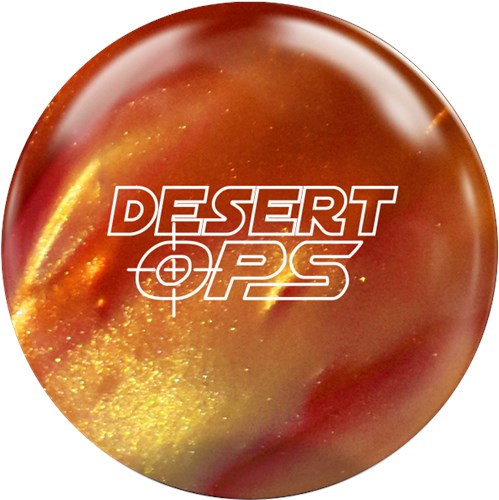 Similar Balls: Same Hook Potential, Lane Conditions & Coverstock as the 900Global Desert Ops.
2/11/2017
By
Donny carr
from Ft. Meade, Md.
Bottom Line:
Yes, I would recommend this to a friend
Desert Ops 900 Global
Desert Ops, 900 Global
Great ball for the burnt condition, also a great ball for slower speed bowlers.
Sometimes the urethane balls are not strong enough for the dry lanes. The Desert
Ops can fill that void. With the famous S70 cover in combination with a high rg low diff
core, power on the backend on dry lanes is no problem. The cover allows it to burn off
energy at a very slow rate saving most of it for the finish. Slow speed bowlers can use this ball on fresh, medium dry and dry lanes. You never know what lane conditions will be, so be ready with the Desert Ops, the only one of it's kind.

Donny Carr 900 Global Staff, Ft. Meade Pro Shop

2/18/2017
By
Tim Janz
from Beaver Dam,Wi
Desert ops
have this one drilled pin under bridge with the MB on VAL with no hole. ball can be used on the fresh or the BURN! fresh it allows you to play straighter without over reacting,and when they dry out just jump in and throw to the dry. If you have slow ball speed this ball would be perfect choice for you. or even if you like to get in and hook it!! Tim Janz 900 Global staff

2/18/2017
By
G-Money
from Irmo, SC
Desert Ops
Desert Ops
Coverstock: S70™ Pearl
Finish: 1500 Grit, Polished
Color: Burnt Orange/Gold
Core: Break LD Asymmetric
Flare Potential: 3"
Radius of Gyration 2.57
Differential .030
Int. Differential .011

The latest 900 Global ball in the Preferred Series is the Desert Ops. It uses the same Break core that was in the Breakdown but with a 1500 Polished Pearl shell instead of a 4000 grit finish. I drilled mine with the Pin up above my ring finger which was a 5 X 3 X 3 1/2. My opinion is that the ball has some serious length in the front part of the lane but it has a very controllable reaction when it sees the mids. Very pleased to see this rock in the 900 Global lineup! I throw this ball mainly on medium type Sport patterns when the front part of the lane has created some sort of friction after a number of games have been bowled. 900 Global continues to produce the best bowling balls on the market today! Remember if you want some added Performance in your game make sure you get a Desert Ops at your proshop today!

Greg Thomas

3/9/2017
By
Brent Ritchie
from Madison, WI
Bottom Line:
Yes, I would recommend this to a friend
900 Global Desert Ops
As with others, generally speaking asymmetrical cores and myself have not gotten along very well in the past. The hook/stop motion was almost always the eventual result and that was frustrating. I was willing to give this one a chance as I had a specific drilling/purpose in mind for this ball. I drilled it 95x40 with a 2" pin and ended up with the MB left of my thumb hole. Wanted to have a log of length and a lot of control on the back part of the lane and that is exactly what I got. The ball has effortless length with a hard, but controllable, move off the dry. I was able to play much further right than with most other bowling balls (all the THS in my area are very low volume) and shot 300/847 with the first set out of the box. Definitely another winner from 900 Global!

Brent Ritchie
900 Global Regional Staff

1/20/2017
By
Mr. Coffee
from Colorado Springs, CO
Bottom Line:
Yes, I would recommend this to a friend
900 Global Desert Ops
900 Global Desert Ops?Color: Burnt Orange / Gold
Coverstock: S70 Pearl
Weight Block: Break LD Asymmetric
Factory Finish: 1500 Grit Polished
Flare Potential: Low
Radius of Gyration (RG): 2.57
Differential (Diff): 0.030
Intermediate Differential (Diff): 0.011
Layout: 60x4 3/4x 40
Surface Preparation: Out of Box (1500 polished)
Bowler Specifications:
-Right handed
-Ball Speed: 17mph
-Rev rate: 375
-Positive Axis Point (PAP): 5 inches across, 1/4 up
Lanes
-Synthetic
-Oil pattern Length: 41' House Shot
Summary
When the lanes start to dry out the Desert Ops clears the fronts so well I never have to over think the ball hooking too early on lane. When the ball gets to the back part of the lane I was really surprised on how controlled the reaction once. I've thrown it about 30 games already as the lanes here are drier than most centers and I have not once had this ball overreact on the backend. It really allows me to trust in the ball that it will do what I want it to do. All in all this is a nice pearl ball without that skid flip motion. This ball allows you to play on the drier conditions without having to worry about overreaction when it hits too much fiction. This ball is a much needed piece in anyone's arsenal when the last game of league comes or whenever you are bowling on lower volume patterns when every other ball is too early or overreacts on the back end.

Dale Coffee
900 Global Staff
Colorado Springs, CO

1/23/2017
By
msb092669
from Dallas, TX
Bottom Line:
Yes, I would recommend this to a friend
Desert Ops by 900 Global
Me and asymmetric cores have never gotten along real well, but I was very excited to get my hands on the 900 Global Desert Ops due to it's relatively low 0.030 differential. I was hoping to avoid the normal hook/stop ball motion I usually get from asymmetric cores. Oh goodness do I love the motion of this ball. It's very clean through the front with a strong but predictable down lane motion. So if you are looking for a ball with an asymmetric core for shorter or drier lane conditions then you can't go wrong with the 900 Global Desert Ops.

Mike Bailey
900 Global Regional Staff Member

1/24/2017
By
Sean Daniels
from Aloha, Oregon
Bottom Line:
Yes, I would recommend this to a friend
900 Global Desert Ops
Ball: 900 Global Desert Ops
Coverstock: S70™ Pearl
Finish: 1500 Grit, Polished
Color: Burnt Orange/Gold
Core: Break LD™ Asymmetric
2.57 Radius of Gyration
.030 Differential
0.11 Intermediate Differential

Drilling: 4 x 4x 4
Pap: 4 3/4 x 7/8 up

Lane Condition: 40 Foot THS
I drilled this Desert Ops the same as my Special Ops to be able to compare the ball motion. The ever popular S70 coverstock was used on this ball in a pearl version. This compliments the OPS line as the Black Ops was a solid cover and the Special Ops was a hybrid cover. Compared to the Special Ops, the Desert Ops goes about 3 feet longer but when it gets to the friction this ball certainly knows what to do. This ball changes direction very quickly for me and provides a great option when I need to open my angles up and have a ball that will respond quickly.

Sean Daniels - 900 Global Staff Player
Aloha, Oregon

1/27/2017
By
Jimmy Casteel
from Evansville, IN
Bottom Line:
Yes, I would recommend this to a friend
Desert ops review by Jimmy Casteel
60x4.75x65
1500 Polish
The Desert Ops is the newest addition to the Preferred Series. This ball is the best suited in the "Ops" line for when the lanes become dryer. The Break LD core in this ball has been used in quite a few balls in the history of 900 Global and has been proven to be a winner. The pearlized cover put on this ball will allow you to clear the heads of the lane with ease and have the strong backend reaction that everyone likes to see. This ball will be best suited for those who want to play up the boards on fresh without having to worry about it reading the lane too early, or when the lanes do dry out, you will be able to move in deep and feed it to the dry and watch it come back hard.

Customer

Questions

& Answers

| Reviews
Question:
If I request 15 can you send 15 3oz
3/6/2017 - By
Tim
Have an answer to this question?
Answer:
Hi Tim. You can request for certain weights under the weight selection tab in the blue box where it says "click to request pin/top weight" or you can leave that in the special comments box at the end of the order process.
3/6/2017 - By
Bowling.Com Staff
0

of

0

customers found this answer helpful. Did you? Yes | No
Did you find this answer helpful? Yes | No
Thanks for your feedback!