We'd like to offer you $5 off your purchase of $50 or more today!
Coupon excludes instant bonus items, hot deal items, and gift certificates.
Brunswick Quantum Forest Green Solid
Brunswick is relaunching the Quantum product line with the Quantum Forest Green Solid. This line of bowling balls features single density cores along with thicker urethane coverstocks. This thicker coverstock offers durability, longevity, and massive hitting power. This ball is unique in that each core has a unique design to compensate for the gross weight of the ball, the core's dynamics, and the balls hook potential. This ball uses Brunswick's PK2016 Solid coverstock formula which offers great mid-lane traction as well as awesome backend reaction when facing medium to heavy oil conditions.
Color: Forest Green Solid

All colors do vary somewhat from the picture shown.

Core: Quantum Mushroom High RG
Coverstock: PK 2016 Solid
Finish: 500, 1000 Siaair Micro Pad
Reaction: Length with mid-lane traction and big backend
RG: 2.610**
Differential: 0.053**
** RG and Diff are based off of 15 lb. balls
Hook Potential: 230 (scale 10-250)
Length: 105 (scale 25-235)
Breakpoint Shape: 95 (scale 10-150)
Recommended Lane Condition: Medium-Heavy Oil
A few tiny pit holes in the cover stock of the ball are normal
SKU: BRU60105857
Product ID: 10345
Brand: Brunswick
Category: Bowling Balls
Ball Performance: High-Performance Balls
Back to Top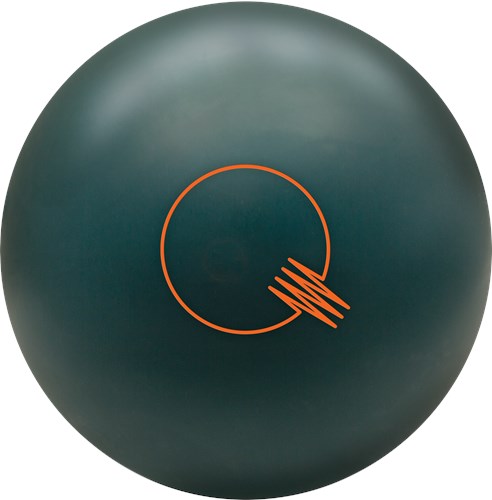 Similar Balls: Same Hook Potential, Lane Conditions & Coverstock as the Brunswick Quantum Forest Green Solid.
11/1/2016
By
Justin Knowles
from Okemos, MI
Bottom Line:
Yes, I would recommend this to a friend
Forest Green Quantum!
Brunswick Forest Green Quantum
Layout: Full Roller, length and backend
Specs: 18 mph, 500 Revs, Lefty Two-Hander
Wow this is a lot of ball! I drilled this ball comparatively to my Absolute Nirvana, which is my strongest solid, and was blown away that the Quantum was both more in the mid lane and more on the backend than the Nirvana. Not only does it have more overall hook for me, but the continuation through the pin deck is unmatched in my bag. I find myself leaving stone 8 pins often because this ball just refuses to quit once it reaches the pins. I used this ball on Kegel Dead Man's Curve on the fresh and was able to really blend the pattern out, playing deep angles to start and really set up well to be complimented by the Fire Quantum. This ball will definitely be the first ball out of my bag when I need a big solid, then transitioning to the Fire Quantum when I need a little more length and a sharper backend. Like the Fire, the hitting power on the Forest Green was exceptional. It truly is a different sound when these balls hit the pocket and I am continually throwing messengers with these pieces. More entry angle and more hitting power leads to higher scores and happier bowlers!
-Justin Knowles, Brunswick Regional Staffer

11/3/2016
By
Alex
from Richmond, Va
Bottom Line:
Yes, I would recommend this to a friend
Yes!
I was so excited for this ball. I drilled mine pin above the ring finger with a shorter pin placement. Drilled it , brought it to league to see how she rolled .... first game 300. Been a while since I had something strong that could still go through the pins . Loving this ball so far, go get one!

11/8/2016
By
Norman E
from Toledo Ohio
Bottom Line:
Yes, I would recommend this to a friend
Takes me back
In my opinion it keeps the pins low

11/14/2016
By
Ian
from ny
Bottom Line:
Yes, I would recommend this to a friend
great ball
Drilled my green quantum pin over my middle finger, cg slightly kicked without a weight hole. For me this ball is strong but with a smooth arc, extremely controllable for a high end ball. It rolls a lot better for me when I'm trying to keep my angles closed and target in front of me. Definitely a bench mark type ball for conditions with more volume. Takes well to surface changes as I've used it out of box, at 3,000, and shined. Overall a great ball for anyone looking for a high end ball with control and predictability.

12/14/2016
By
Jake Johnson
from Green Bay, WI
Bottom Line:
Yes, I would recommend this to a friend
Unbelievable piece!
I've thrown my green quantum only a few times now and have had nothing but success! Just finished up a 763 set with it after a 713 the week before. This quantum rolls very smooth and controlled, never jerks off the pattern and will drive through the pins like I've never seen (or heard) before. Believe the hype! Get yourself one!

12/16/2016
By
Brian
from Philadelphia
Must Have
Pin above ring finger and CG is stacked below no hole. First ball out of my bag on fresh oil .This ball has been better then words can describe for me. The Quantum is The best remake of any ball ever. To be able to have the same ball reaction from the original on todays conditions is awesome. Great job Brunswick this ball is amazing. You can see The increased pin action with this ball on light hits and the power to drive ten in the pit on flush shots . My league bag is The Forrest Quantum , Fire Quantum and a spare ball these balls are just that good. . They are a great 1-2 combo as the lanes transition thru the night. If you haven't got one get one and soon by December 31, 2016 to receive the free bag.

12/22/2016
By
Maine Man
from Auburn, ME.
Bottom Line:
Yes, I would recommend this to a friend
Brunswick Forest Green Quantum Review
BRUNSWICK FIRE PEARL QUANTUM REVIEW

James Goulding III
Brunswick Staff
Left Handed
360 RPM
PAP: 4 5/8" x 0"
17.5* Tilt
17.5 – 18.0 MPH

Brunswick Fire Pearl Quantum
Layout: 33* X 5.25" x 67*, pin under middle finger
X-hole: ¾" x 2.5" deep, 2" down on VAL

Review:

40ft. House Pattern, Medium-Heavy Blend

I drilled the Fire Pearl Quantum pin under to be a smooth, yet longer version of the Forest Green Quantum, and that's exactly what I got. Using this ball on fresh THS is great, especially when I have room left with friction to wheel it off of, as it creates extra area and "miss room". Being on the left side, I am able to play straighter with more aggressive equipment while still being able to "bang on it", which is why the Fire Pearl Quantum was a perfect fit for my game. My first three game set on my league was a 720 with games of 239, 221, 260. The ball reaction is very clean through the heads and mid lane, but still gives a strong heavy roll into the pocket. I believe the combination of the strong symmetrical motor of the Quantum mushroom core, as well as the pearl cover stock, both allow this ball to achieve a more down lane type of hook, while still rolling heavy, which is the type of reaction you want from a versatile pearl. As far as comparison to other equipment, I played 5 boards further left with my feet, and 3 boards further left with my eyes than with the Forest Green Quantum. If you're looking for that benchmark pearl ball in your lineup, then pick up a Fire Pearl Quantum.

Team USA Mexico City Oil Pattern

I was curious how the Fire Pearl Quantum would handle the longer oil pattern (45ft.) that Mexico City lays down, and was actually pleasantly surprised with the results. With a 5 1/4" pin under layout, the Fire Pearl Quantum starts its move early enough to give a more readable reaction on this oil pattern. If I had a long pin over layout, I don't feel it would have given me the look I desired on this longer oil pattern. Carry percentage was the only

12/22/2016
By
JTurner
from Wichita ks
Bottom Line:
Yes, I would recommend this to a friend
hardest hitting ball i own
this ball flat out kills the pins
i was throwing dv8 thug unruly and i thought that ball moved and hit hard until i threw this ball.

1/7/2017
By
Ry
from Fort Wayne, IN
Pros:
Hitting Power, Continuous, Handles Heavy-Med oil with ease
Cons:
NONE
Bottom Line:
Yes, I would recommend this to a friend
Strong Continuous Motion with GREAT POWER!!
Wow, I have two of these. I drilled one pin down and the other pin up. Both have the hitting power as advertised, definitely makes a different kind of sound when it hits the pins, carried a ton of light mixers that wouldn't have fell using other equipment. The pin down quantum I brought up to 3000, its very smooth rolling and a strong arc. The pin up forest quantum has been my favorite of the two, I left it OOB and its very strong and still pretty early rolling but extremely continuous. Ive been surprised how deep I can get with this ball and it still continues the entire way down the lane. Also the quantum bags are an awesome deal! Good quality triple roller, sturdy wheels. Can not beat this deal!

11/26/2016
By
Cng260
from Greenville, SC
Pros:
Overall Hook, Versatility, Pin Carry, Midlane Read
Best Uses:
moderate to heavier conditions
Bottom Line:
Yes, I would recommend this to a friend
Great Strength with Awesome Carry!
Pin Length: 3

Starting Top Weight: 2.9 oz

Ball Weight: 15 lbs 3 oz

DRILL PATTERN

Ball: 70 x 4.5 x 55

xhole: small xhole low on the VAL

BOWLER STYLE

Rev Rate: 375 rpms

Ball Speed:17 mph off hand

PAP/Track: 4 3/4 over 3/4 up

SURFACE PREP

Grit: 1000 Siaair

Type: (Matte, Polish, Sanded): Sanded

LANE CONDITIONS

Lengths of patterns: 41 foot house, 43 foot sport

Volumes: Moderate

Type: house and sport

BALL REACTION

Length: Clean through the front with a strong midlane read

Back End: strong arc

Overall Hook: aggressive

Midlane Read: very strong

Breakpoint Shape: strong continuous arc

COMMENTS

Likes: hitting power, great recovery in oil, ability to play multiple angles

Dislikes: none

Brunswick has once again improved on a blast from the past! The Forest Green Quantum is clean through the front with a very reliable midlane read. The difference in this and other recent releases seems to be the backend recovery it provides. I have found that once the pattern breaks down I can stay with this ball longer than other strong solid reactive balls. It seems to make it through all 3 games of league when other balls don't. The pin carry is simply amazing with this ball! It allows me to open the lane quite a bit and still be able to get the flat ten out. It is simply a few pins better on average a game than anything that isn't a new Quantum. I have thrown many strikes with it including a 300 game. Both Quantums have been very good for me personally. I can't seem to put them down. If your looking for hook on oilier conditions and great carry, check out the new Forrest Green Quantum!

1/11/2017
By
Sweetcheeks
from Sarasota, FL
Bottom Line:
Yes, I would recommend this to a friend
LOVE IT!!!
I bought this ball as a gift for my husband. He says he really likes the ball, and gets good pin reaction. He is still figuring out the kinks though.

2/20/2017
By
Brandon Hinderer
from York, PA
Bottom Line:
Yes, I would recommend this to a friend
Great ball for the fresh or broken down conditions
The Forest Green Quantum has a similar motion to the original Quantum balls from 20 years ago because the construction, 2 piece ball, and core shapes are similar. With the solid PK2016 coverstock formulation and 2000 grit surface, it can handle medium to heavier amounts of oil. This is usually one of the first balls out of my bag to get a read of the lanes. I used the 60 x 4 ½" x 40 dual angle layout on this ball, which is my standard pin up layout, to give me a smoother arcing type of motion on the lane. This layout works perfectly and is the motion that I was looking to get from this ball. This ball has a higher RG which will help the ball get farther down lane before going into the roll stage which is about 40 – 44 feet on average. On a THS, I can throw it over 15 at the arrows out to about 7 to start and have no problems chasing the oil left as the night progresses and opening up my angles. I have also used this ball on a flatter 39' sport pattern, and it allowed me to keep my angles closed but not overreact when reaching the friction. With the core weighing about 4 pounds, and 3.5 times more coverstock weighing about 11 pounds. This ball will transfer more energy to the pins, and create more opportunity to strike. The forest green quantum will give you a predictable ball motion, good continuation downlane, and will help you raise your strike percentage.

2/26/2017
By
Nick
from St. Louis, MO
Pros:
Hits hard. Saves energy.
Best Uses:
Heavy oil.
Bottom Line:
Yes, I would recommend this to a friend
This ball is amazing!
This ball is great for slick lanes. I drilled it pin down and this ball reads very good in the oil. It provides some miss room when there isn't much room to miss. Very impressed!

3/2/2017
By
DUSTINBEARDEN
from GERALDINE, AL
Bottom Line:
Yes, I would recommend this to a friend
GREAT HITTING POWER
To start, I have my Forest Quantum drilled with the CG 1 inch below the ring finger, and the pin is one inch to the right and one inch above the ring finger. Due to the high pin drilling, this ball goes a little further down the lane for me, but it still rolls early and smooth. It makes a wonderfully smooth transition through the break point and gives a fantastic move to the pocket. Of course, it delivers the punishment to the pins, and it pushes through the pocket just like you would hope. The pin carry is fantastic, and It is just like anybody old enough, would remember from the quantum line years ago. I would recommend this ball to anybody looking for a smooth consistent ball on medium to medium heavy oil lane conditions.

Dustin Bearden

Customer

Questions

& Answers

| Reviews
Question:
When could I expect delivery on new green Quantum?
10/11/2016 - By
Doug
Have an answer to this question?
Answer:
The release date is November 1st, so it would ship out that day, and shipping within the USA is usually anywhere from 2-5 business days.
10/13/2016 - By
Bowling.Com Staff
1

of

1

customers found this answer helpful. Did you? Yes | No
Did you find this answer helpful? Yes | No
Thanks for your feedback!
Question:
If I buy the Quantum ball from you do I get the bag?
10/23/2016 - By
mike
Have an answer to this question?
Answer:
Hello Mike. Yes you will get the bag when you fill out the form. You will need to click on the "buy the ball get the bag free" button and fill out the form in order to get the bag for free.
10/24/2016 - By
Bowling.Com Staff
1

of

1

customers found this answer helpful. Did you? Yes | No
Did you find this answer helpful? Yes | No
Thanks for your feedback!
Question:
What's a good lay out for this ball? All my bowling balls are drilled with the pin up between my middle and ring fingers.
11/7/2016 - By
Sam from Las Vegas, Nv.
Have an answer to this question?