Ebonite Game Breaker 4 Pearl
Ebonite carries on the proven success and value of the Game Breaker line of mid-performance bowling balls with the Game Breaker 4 Pearl. This ball features the Enhanced V2 core which is wrapped with the famous GB 12.0 coverstock in a Pearl Reactive version. This ball is ideal for medium oil and offers length with a strong backend reaction. This ball offers versatility when your longest and strongest pearl bowling balls aren't doing the trick.
Color: Ruby/Smoke
All colors do vary somewhat from the picture shown
Coverstock: GB 12.0 Pearl
Core: Enhanced V2
Finish: 500, 1000, 1500 Siaair Micro Pad/Crown Factory Compound
Reaction: Length with strong backend
Recommended Lane Condition: Medium oil
RG: 2.48 (15# ball)
Differential: .048 (15# ball)
Manufacturer's Warranty: Two years from purchase date
A few tiny pit holes in the cover stock of the ball are normal
SKU: EBO60106704
Product ID: 13660
Brand: Ebonite
Category: Bowling Balls
Ball Performance: Mid Performance Balls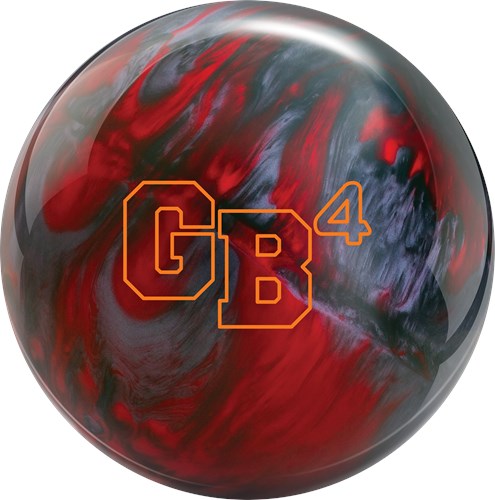 6/5/2022
By Tommy P from Toledo, OH
Pros:
Smooth, strong, clean, versatile
Best Uses:
House shot or sport shot work for this ball
Bottom Line:
Yes, I would recommend this to a friend
SMOOOTH
SMOOOOOTH!! I drill mine stack leverage so I can have a tiny flair and get down lane further. This ball goes very far and turns very hard! If you are looking for a ball that can play down and in on multiple lane conditions, look no further! My bread and butter is down and in and absolutely love this ball! This is a must have for any level of bowler.
4/25/2022
By Yvette Ford from Maryland
Pros:
Clean through the heads with continuous backend
Best Uses:
Medium/benchmark
Bottom Line:
Yes, I would recommend this to a friend
Another Great Ground Breaker!
Another great ball from the Ground Breaker Series. This ball is clean through the heads with continuous backends. My ball is drilled 70x3.5x40 and it allows me to create the angle that I need as well play straighter lines. I can move inside and get it through the midlane and get tremendous finish. You wont be disappointed in the versatility of this ball. Get you One, or Two!
4/21/2022
By I_AM_de_VIPER from PA
Bottom Line:
Yes, I would recommend this to a friend
Great ball! 289 and 776 series out of box!
It's a great ball and works on so many different patterns.
4/14/2022
By James from Maine
Pros:
good length, benchmark pearl ball, great continuation
Cons:
Heavy oil, long heavy patterns
Best Uses:
Good flipping symmetric, medium and short sport patterns
Bottom Line:
Yes, I would recommend this to a friend
Ebonite GB4 Pearl, benchmark performance from a pearl symmetric!
The Ebonite GB4 Pearl gives me a benchmark symmetric pearl that fits perfectly between other symmetric pearl balls like the Hammer Raw Pearl (weaker ball) and the Radical Bigfoot (bigger ball). Compared to the GB4 Solid, you can expect a much cleaner ball motion with excellent continuation through the pins. I drilled mine 4 1/4" x 65 to make it read the mid-lane and stretch out the transitions from skid to hook to roll. You can order the GB4 Pearl now from Bowler Builders Pro Shops and pro shops everywhere!
3/19/2022
By Joe from Discovery Bay, CA
Bottom Line:
Yes, I would recommend this to a friend
GB4 Pearl!
Another Gamebreaker! The GB4 Pearl is the perfect compliment to the GB4 in any tournament bag. For me, I'm able to start with a GB4 on most conditions and transition into the GB4 Pearl after a couple games, allowing me to stay in the same part of the lane. The biggest difference I have seen with the GB4 Pearl is that it gets down the lane maybe a foot further before making a hard turn to the pocket. Not snappy like previous pearls in the Gamebreaker line but more of a jump than the solid. I for sure will be getting a few more of this one.
3/12/2022
By C Miller from California
Pros:
versatile, it's a Game Breaker
Bottom Line:
Yes, I would recommend this to a friend
GB4 Pearl
Ebonite has done it again. They added to the historic Game Breaker line up with the GB4 Pearl!

The Pearl version will complement the GB4 solid, perfectly. The pearl version floats down the lane longer and with it's enhanced V2 core, retains energy for a strong backend motion.

A versatile ball that will see a lot of action!
3/4/2022
By StrikeDr from Arkansas
Pros:
Clean through the heads, strong move on the backend.
Bottom Line:
Yes, I would recommend this to a friend
Clean through the heads.
If you are a fan of the Game Breaker line, you'll love this one too. Clean through the front end with plenty of backend from a symmetric core. Perfect compliment to the GB4 solid and Game Breaker Asym.
2/25/2022
By Bob from Pacifica
Bottom Line:
Yes, I would recommend this to a friend
Ebonite GB4 Pearl is a home run.
Ebonite has hit a homerun with the addition of the Game Breaker 4 Pearl. It compliments the GB4 ( & GB3 for that matter) very well. It is clean through the front and gets well down lane before the V2 enhanced core kicks in and drives the ball through the pin deck. It is quickly becoming one of my favorites. 2.48 & 0.048 have always been great core numbers for me and match up well to my speed (16.5 mph-ish) and revs (420-ish). I threw it against another of my favorites, the Brunswick Melee Jab Blood Red. They had a similar shape, but the GB4 Pearl was about 3 boards with my feet stronger and slightly stronger through the pins. This one goes straight into the tournament arsenal.
5/11/2022
By Lane Side Reviews from Ontario
Pros:
Length on friction without over hooking down lane
Best Uses:
house shot, late on tournaments
Bottom Line:
Yes, I would recommend this to a friend
Benchmark + pearl
LOVE this on house shots, and late on tournaments when you need a ball you can trust not to over read the friction.
Customer Questions & Answers | Reviews
Thanks for answering another customer's question! Once approved it will be posted here.