Hammer Dark Web
To continue the success of the Hammer Web bowling balls Hammer has modified the Spheroid core by adding a flip block at the top of the core of the Hammer Dark Web bowling ball. This modification raises the RG while leaving the differential the same resulting in increased overall motion. This core change paired with an aggressive cover and finish results in a symmetric upper-mid performance bowling ball that will make Hammer bowlers happy.
Color: Dark Blue/Black
All colors do vary somewhat from the picture shown
Coverstock: Aggression Solid
Core: Modified Spheroid
Finish: 500, 1500 Siaair Micro Pad
Reaction: Aggressive overall hook
RG: 2.514 (15# ball)
Differential: 0.048 (15# ball)
Hook Potential: High
Length: Middle
Recommended Lane Condition: Medium to heavy oil
FCC Rating: Total-26.25, Finish-9, Core-7.25, Cover-10
Manufacturer's Warranty: Two years from purchase date
A few tiny pit holes in the cover stock of the ball are normal
SKU: HAM60106793
Product ID: 13900
Brand: Hammer
Category: Bowling Balls
Ball Performance: Upper Mid-Performance Balls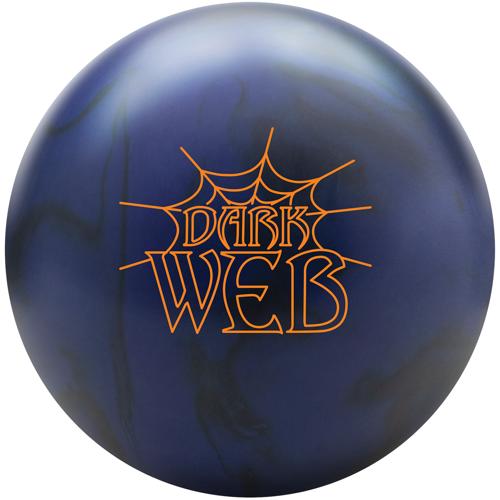 7/31/2022
By Joe from Seattle
Bottom Line:
Yes, I would recommend this to a friend
From the Shadows - Comes the Dark Web
This is the newest addition to the Web line. Nice to have a solid ball the is very strong downlane. Compared to the Web Pearl, this ball for me is a lot stronger in the midlane and still continues downlane like the Web Pearl. So Basically, a lot more roll with downlane continutation. The carry power of this ball is amazing and with the DOT technology allowing you to drill anywhere without drilling out the pin. House or Sport, this ball stays true to its roll and is amazing!
Video Submitted by Reviewer:
7/29/2022
By Sweetpea Bowl from Worcester, Massachusetts
Bottom Line:
Yes, I would recommend this to a friend
Hammer Dark Web
Here is my take on the new Hammer Dark Web. The Dark Web features a modified Spheroid symmetric core (with added flip block) wrapped by a dark blue/black Aggression Solid cover. Box surface is 1500 Siaair. The one I have drilled has a 50 x 5 x 35 layout. I have tested this ball at box surface on fresh and burnt THS. My vitals are a 405 rev rate with a PAP of 5 9/16 over and 1/8 up.
At box surface, the Hammer Dark Web does need volume in the pattern. That being said, for a ball with an aggressive surface, on the fresh, the Dark Web shows an earlier, smooth and controllable motion. The best comparison to the Dark Web would be a Track Stealth with a little more length and downlane motion. I will be changing the surface to 3000 or 4000 Siaair to make it more usable on our local house shot which is only 24 ml or other competitive patterns in that volume range. My suspicion is that with an appropriate surface adjustment, the Dark Web may well be a great benchmark ball in the arsenal.
See your local pro shop for more on the Hammer Dark Web.

7/25/2022
By TheHopeDiamond22 from WA
Bottom Line:
Yes, I would recommend this to a friend
Hammer Dark Web
By far the strongest web series if thrown piece if thrown yet. Massive big hook. Very strong piece. Box at 500/1500 you are going to want some volume. Fast responding with lots of continuation. Does not lose hitting power even as they start to dry up a bit. Keeps the same motion. Very predictable. A must add to the bag.
7/18/2022
By Bob from Pacifica
Bottom Line:
Yes, I would recommend this to a friend
Hammer Dark Web
It's early but the Hammer Dark Web immediately looks like a tournament ball to me. I'm a huge fan of the spheroid core from the Game Breaker line and Rhodman Pearl, and now it has been enhanced a bit and a flip block has been added to the top of the core body to help increase shape. I only have a few games on it against my GB4 Solid and it looks like a winner. It picks up in the mids as it should but has a strong controllable motion down lane. It is about 3-4 stronger than the GB4. At the end of my practice I moved about 6 & 3 left, slowed down my ball speed and that is where this ball looked really shined. It continued thru the pins very strong where other big solids might burn out. In the arsenal right now.
7/18/2022
By Plowboy300 from Sarasota, FL
Cons:
drier lanes - needs oil
Best Uses:
Medium, medium-heavier lane patterns
Bottom Line:
Yes, I would recommend this to a friend
Great benchmark ball
The new Dark Web is the perfect benchmark ball from Hammer. I love the Web series which I have thrown them all and the Dark Web is the most versatile out of all of Web balls. With the modified core, the core helps the ball get through the front part of the lane and blends out the over/under of various house & tournament patterns. The original Webs for me were a bit too early for my liking and when I brought the surface up a little bit, it was too much down the lane for me. The new Dark Web is the perfect ball for most medium/heavier medium lane patterns and is the 1st ball out of my bag to see what I need go from there! You will love this new addition to the Hammer brand.
6/20/2022
By Chris J from Palm Springs
Pros:
Very continuous and smooth backend.
Best Uses:
League play and tournaments
Bottom Line:
Yes, I would recommend this to a friend
Gotta have it
This ball is very clean down lane and just hits like a hammer. If you like the Web Tour, you will very happy with this one. It is a great bench mark ball for league and for any tournament play.
Customer Questions & Answers | Reviews
Thanks for answering another customer's question! Once approved it will be posted here.
Question:
What is the difference between the dark web and the web?
6/29/2022 - By
Domenic squillace
Have an answer to this question?
Answer:
The Dark Web will have a Solid coverstock finished at 1500 grit out of the box which will read earlier than the Hybrid cover finished at 2000 grit on the original Web. Also, the weight block is modified on the Dark Web and this modification raises the RG while leaving the differential the same resulting in increased overall motion

6/30/2022 - By

Bowling.Com Staff

1

of

1

customers found this answer helpful. Did you? Yes | No Did you find this answer helpful? Yes | No Thanks for your feedback!