Take $5 off your purchase of $50+ today!
Coupon excludes instant bonus items, hot deal items, and gift certificates.
900Global Honey Badger Revival
The 900Global Honey Badger don't care and neither does the Honey Badger Revival! Sometimes you need a ball that can be a little scrappy, that is where the Honey Badger line of bowling balls comes in. The Honey Badger Revival introduces a twist to the original and now famous Grapnel Core for a 2.0 version. This core is paired with the S70 Hybrid coverstock. The cover gives the bowler good traction in the oil and an angular reaction when it hits the dry. The core creates more length and aggressiveness at the breakpoint.
Color: Magenta Solid/Gold Pearl
All colors do vary somewhat from the picture shown
Core: Grapnel 2.0 Asymmetric
Coverstock: S70 Hybrid
RG: 2.54 (15# ball)
Differential: 0.048 (15# ball)
Finish: 1500 Polished
Recommended Lane Condition: Dry to Medium Oil
A few tiny pit holes in the cover stock of the ball are normal
SKU: GLBBMGHV
Product ID: 12963
Brand: 900 Global
Category: Bowling Balls
Ball Performance: Mid Performance Balls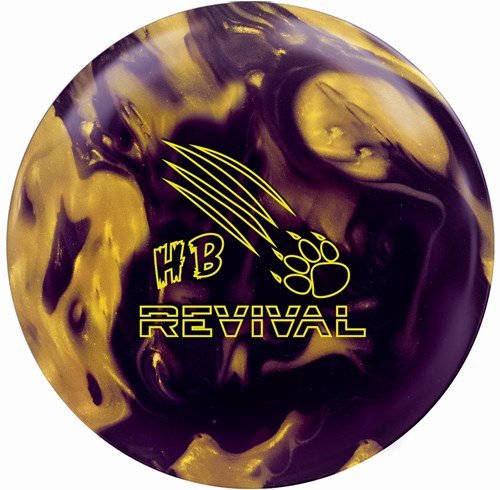 3/1/2021
By Mizz V from Alabama
Bottom Line:
Yes, I would recommend this to a friend
Big Bad and Bold
I'm a speed dominant bowler average 210. The ball goes long and revs up on the backend of the lane. This is an amazing ball and I'm going to order another one. League play I bowled 268,267,257.
12/7/2020
By Todd P from Bay City, MI
Bottom Line:
Yes, I would recommend this to a friend
Badger line baby!!!
If you like the Badger line...WOW, lol even if this is your 1st one...Very impressive! Great to have in your bag indeed! It rolls so nice. Mid lane to back end, just watch it do some work for you! I actually hit it with a 3000 dry pad and let the lane put a little lane shine on it. It rolls great!
11/20/2020
By Mizz V from Alabama
Bottom Line:
Yes, I would recommend this to a friend
Gotta Get You One
Out the box I shoot 225, 234, 190. We had a challenge the last game, me against the guys and I won with 265??I BADGERED the pins with this ball. My new love is Global 900.
11/14/2020
By Donny Carr from Laurel Maryland
Bottom Line:
Yes, I would recommend this to a friend
Another great HB
The 900 Global HB Revival
Badger, HB, stable names in the Badger line of great balls and the HB revival adds to the line of greatness. The S70 hybrid cover one of the best will give you traction in the oil without burning
energy at too fast of a rate. With the stored energy the 900 Global Revival will produce a very angular
move off the dry portion of the lane, this angular move is very controllable it is not a massive snap
which is hard to read during lane transition. High speed bowlers will love that they can be aggressive
without over reaction. Medium and lower speed bowlers will love the angular motion without extra
effort applied. Weaker layouts for high speed high rev bowlers and strong layouts for medium to lower speed medium to low rev bowlers. Consult your pro shop operator. This ball should be in your bag.
Donny Carr, 900 Global Staff
900 Global Striking Worldwide
9/23/2020
By Rick Klimowicz from Penndel, Pa
Bottom Line:
Yes, I would recommend this to a friend
The performance continues!
The legendary performance of the 900 Global Honey Badger line continues with the release of the Honey Badger Revival! With the all new S70 Hybrid Coverstock, combined with the upgraded Grapnel 2.0 Core, the Honey Badger Revival is strikingly impressive. Let's get to it.
The S70 Hybrid Coverstock performed effortlessly in multiple conditions. On a THS, I enjoyed watching it cut though the heads with ease while reacting impressively strong off the pattern. From early on, the cover gripped well, blended through the mid-section smoothly and had a vigorous, yet predictable motion at the pattern exit. I could create multiple angles throughout the night and thoroughly enjoyed the versatility the cover provided. On a medium sport pattern with a surface tweak of 1000 polished, this cover worked well as the lanes started transitioning and it maintained a crisp angular motion when exiting the pattern.
I have been a huge fan of the Grapnel Asymmetric Core since first rolling the explosive, yet predictable original Honey Badger. The core was my favorite as it fit my straighter, higher speed, low-rev style. So I was a bit nervous when I saw 900 Global upgraded the core to the Grapnel 2.0 Asymmetric. That was until I saw the ball demolish every pin in its path! The 2.0 Grapnel is a meatier multi-piece design that ignites havoc with the pins. It rolls longer than the Honey Badger and turns the corner with blazing authority! Straighter, more rev-challenged players will gain confidence with this tenacious impact power!
My final thoughts on the Honey Badger Revival are outstanding! The new S70 Hybrid Coverstock is a fantastic new formula that provides grip, predictability and comfort. Combine that with the Grapnel 2.0 Core that simply rolls hard while hitting ferociously and you have that extra one-two punch sitting in your arsenal. See your local pro-shop owner today and have no bones about it-put a Honey Badger Revival in your bag!
Rick Klimowicz
900 Global Regional Staff
8/27/2020
By Stanley Waite from Dover, Delaware
Bottom Line:
Yes, I would recommend this to a friend
Honey Badger Revival
Honey Badger Revival
Ball Specs
Cover Stock: S70 Hybrid
Finish: 1500 Polished
Color: Magenta Solid/Gold Pearl
Core: Grapnel 2.0 Asymmetric Core
Layout: 50 x 5 x 35
RG: 2.54
Differential: 0.048
Intermediate Diff: 0.012
Review
The Tour Preferred 700 Series Honey Badger Revival features the S70 Hybrid coverstock with the 2.0 Grapnel Core. If you loved the original Honey Badger you will love the Revival more. The Revival is more angular and more powerful. It is still clean through the fronts and hooks much harder on the backend of the lane than the original Honey Badger. I tested the ball on a 42 feet THS with 26.8 mls. As a medium to low rev player, I was standing between 25 and 30 and never lost any striking power. My ball is drilled with the pin above the bridge with the CG kicked out to the right. The Honey Badger Revival is a must have for league and tournament bowlers. Now available for preorder at your local pro shop! My ball reviews are posted on YouTube channel Stanley Waite.
Stanley Waite
900 Global Staff Member
Dover, DE
8/24/2020
By Mike from York. PA
Bottom Line:
Yes, I would recommend this to a friend
Great Ball to Open your Angles
Honey Badger Revival
Coverstock: S70 Hybrid
Finish: 1500 Grit Polished
Core: Grapnel 2.0 Asymmetric
RG: 2.54
Differential: 0.048
Diff: 0.012
Layout:
Tester: PAP 5 1/2 R, 1 1/2 D
Review:
The Honey Badger Revival is the first three-piece Honey Badger and the first Honey Badger made in Utah. The hybrid coverstock provides ample length with a strong backend finish that allows the player to open up the lane very quickly. For your typical THS shot the Revival is going to work well and will allow you to keep moving along with the transition. For your sport shot scenario the Revival will more likely be used after the lanes breakdown a bit and you want to take advantage of length the box finish provides. If you are a fan of the previous Honey Badgers you already know what this one can do. If you have not been introduced to the Revivial from 900 Global be sure to check this one out. I truly recommend this one for your THS conditions. It's quickly becoming one of my favorite balls in the bag. Grab one today!
Michael Slatky
900 Global Regional
Staff Member
York, PA
Video Submitted by Reviewer:
Customer Questions & Answers | Reviews
Thanks for answering another customer's question! Once approved it will be posted here.