Take $5 off your purchase of $50+ today!
Coupon excludes instant bonus items, hot deal items, and gift certificates.
900Global Zen Pearl
The 900Global Zen Pearl high-performance bowling ball uses the S77R Pearl coverstock which provides a skid/flip reaction and helps open up angles on medium to heavy oil conditions. This responsive pearl cover is wrapped around the monster Meditate core. This is the biggest core produced by 900Global to date. This symmetric core provides massive hitting power along with a consistent reaction.
Color: Magenta/Teal/Silver
All colors do vary somewhat from the picture shown
Core: Meditate Symmetric
Coverstock: S77R Pearl
Finish: 4K FAST (4000-grit) or Reacta Gloss
Hook Potential: High
Length: Long
Recommended Lane Condition: Medium-Heavy Oil
RG: 2.49 (for 15# ball)
Differential: 0.051 (for 15# ball)
A few tiny pit holes in the cover stock of the ball are normal
SKU: GLBBMGZN
Product ID: 13057
Brand: 900 Global
Category: Bowling Balls
Ball Performance: High-Performance Balls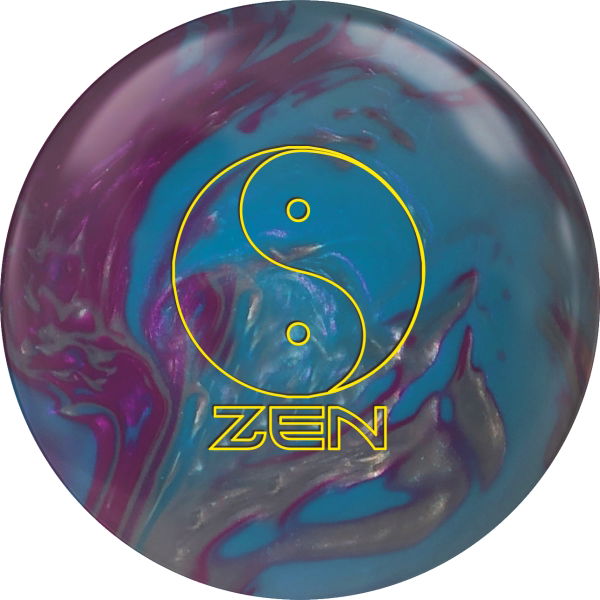 10/30/2022
By Jet from Florida
Pros:
Big hook, good on fresh and transition, good hold if you miss inside, good recovery if you miss outside, good drive and continuation through the pins
Best Uses:
Fresh oil, transition, can use pretty much whenever
Bottom Line:
Yes, I would recommend this to a friend
Incredible ball. Zen ball good.
They should really never discontinue this ball. It is the highest performing ball I have and I have a lot of high end Storm, Roto grip, 900 Global equipment. I will continue to buy this ball as long as it's still available and you should too if you're a serious bowler. As a two handed lefty high rev bowler, I love a ball that transitions more slowly from a skid to a roll and with the Zen's big core it starts up early but the pearl coverstock helps get it down the lane but is strong enough for fresh and transition.
12/29/2021
By Hal S from Carmel Indiana
Pros:
Don't have to work hard to get desired reaction
Bottom Line:
Yes, I would recommend this to a friend
Just what I needed
Frustrated from my 175 league average in a "tough house" that leaves a lot of corner pins, I bought a "used" Zen with about 20 games on it. Thumb plugged and drilled by EJ Tackett, my first league series was 632 including 18 strikes and missed 3 easy spares. Do I like this ball? Absolutely!
8/22/2021
By M Staninger from North Carolina
Pros:
Angular, continuation, shelf appeal, medium volume
Best Uses:
Medium volume, higher volume after breakdown
Bottom Line:
Yes, I would recommend this to a friend
Really Impressed
This was the first Non-brands of Brunswick ball I've thrown in a few years. It gave a shape I didn't have in my arsenal based on the balls I did own. It is a great ball to move in with, but it is a little bit more than a 'burn' ball. As a higher rev player, I can use this piece for a lot of conditions!
6/30/2021
By Gtbecker11 from Michigan
Pros:
Hooks more than enough, very strong backend, very clean through the front
Cons:
Very hard reaction off the dry, not much forgiveness on misses
Best Uses:
Heavy oil patterns
Bottom Line:
Yes, I would recommend this to a friend
Too quality ball
Great ball, I'm a high rev and high speed player so this ball is great for me. Lots of hook, but not the greatest for my speed, does tend to skid once and a while
6/16/2021
By Killerkrossover32 from TX
Pros:
Once the ball break in its great
Cons:
Nothing negative to say
Best Uses:
House oil pattern
Bottom Line:
Yes, I would recommend this to a friend
1 of my best purchase thus far
This is 1 of my best purchases ever, my coach said this would be a great ball to start and finish with in league play went from 180 average to 220 thanks global 900 had to buy 2
2/4/2021
By Jrich from Memphis
Pros:
Very versatile and powerful
Best Uses:
Heavy med and heavy oil
Bottom Line:
Yes, I would recommend this to a friend
Smooth with a dynamite backend
One of the best balls from 900 global next to the badgers
12/7/2020
By Todd P from Bay City, MI
Bottom Line:
Yes, I would recommend this to a friend
Yes indeed! It loves the back end!
Having thrown this...it has a lot of back end snap for me. I might hit it with a 4000 dry pad, just to read the mid lane a little better for me. I seen some people love it out of the box, but I'm mid speed, mid revs. It rolls so very cool indeed. I think I have to try it on a little different conditions and a couple other bowling alleys. I get excited when I put it on the ball return!
11/24/2020
By Rick from Penndel, Pa
Bottom Line:
Yes, I would recommend this to a friend
The 900 Global Zen . "The powerful rolling force!"
The all-new 900 Global Zen delivers absolute security to your game! The brilliant combination of Meditate Symmetric Core and S77R Pearl coverstock elevates the Zen to a powerful rolling force you can trust and depend on. Let's break it down!
The heart of the Zen is the new massive Meditate core. For a straighter, down and in type player like me, this new design brings a much welcomed confidence to symmetric cores. Being a high speed/low rev bowler, it's not unusual for symmetric cores to "roll out" or "deflect" through the deck leaving those aggravating "flat tens." With the Zen, however, I found the Meditate core rev'd consistently strong down lane, yet exploded its stored energy at the pins. I loved being able to play with the touch off my hand backed by a reliable crushing power through the pins. 900 Global has seriously met the challenge of symmetric cores with the "no weight hole" rule for players like me with the Meditate core.
The S77 Response Pearl coverstock is an impressive mixture added to the Zen. Out of the box, on fresh oil, it cleared the heads smoothly and had a strong snap off the pattern - yet this was only the beginning. Tweaking the box surface with 3000 grit, the Zen simply came alive for me! On a THS, this cover eliminated guess work with its predictable and stable motion. On a medium challenge pattern, it created a well-defined front to back movement you could clearly read and easily adjust to. I enjoyed how the S77R Pearl coverstock allowed the flexibility to play right and tight or left and loose.
In conclusion, the 900 Global Zen is simply awesome for players like me! I loved the freedom and confidence rolling the Zen brought to my game. It will have a place in my arsenal for a long time. I recommend adding the Zen to your arsenal too. Talk to your local pro-shop operator today! It's worth it!
Rick Klimowicz
900 Global Regional Staff Member
Penndel, PA
Customer Questions & Answers | Reviews
Thanks for answering another customer's question! Once approved it will be posted here.