We'd like to offer you $5 off your purchase of $50 or more today!
Coupon excludes instant bonus items, hot deal items, and gift certificates.
Brunswick Vintage Inferno
Through the Brunswick Vintage line of bowling balls they have brought back yet another legend, the Inferno. This ball is wrapped in the Activator 2.0 coverstock which is an updated version of the original Activator coverstock. The 2.0 version, along with the Vintage Inferno low RG core, was designed to offer the same ball reaction as the original Inferno but on today's lane conditions.
Color: Orange/Smoke

All colors do vary somewhat from the picture shown.

Core: Vintage Inferno Low RG Symmetric
Coverstock: Activator 2.0 Pearl
Finish: 500 Siaair / Crown Factory Compound
RG: 2.529**
Differential: 0.050**
** RG and Diff are based off of 15 lb. balls
Hook Potential: 210 (scale: 10-250)
Length: 135 (scale: 25-235)
Breakpoint Shape: Angular
Recommended Lane Condition: Medium to Dry Oil
A few tiny pit holes in the cover stock of the ball are normal
SKU: BRU60105935
Product ID: 10684
Brand: Brunswick
Category: Bowling Balls
Ball Performance: Mid Performance Balls
Back to Top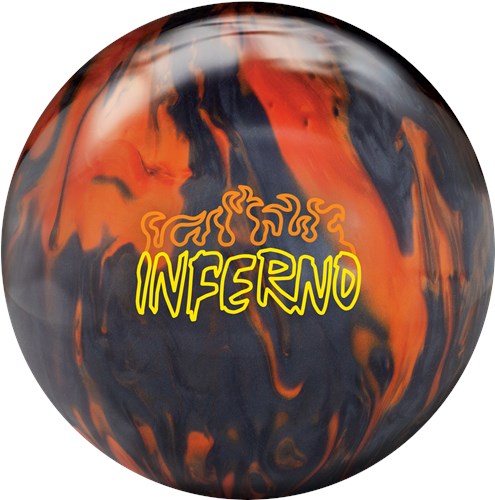 Similar Balls: Same Hook Potential, Lane Conditions & Coverstock as the Brunswick Vintage Inferno.
7/13/2017
By
Ian
from Bellerose ny
Bottom Line:
Yes, I would recommend this to a friend
Classic reaction
The inferno is one of my favorite balls ever and i was extremely happy when I found out it was returning in their vintage line.  Just like the original it has an unbelievable midlane roll and control that cannot compare to any pearl ball.  Being a high rev player the 1st thing I look for in a ball is midlane control and being able to control the backend. If I were to compare this ball to anything in the vintage line it would be the gold rhino. The inferno overall is good 5 to 6 boards stronger with more overall backend.  It should also be a good step down for when any of the nirvanas start to hook too soon.  Highly recommend this ball as it's extremely versatile and can.be used on a variety of conditions.

8/3/2017
By
John N.
from Vienna, VA
Bottom Line:
Yes, I would recommend this to a friend
The Inferno is BACK!
I never threw the original Inferno so I was excited to throw this new Vintage Inferno which is available on August 15, 2017.

This ball picks up a bit sooner in the mid-lane than the Magnitude 035 and the Classic Black Quantum but turns over nicely and keeps going. The ball has the new Activator 2.0 coverstock and the Inferno Low RG core. This ball is more angular than some of the other new releases this summer and that is what makes it so good in my opinion.

For me, I will do a lot with surface adjustments but really rely on the cover and core to define the shape. With my game, I am looking for those subtle differences in ball motion to help me manage the pocket and carry. I definitely like the shape of this ball and am looking forward to throwing it in league and competition soon! This ball picks up just a bit sooner and when I start leaving corners and need to ball to shape up a bit earlier, this ball is it.

8/18/2017
By
Frankie Abralon
from Maine
Bottom Line:
Yes, I would recommend this to a friend
BRUNSWICK VINTAGE INFERNO REVIEW
How can you not love an updated version of one of the greatest balls of all time in the Inferno? I drilled the Brunswick Vintage Inferno to be a replacement for the Brute Strength in my lineup. I wanted that symmetric core pearl that picked up the mid lane, and made a strong move to the pocket. At box finish, I found the Vintage Inferno to be a little too early of a hook for where I wanted it to be in my arsenal. So, I changed the cover from stock (500 w/Crown Factory Compound) and brought it up to 2000 and polished it with Crown Factory Compound. What a difference! The Vintage Inferno goes those extra few feet, saving more energy and exploding off the spot as it shreds the rack. It really has replaced the Brute Strength in my bag as that "go to" pearl ball. I had a lot of success with it on THS, PBA Viper, and WTBA Atlanta. This ball fits perfectly in my lineup between the Magnitude 035 and Fire Pearl Quantum. They are available now to order from your local pro shop, get one today!!!

8/27/2017
By
cng260
from Greenville, SC
Pros:
Predictability, Versatility
Best Uses:
Benchmark Ball, Moderate Conditions
Bottom Line:
Yes, I would recommend this to a friend
One of the Best Returns!
Pin Length: 2.5 inches

Starting Top Weight: 2.5 oz

Ball Weight: 15 lbs 3 oz

DRILL PATTERN

Ball: 70 x 4.75 x 55

BOWLER STYLE

Rev Rate: 375 rpms

Ball Speed:17 mph off hand

PAP/Track: 4 3/4 over 3/4 up

SURFACE PREP

Grit: 2000 Siaair

Type: (Matte, Polish, Sanded): Sanded

LANE CONDITIONS

Lengths of patterns: 41 foot house

Volumes: Moderate

Type: House

BALL REACTION

Length: Clean through the front

Back End: Strong Arc

Overall Hook: Moderate

Midlane Read: Very little

Breakpoint Shape: Arc

COMMENTS

Likes: predictability, vintage reaction, great color

Dislikes: none

The Inferno Series was a great series of balls that I had a lot of success with. When I found out they were bringing back the Original I was very excited! The Vintage Inferno takes me back to the days where I had several of the Orange and Black ones in the bag. This one has been my first ball out of the bag on nearly everything since I drilled it and to me It rolls just like the Original. It is very clean through the front part of the lane with that predictable arcing transition that I first fell in love with. The low rg Inferno weight block allows the Vintage Inferno to rev up quickly, while the new Activator 2.0 Coverstock gives you the length you need. I find this ball to fit in between the Magnitude 035 and the Quantum Classic Black. It is a little quicker off the friction than the Magnitude 035 and a little slower than the Black Quantum. In my opinion, this is the perfect benchmark ball. If you are looking for that benchmark pearl, look no further than the Inferno. Don't miss out on the return of one of the best balls ever made.

9/11/2017
By
Justin Knowles
from Okemos, MI
Bottom Line:
Yes, I would recommend this to a friend
Another Vintage GEM
Brunswick Inferno: Layout- Pin Down and 4 inches to PAP. The inferno was a gem in this series of releases. A pearl that is more midlane than most, this ball really helped me when there is more volume up front and some carry down on the backend. I am able to stay straighter and not worry about an overreaction off the spot which is very helpful late in blocks for me in those conditions. Don't let that deter you as this Inferno still has plenty of strength on dryer backends like a typical house pattern and could definitely be a number one ball out of the bag. -Justin Knowles Brunswick Regional Staff

Customer

Questions

& Answers

| Reviews