We'd like to offer you $5 off your purchase of $50 or more today!
Coupon excludes instant bonus items, hot deal items, and gift certificates.
Hammer Black Widow Gold
The Hammer Black Widow bowling balls keep rolling out and taking over the lanes. The Hammer Black Widow Gold takes Hammer's most angular coverstock, the Semtex Pearl, and pairs it with their most angular core, the Gas Mask, to create a ball that goes long and then offers a ton of backend motion when facing medium to heavy oil. This bowling ball is Carbon Fiber Infused! Carbon fiber is one of the toughest materials on earth. Hammer decided to add this material to the inner core of this ball for added strength and durability allowing them to offer an incredible 3 year warranty.
Color: Gold

All colors do vary somewhat from the picture shown.

Coverstock: Semtex Pearl
Core: Gas Mask (includes Flex-Resin additive, Ceramix surface process, and Carbon-Fiber outer core)
Finish: 500/1000 Abralon Polished w/ Powerhouse Factory Finish Polish
Reaction: Length with Strong Backend
RG: 2.50**
Differential: .058**
** RG and Diff are based off of 15 lb. balls
Hook Potential: High
Length: Long
Recommended Lane Condition: Medium to Heavy Oil
FCC Rating: Total-25.25, Finish-7.25, Core-8.75, Cover-9.25
Manufacturer's Warranty: 3 year
A few tiny pit holes in the cover stock of the ball are normal
SKU: HAMHMBWGOLD
Product ID: 10833
Brand: Hammer
Category: Bowling Balls
Ball Performance: Upper Mid-Performance Balls
Back to Top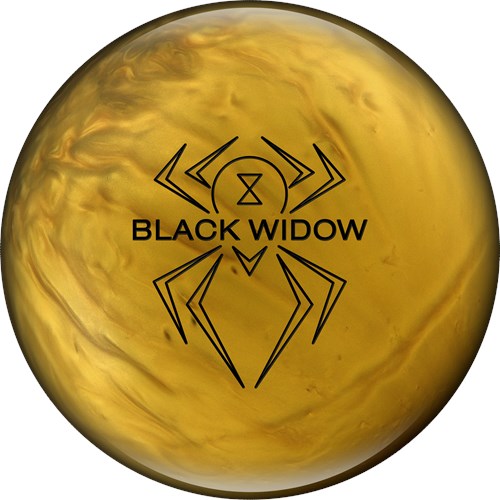 Similar Balls: Same Hook Potential, Lane Conditions & Coverstock as the Hammer Black Widow Gold.
8/6/2017
By
Kim Mann
from Wooster, ohio
Bottom Line:
Yes, I would recommend this to a friend
Love this baby!
This is one of my absolute favorites right now! I love the length this ball gives me and a great backend motion. NOT skid/flip for me, more like a hockey puck motion. Great for straighter, lower rev players like me!!! Available Tuesday August 8th, just in time for league!

8/6/2017
By
Kimberly Evans-Mann
from Wooster, ohio
Bottom Line:
Yes, I would recommend this to a friend
GOLD BABY
This is a motion I like to see on the lane. It is not skid/flip for me but, more of a hockey puck or boomerang motion and does it hit hard through the pins and keeps them low. I had this similar to my blue Vibe as far as motion and I feel is gonna be on every rack for league bowlers! Great ball motion and pure sexy!

8/7/2017
By
Coach Paul
from Columbus, Ohio
Bottom Line:
Yes, I would recommend this to a friend
The most backend reaction of any of the Black Widow line
The BW Gold is smooth through the heads and mids but has a strong back end reaction. Very comparable to the BW limited but for me the Gold has a stronger motion on the back ends.

8/7/2017
By
Deeee Dot
from Ridgefield Park, NJ
Bottom Line:
Yes, I would recommend this to a friend
Hammer Black Widow Gold
I have thrown the Black Widow Gold, Hammer's newest UMP bowling ball. Being a Black Widow fan, this one was a must. I have thrown it on a few THS, and a pattern. My rating is synonymous with the color, golden! I loved traditionally how smooth Widows in general was, but to see the extra backend motion that was put into this one, it will be very appealing to the masses. Please don't get stung and miss out on this Black Widow, it is golden and with more pop than ever. Available 8/8/17...

8/7/2017
By
HAMMERHEAD216
from Cleveland, Ohio
Bottom Line:
Yes, I would recommend this to a friend
This ball is very smooth and strong
With my ball speed and rev rate being high we hit the surface with 2000 out the box. This was a great idea to say the least. Even with the numbers being just about exactly the same as the Widow Limited this ball is slightly less in motion. BUT!!! Packs a major punch through the pins. I am able to keep my angles in front of me which allows me to open the lane up quick. This ball is very driller friendly. It also can take surface change very well.

8/10/2017
By
Hammer Kirk
from Boyne City Mi
Bottom Line:
Yes, I would recommend this to a friend
Extremely versatile piece!
So I drilled this product with a 60x4.5x35 layout. With the oob finish it really worked well in fresh oil where there was good backend friction. As I started to burn up the front and got a little carry down it started to read a little early so I made a surface adjustment to a 4k with polish and wow. This thing is a beast. This is a must have ball if you're a widow fan, and Hell just in general. Keep Em coming EBI!

8/11/2017
By
Stefanie Johnson
from TEXAS
Bottom Line:
Yes, I would recommend this to a friend
This ball is Golden - literally
Hey Y'all..... Stefanie Johnson here..... I have to say this has trumped all of my other Widows and is now my favorite. I primarily have found to be using this ball when the transition seems to be taking place and I can open up my angles. This b all is suuuuuuper clean through the fronts and restores enough energy for me to make the corner. I typically play the lanes straighter but this allows me to be comfortable opening up the angles!

8/15/2017
By
gobeavers92
from Clackamas OR
Bottom Line:
Yes, I would recommend this to a friend
Another Fantastic Widow!
Another Black Widow ball so you know its going to be good. The Black Widow Gold continues with the exceptional performance that we have come to expect from Hammer. I drilled my Black Widow Gold 60X4.5X60 (pin under ring finger) and left the box finish. This ball is a MONSTER!!!!! glides through the front part of the lane and then the core takes over. If you need to open up the lane this is the ball for you. Big change of direction and angle with huge hitting power. A fun new toy everybody should have in their bag.

#teamebi
#blackwidowgold

8/26/2017
By
Michael Thompson
from Sarasota, FL
Best Uses:
Medium Lane Patterns, Medium-Heavier Lane Patterns, Typical House Pattern 38 - 43' Length
Bottom Line:
Yes, I would recommend this to a friend
BIG Backend Widow GOLD - House Pattern Killer
BOWLER INFO:
PAP/Track: 5 5/16" x 5/8" up
Axis Rotation: 40 degrees
Axis Tilt: 13 degrees
Rev Rate: 385
Ball Speed: 17 mph

BALL LAYOUT USED: 50 x 5 3/8 x 35

I love the Semtex Pearl coverstock on my Phobia, so when I heard that the same cover is on the famous Gas Mask core of the Black Widow, very excited to hear this. The coverstock helps get the ball really clean through the fronts and offer a BIG backend motion that Hammerhead fans like to see. I see this cover a little stronger than advertised for a pearl ball and handles the heavier medium patterns with ease. This ball is definitely a great ball for the typical house patterns as you can keep moving left (right handed) and the ball will not quit on you. Black Widow GOLD really shines when you need to get inside the pattern and need a ball to turn the corner in the backends for various medium to medium-heavier lane patterns. It will allow various styles of bowlers be able to start straighter and chase the oil if needed. For me, BW GOLD is about 4 boards stronger overall & more angullar than the Phobia, which is another great ball from Hammer.
I really like what I see in this new release from Hammer and I think this ball will be a must have ball for those that are looking for something that offers a great motion to have an angular asymmetrical rolling ball in your bag. - it really continues through the pin deck! Very versatile ball... You will be impressed!

With the standard 3 year warrantee that Hammer provides for their balls, this is another added value for your money!

8/17/2017
By
jkaseehammer
from Knoxville, TN
Bottom Line:
Yes, I would recommend this to a friend
Hammer Black Widow Gold
For this ball I used a 65 x 5 x 40 layout which put the pin above the bridge. For me this ball gives me easy length and a strong, controlled back end motion. I really liked this ball on our house shot, it gave me a consistent angular motion. If you are a fan of the black widow series, this is a must own!
Video Submitted by Reviewer:

8/19/2017
By
Mike C
from Michigan
Bottom Line:
Yes, I would recommend this to a friend
They STRUCK GOLD!!!
Haven't thrown a Widow since Red Legend Pearl..and I will say this: thisball is the cleanest and most angular Widow I've ever thrown or seen!! Definitely looks amazing going down the lane with a reaction to match!! Great product and great appearance

8/6/2017
By
Sammy K.
from Hammond, Indiana
Pros:
Great Backend Motion
Best Uses:
Opening up the lane
Bottom Line:
Yes, I would recommend this to a friend
Strong Backend Motion!!!
This ball is a must have in your bag for when you need to open up the lane!!! It provides great length through the front part of the lane and amazing backend motion with continuation through the pins. I drilled mine with a 5" Pin to PAP above the fingers and the Mass bias 3 7/8" from my PAP. (Right Handed - 415ish rev rate) It allows me to move to the middle part of the lane and open up my angles when the stronger cover balls start to burn up. Great release from Hammer!!!

8/17/2017
By
Sweetpea Bowl
from Worcester, Massachusetts
Pros:
Carry power, Shelf appeal, Versatility
Best Uses:
Medium volumes of oil
Bottom Line:
Yes, I would recommend this to a friend
Another Widow Winner!!!
Here is my take on the new Hammer Black Widow Gold. The new Gold Widow features the ever popular Gas Mask core manufactured in the carbon fiber process. Thus, like all Hammers, this ball carries with it a 3 year Warranty. Semtex Pearl is the coverstock material used for the Gold Widow- the same cover featured the Hammer Phobia and the record setting Scandal Pearl. Box finish is 1000 Abralon with Factory Finish Polish.
For comparison of the Gold Widow, I used a similarly drilled Black Taboo. They both have one of my favorite layouts for a Gas Mask core ball. The layout is 45 x 6 x 35 with weight hole on the PAP.
My "vitals" are a 405 rev rate, a PAP of 5 9/16th over and 1/8 up. I have thrown this ball at box surface and dusted with a 2000 Abralon pad. I have tried this ball on THS, modified THS and PBA Badger.
Compared to the Black Taboo, the Gold Widow is definitely more angular. At box surface for the THS and Modified THS, I found a bit of over/under and sensitivity to transition. However, once I dusted the ball with a worn 2000 pad (to get a little shine off) the Gold Widow responded infinitely better. I found a little earlier pick-up in the midlane but definitely a more consistent, defined ball motion with less sensitivity to any midlane transition. On Badger, I was able to make it work with a "more aggressive" 2000 surface (used a newer pad) and keeping my angles very closed. Personally, the Gas Mask core balls have always matched up very well for my game and I have been always able to achieve many different shapes/ball motions with Gas Mask Cores. (Same with Vibe cores) I believe the Black Widow Gold will offer similar variety depending on layout.
I would say the Gold Widow is best suited for medium volume patterns with a variety of distances being in play. Like with most Gas Mask core balls, many different styles of play will find success with this ball and can be sued on a variety of pattern distances. See your local proshop for more on the Gold Widow!

Customer

Questions

& Answers

| Reviews
Question:
backend strong or light
8/9/2017 - By
j.j
Have an answer to this question?
Question:
Would u recommend this for senior trying to improve average
9/3/2017 - By
Jan
Have an answer to this question?
Question:
I have this ball but it says spare ball is this ball rare
9/14/2017 - By
Matt
Have an answer to this question?