Hammer Extreme Envy
Witness the power and precision of the Hammer Extreme Envy—where the lane transforms into your playground with a big hook and relentless backend action. While the inaugural Envy conquered heavy oil, the demand for an enhanced backend kick was met with Ebonite's ingenious response: the all-new Extreme Envy.Bridging innovation and performance, the Envy's signature cover embraces the infusion of carbon fiber in the Extreme edition. The result? A heavy oil dynamo that refuses to surrender on the backend. The redesigned core, a variant of the Launcher core with a slightly lower RG, harmonizes seamlessly with the Envy CFI cover, producing a synergy that defies limits.Prepare for the extreme in every sense—extreme satisfaction, extreme results. When an abundance of hook is your need, Extreme Envy stands ready to redefine your game, leaving you exhilarated and empowered every step of the way.
Color: Black/Crimson/White
All colors do vary somewhat from the picture shown
Core: Launcher LRG (14#-16#)
Coverstock: Envy CFI Solid
Reaction: Strong overall hook
Finish: 500, 2000 Siaair Micro Pad
RG: 2.479 (15# ball)
Differential: 0.054 (15# ball)
Recommended Lane Condition: Medium to heavy oil
FCC Rating: Total- 29, Finish- 9, Core- 9, Cover- 11
Manufacturer's Warranty: 2 years from purchase date
A few tiny pit holes in the cover stock of the ball are normal
SKU: HAM60108009
Product ID: 14695
Brand: Hammer
Category: Bowling Balls
Ball Performance: High-Performance Balls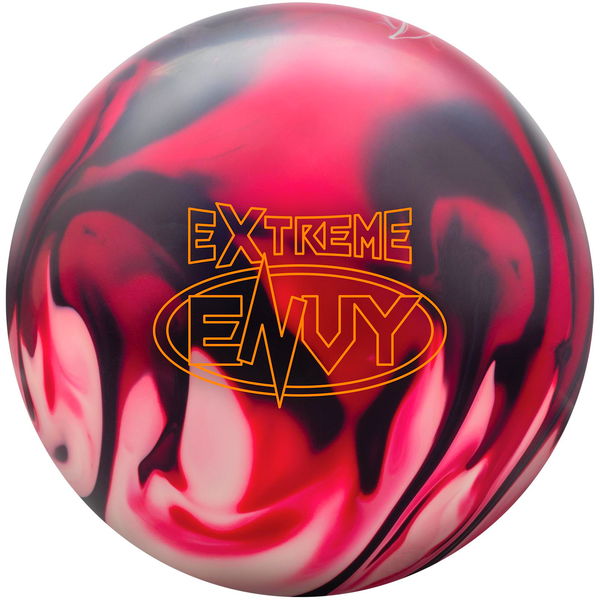 11/5/2023
By Daboys22 from OR
Pros:
Hooks, Not Early, Finishes
Bottom Line:
Yes, I would recommend this to a friend
It Hooks!
The Extreme Envy is very impressive! I can get this ball back from almost anywhere and even if you miss wide it stills kicks out the corners. Most big piece bowling balls can lose their energy the deeper you get but not the Extreme Envy. In comparing this ball to the Envy Tour, both are smooth through the fronts but the Extreme is much stronger in the backend. Not only does it hook in the heaviest of oil, it still has enough energy to send the pin's flying. Don't forget now you even get Hammer swag when you order!
11/5/2023
By albert from Oregon
Bottom Line:
Yes, I would recommend this to a friend
10/31/2023
By Eric A. from CA
Bottom Line:
Yes, I would recommend this to a friend
This ball hooks!
This is the most hooking ball in my arsenal. It is great to have a ball that I know will hook, so I can relax my swing and not have to try and pull the ball to the pocket. I have used it on both short and long patterns.
10/27/2023
By Richard from New York
Bottom Line:
Yes, I would recommend this to a friend
EXTREME TO THE MAX
If you are looking for that first game ball out of your bag ball, you found it! If the house your bowling on has oil, this is your ball. If you are rev challenged or have a higher ball speed, this is it! I drilled mine about a month ago and I've used it every week on the fresh. It lasts about a game or so before I have to switch. Ball is very aggressive and if your looking for max hook this is it!
10/20/2023
By Joe Somd from Seattle
Bottom Line:
Yes, I would recommend this to a friend
Extreme Envy = Pin Dropper
This ball is very poppy compared to the Envy Solid. It's amazing g how well it fits between the Envy Solid and Envy Tour. Length and pop and the pins drop. It digs in oil and continues hard. When I threw it for the first time I was amazed how well it stood up but didn't stop.

Then you add the carbon fiber to the cover it just becomes a beast of a ball.

Truly lives up to the Hammer Tough Brand
Video Submitted by Reviewer:
10/11/2023
By Bob Newman from Pacifica
Bottom Line:
Yes, I would recommend this to a friend
Hammer Extreme Envy
My first impressions of the Hammer Extreme Envy is it's a pretty special ball. I practiced with it against my other two big asymmetric solids, the Brunswick Mindset & the DV8 Hellcat, both pieces I like. In the beginning I found them all to be pretty similar, but when moving my feet left and getting deeper on the lane the Extreme Envy took over. Unlike most big pieces that will burn up and lose hitting power in deep, the Extreme Envy kept coming. Instead off flat ten or 2-8 the Extreme Envy kept running over the 8 pin. It stayed strong where most big solids don't like to hit from. I drilled mine at 65 x 3-1/2 x 25 and hits like a truck. In the arsenal!
10/10/2023
By Bryan Williams, PBA Member and DV8 Pro Staff from Plumas Lake, CA
Bottom Line:
Yes, I would recommend this to a friend
Unbelievable Hook and a Must Have in Your Bag!
The new Hammer Extreme Envy is a ball with hook unlike many balls I have thrown. The Hammer Envy Tour was the big ball in my arsenal that allowed me to play on oily lane conditions. The new Hammer Extreme Envy is another "Big Ball" with a much different look on the lanes. Like the Envy Tour, the Extreme Envy is very smooth, but the addition of the flip disc in the ball gives more angularity off the spot as the ball transitions down lane. The drill pattern in this ball is 40x4x30, which allows for the ball to be very clean and provide a consistent roll through the heads. If you were a fan of the Hammer Obsession bowling ball line, then this ball will not disappoint. I strongly encourage bowlers at all bowling levels looking for a big ball for oily lane conditions to consider the this ball. Check out a new Hammer Extreme Envy at your local pro shop try out one of the newest and hottest balls on the market today!
10/2/2023
By Gerard from Greensburg
Bottom Line:
Yes, I would recommend this to a friend
Extreme Envy
If you're looking for a strong and continuous ball then the Extreme Envy is for you! I usually find that the stronger solid balls tend to not finish enough on the backend. With the addition of HK 22, the Extreme Envy doesn't quit through the pins. I drilled mine very similar to the original Envy which is one of my favorite balls in my bag. The new Extreme Envy definitely gives me a much better look on longer patterns. The motion allows me to move in and still have a strong predictable motion on fresh patterns as well as longer patterns. Another great ball for the Hammer Lineup
9/20/2023
By Sweetpea Bowl from Worcester, Massachusetts
Bottom Line:
Yes, I would recommend this to a friend
Hammer Extreme Envy
Recently, I had a chance to work with the Hammer Extreme Envy- one of the brand new Envy pieces in the Hammer line. The new Extreme Envy has a modified Envy core (lower RG) with a carbon fiber infused Envy solid cover finished at 2000 siaair. I went with a little stronger layout with the Extreme Envy than what I used in the original Envy- 50 x 4 1/4 x 20. I tried at it box surface on one of the custom designed patterns for our Tuesday night scratch league. (40 foot, 26 ml, 4:1 ratio)

The manufacturer's intent was to create a ball for higher volumes of oil and that had a little more motion off the end of the pattern than the original Envy. I think Hammer hit the target in terms of their stated goal. I used the original Envy with success during PBA league this summer on the 2023 PBA Shark pattern. I think from what I saw on Friday, I would have had equal if not a little more success with the Extreme Envy just because I do see a little more motion off the spot. Either way, the environment in which this new Envy will see the best chance of success will be on high volumes of oil because the core/cover combination definitely wants to read early. I believe the Extreme Envy can handle various pattern distances as long as there is sufficient volume in the pattern. On the above pattern, it's clear how early the ball wants to read, especially due to the medium volume of oil. Because this pattern, notwithstanding the 40 foot distance, wants to play much further out, the Extreme Envy definitely blends out the fresh and doesn't jump off the spot. Personally, I feel this ball will be in play for me on patterns with 30ml of oil or more. I will also try adjusting surface to allow me to try it on a little lighter volume of oil.

The Extreme Envy is currently readily available. See your local pro shop for more information.

Customer Questions & Answers | Reviews
Thanks for answering another customer's question! Once approved it will be posted here.
Question:
How does this compare to the DV8 Hellcat XLR8?
9/3/2023 - By
Crosley
Have an answer to this question?
Question:
How does this ball compare to the super nova
10/3/2023 - By
Pro bowler
Have an answer to this question?
Answer:
Hello! The Hammer Extreme Envy would react earlier with a slightly higher hook potential while the Storm Super Nova is more aggressive on heavier oil lane conditions.

10/4/2023 - By

Bowling.Com Staff

0

of

0

customers found this answer helpful. Did you? Yes | No Did you find this answer helpful? Yes | No Thanks for your feedback!
Question:
What 14lb ball weights do you have in the Hammer Extreme Envy? Im looking for 14.10 thru 14.7lbs
10/14/2023 - By
James
Have an answer to this question?
Answer:
Hi James! You may request a specific weight in the spec request section or the comments on the final review page. We will be sure to contact you before shipping if we are not able to fulfill your specifications.

10/16/2023 - By

Bowling.Com Staff

0

of

0

customers found this answer helpful. Did you? Yes | No Did you find this answer helpful? Yes | No Thanks for your feedback!