We'd like to offer you $5 off your purchase of $50 or more today!
Coupon excludes instant bonus items, hot deal items, and gift certificates.
Hammer Phobia
Bring fear to your competition with the Hammer Phobia bowling ball. The Phobia is part of Hammer's upper-mid performance line which includes their legendary Black Widow bowling balls. This ball introduces the Phobia core to the Hammer line. This core is symmetric and powerful. The successful Semtex coverstock is used to cover this ball and generate a strong and angular backend motion. The pearl additive offers more skid through the front of the lane and gives this ball pattern versatility. The cover is finished with a 500 then 1000 Abralon pad and then is polished with the Powerhouse Factory Finish Polish which helps the ball store energy. This bowling ball is Carbon Fiber Infused! Carbon fiber is one of the toughest materials on earth. Hammer decided to add this material to the inner core of this ball for added strength and durability allowing them to offer an incredible 3 year warranty.
Color: Smoke/Blue/Bronze

All colors do vary somewhat from the picture shown.

Coverstock: Semtex Pearl
Core: Phobia (includes Flex-Resin additive, Ceramix surface process, and Carbon-Fiber outer core)
Finish: 500/1000 Abralon Polished with Powerhouse Factory Finish Polish
Hook Potential: High
Length: Late
RG: 2.49**
Differential: 0.054**
** RG and Diff are based off of 15 lb. balls
Recommended Lane Condition: Medium to Heavy Oil
FCC Rating: Total-25, Finish-7.25, Core-8.5, Cover-9.25
Manufacturer's Warranty: 3 year
A few tiny pit holes in the cover stock of the ball are normal
SKU: HAMHMPHOBIA
Product ID: 10389
Brand: Hammer
Category: Bowling Balls
Ball Performance: Upper Mid-Performance Balls
Back to Top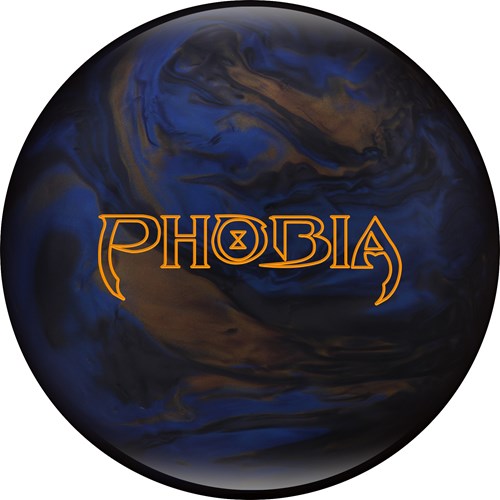 1/6/2017
By
Tom Gooley
from South Bend, IN
Bottom Line:
Yes, I would recommend this to a friend
Big back end motion
I've had this ball for about 2 weeks now. Drilled 75 × 2 7/8 x 50 This ball has easy length for me with a powerful ball motion off the spot. This is a very nice symmetric option to compliment the Widows that have the Gas Mask core. I can use this ball on anything from medium-dry to medium-oily. One 300 under my belt with the Phobia with more to follow. Excellent bowling ball!!!

1/9/2017
By
TFG
from Indiana
Bottom Line:
Yes, I would recommend this to a friend
Phobia!!!!!
This ball is very clean with a ton of backend. This symmetric core is an amazing compliment to the widow series!!!!

1/9/2017
By
The Ripper
from Southfield MI
Bottom Line:
Yes, I would recommend this to a friend
Great Hook and Carry
I found this to be a pearl that gives big back end motion without an over/under reaction. The Phobia is a great compliment to Hammer's upper mid performance line. When I want to move inside, and bounce this ball off of the dry, I can do it with ease. My favorite pearl of the year.

1/10/2017
By
Michael Thompson
from Sarasota, FL
Pros:
Awesome colors, Big Backend Motion, Medium - Heavier Medium Lane Pattern
Best Uses:
During transition - games 2-3 in league, Medium - Heavier Medium Lane Patterns
Bottom Line:
Yes, I would recommend this to a friend
BIG Backend Motion ball from Hammer
BALL LAYOUT USED: 70 x 5 x 60

Was curious about this new addition to the Hammer line and where it would fit, so after drilling mine with a pin down layout, I am quite impressed with the ball motion that I see with the new Phobia which fits perfectly in the Legend series and offers a symmetrical core in this line. For me the Phobia is cleaner and a bit more angular overall compared to the Scandal Pearl and it is definitely stronger than the original Rebel so it fits perfectly in between those two balls. The Phobia really shines when you need to get inside the pattern and need a ball to turn the corner in the backends for various medium lane patterns. It will allow various styles of bowlers be able to start straighter and chase the oil if needed. I see the Scandal Pearl a little earlier and rolly compared to the Phobia which offers a skid/flip backend motion that does not stop cornering. The Phobia is about 3-4 boards weaker overall than the Scandal Pearl, but stores up more energy down the lane, and is about 3-4 boards more than my Rebel Pearl.
I really like what I see in this new release from Hammer and I think this ball will be a must have ball for those that are looking for something that offers a great motion to have an angular symmetrical rolling ball in your bag. - it really continues through the pin deck! Very versatile ball... You will be impressed!
With the standard 3 year warrantee that Hammer provides for their balls, this is another added value for your money!

1/6/2017
By
Jeff holden
from Indiana
Bottom Line:
Yes, I would recommend this to a friend
A must have for your bag
This ball has been asked about how it compares to the scandal pearl because the numbers are fairly similar and comparing them together the phobia has more length and more backend than the scandal learl. The phobia will not disappoint. Get yours today

1/6/2017
By
Kim Mann
from Wooster, Ohio
Bottom Line:
Yes, I would recommend this to a friend
Can't say enough about this ball!
All I can say is I honestly can't stop putting this baby in my hand! This ball is exactly what my eye likes to see when I bowl and I have 100% confidence in both houses I bowl in with this baby. The pin up is definitely my favorite on house shots. For the stoker/tweener who likes to play up the lane and keep their angles in front of them, don't miss out on this ball. I think everybody who knows me personally and sees my posts on Facebook know how I feel about this ball ??

1/9/2017
By
J Heibel
from Indianapolis, IN
Bottom Line:
Yes, I would recommend this to a friend
Great continuation through the pins!
If I had to use one word to describe this ball, it would be WOW! This ball is extremely versatile and can be used on plenty of different oil conditions. Very clean through the fronts and continues through the pins extremely well. I have found that I can keep this ball in front of me which allows me to stay right longer but it stills gives me the confidence of moving left and opening up my angles. A must have in everyones arsenal!

1/16/2017
By
jkaseehammer
from Knoxville, TN
Bottom Line:
Yes, I would recommend this to a friend
Hammer Phobia
So I drilled my Phobia using a 70 x 5 1/2 x 65 layout, which put my din down and under my bridge. I was very impressed by the motion of this ball. Even though it has a symmetrical core it is more angluar than my Scandal Pearl and a little cleaner through the mids. This ball will fill the gap in my bag between my Scandal Pearl and my Rebel.

1/1/2017
By
Hammerlefty
from wooster, ohio
Pros:
Very clean with with a lot of down lane hook
Bottom Line:
Yes, I would recommend this to a friend
I would be sure to always have this in my bowling bag
Phobia is a excellent new addition to the Upper Mid of Hammer ball line. This ball features and brand new symmetrical core with the same number as Gas mask asymmetrical core. I have drilled a pin up(65 5 3/8 x 35) and pin down(80 x 5 x 75). Phobia has good mid lane pick up and a bunch of back end. This ball is wrapped by the very successful semtex pearl cover stock that was also on Black Widow Limited. I have a lot of success with this ball on various patterns. Great addition to anyone bowling arsenal.

1/11/2017
By
RustyB
from Lafayette, LA
Bottom Line:
Yes, I would recommend this to a friend
Excellent Compliment to the Scandal
This ball is a perfect addition to the Scandal. The ball motion is similar, but a little more angular coming off the spot. This can be adjusted with the layout used. Lots of energy left over when it reaches the pins, so power is not a problem. Gets through the midlane with little effort. Drilled mine 45x5x40

1/18/2017
By
Sweetpea Bowl
from Worcester, Massachusetts
Pros:
Can drill many ball motions with this ball, Versatility
Best Uses:
Suitable for many styles and rev rates, Wide variety of pattern lengths/volumes
Bottom Line:
Yes, I would recommend this to a friend
The Pins Fear the Phobia by Hammer
The Hammer Phobia features the Semtex Pearl cover (similar to the highly successful Scandal Pearl) with a symmetrical core shape. The core is manufactured with the Carbon Fiber process and thus, comes with the industry leading 3 year warranty. The color of ball is blue/bronze and box surface for the ball is 1000 Abralon with Factory Finish Polish.
My PAP is 5 9/16 over and 1/8 with a 400 rev rate. Average speed for me is in the vicinity of 17 mph. I have thrown the new Phobia at box finish and at 4000 Abralon. I have tried the ball on THS, USBC White and Kegel Abbey Road. The layout on the Phobia that I drilled is 45x 6 x 35 with a weight hole 4 inches from the center of the grip. I drilled a 2nd one with a 60 x 5 ¼ x 70 layout with a weight hole 4 inches over and 2 inches down from center of grip.
Initially, I was told to conceive of this ball as a symmetrical version of a Gas Mask core such as is found in the Hammer Legend, Taboo and Widow series of bowling balls. As such, the layout used is one of my personal favorite layouts in a Gas Mask core. On each of the patterns on which I have tried the Phobia, the description of it being a symmetrical version of a Gas Mask core is ABSOLUTELY ACCURATE! Thus, if you are a fan of the Legend, Taboo or Widow series of bowling balls, the Phobia is absolutely for you! In comparing the Phobia to a similarly drilled original Legend, the ball shape is very similar, but with the Phobia, the motion is further down the lane. As such, on medium volume patterns of any length or broken down patterns, the Phobia has a great chance of being in play. Given what appears to be the overall characteristic of the ball, the Phobia may well be a good benchmark ball.
Similarly, based on what I have seen thus far, I fully expect that this ball will appeal to a wide variety of bowler styles and rev rates. I also further expect that the ball will be versatile and can be drilled to achieve many different ball motions.

1/20/2017
By
dmill76
from rowlett, tx
Pros:
easy to throw, hits pocket hard and great on lite hits, threw an 856, 4-game series out of box
Best Uses:
all the time, great on lanes have been used by early league
Bottom Line:
Yes, I would recommend this to a friend
better than i thought
was very impressed with out of box ball that i had no practice with. had drilled pin down and i cant be happier, thanks hammker

2/7/2017
By
Catlady537
from Indiana
Bottom Line:
Yes, I would recommend this to a friend
Great ball!
Glad I bought the Phobia. My average has gone up in both my leagues.

2/24/2017
By
Yay yay
from Memphis Tennessee
Bottom Line:
Yes, I would recommend this to a friend
Yes I would definitely recommend this weapon to a friend
Straight out the box 300..ENOUGH SAID

Customer

Questions

& Answers

| Reviews
Question:
How does the phobia compare to the gauntlet
6/12/2017 - By
chris79
Have an answer to this question?