We'd like to offer you $5 off your purchase of $50 or more today!
Coupon excludes instant bonus items, hot deal items, and gift certificates.
Hammer Viral Hybrid
Hammer continues the success of the Viral bowling balls with the Hammer Viral Hybrid. This version offers a stronger mid-lane reaction while keeping the consistent and predictable reaction of the previous Viral balls on dry to medium oil conditions. All of this is achieved by combining the Vibe core with the Violent Flip Hybrid coverstock and finishing it with a 500 grit and then 2000 grit Abralon pad and then Powerhouse Factory Finish Polish. This bowling ball is infused with Carbon Fiber! Hammer added this tough material to the inner core of this ball to add strength and durability so that they can offer an incredible 3 year warranty.
Color: Lime/Gold Pearl

All colors do vary somewhat from the picture shown.

Coverstock: Violent Flip Hybrid
Finish: 500 / 2000 Abralon Polished w/Powerhouse Factory Finish Polish
Core: Vibe with Flex-Resin Additive, Ceramix Surfacing Process, and Carbon Fiber Outer Core.
Reaction: Skid / Flip
RG: 2.51 (for 15# ball)
Differential: .042 (for 15# ball)
Recommended Lane Condition: Medium-Light Oil
Manufacturer's Warranty: 3 year limited
FCC Rating: Total- 18.5, Finish- 7, Core- 6.5, Cover- 5
A few tiny pit holes in the cover stock of the ball are normal
SKU: HAMHMVIRHYB
Product ID: 9895
Brand: Hammer
Category: Bowling Balls
Ball Performance: Mid Performance Balls
Back to Top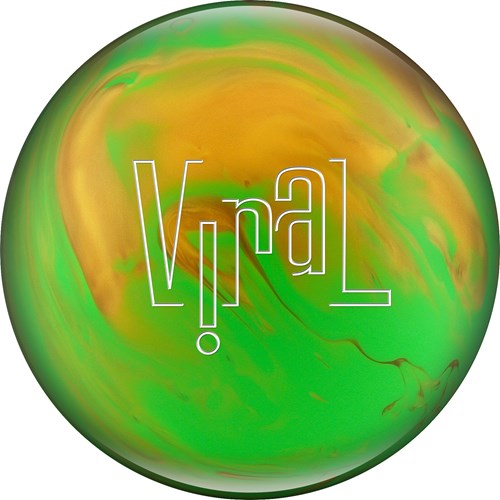 Similar Balls: Same Hook Potential, Lane Conditions & Coverstock as the Hammer Viral Hybrid.
6/16/2016
By
Sweetpea Bowl
from Worcester, Massachusetts
Pros:
Excellent ball motion for medium/light volumes, Great shelf appeal
Best Uses:
Medium to light volumes
Bottom Line:
Yes, I would recommend this to a friend
Another Viral Winner
The Viral Hybrid combines the tried and true Vibe core (Carbon Fiber process and thus carries a 3 year warranty) with a hybrid version of the Violent Flip reactive cover. Box surface for the new Viral Hybrid is 500 to 2000 Abralon polished. This ball has great shelf appeal with its Lime/Gold Pearl cover.
I drilled mine with a 40 x 6 x 40 layout with a weight hole on my PAP. I have thrown the ball with box surface and with 500 to 2000 Abralon without polish. I have tried the ball on several THS as well as Chameleon sport pattern. My specs are average speed 15-16 MPH, 405 rev rate with a PAP of 5 9/16 over and 7/8 up.
The Vibe/Viral line has been of the true mainstays of Hammer's line up through the years & offers very predictable, consistent ball motion. As expected, the Viral Hybrid does indeed fit in between the original Viral & Viral Solid. I personally have found the ball to be a little closer to the original Viral than the Viral Solid, especially in terms of length. I also found that the box surface may over/under a little especially on a THS. By using a straight 500 to 2000 Abralon surface without the polish, the length is still there but it blends out most patterns. I also found that by adding a little surface, because the ball is so clean, backend motion and hitting power does not suffer.
I believe that this ball is best suited for medium/lighter volume patterns. I also believe, based on what I have seen, that the Viral Hybrid can be used on a variety of pattern distances. I was able to easily use the Viral Hybrid on broken down Chameleon with good success. On most THS, the Viral Hybrid will allow you to stand a little further right than other stronger equipment. Like with most Vibes/Virals, this new Viral can be drilled for a number of different ball motions & will suit many different styles of bowlers. My sense is that using this ball on the right volume of oil will be the key. For heavier volumes, use a Legend series ball or stronger Hammer symmetric.

6/1/2016
By
Plowboy300
from Sarasota, FL
Pros:
Great Looking Ball, Medium-Lighter Lane Patterns, Versatile Ball
Cons:
Heavy Lane Patterns
Best Uses:
Medium-Lighter Lane Patterns
Bottom Line:
Yes, I would recommend this to a friend
Classic Vibe Core with Hybrid Coverstock
The Viral Hybrid features the great "Vibe" core along with a Hybrid coverstock, which is a first for the Vibe / Viral series. The colors of the Lime Green & Gold colors looks sharp going down the lane and Hybrid really performs great on the medium-lighter lane patterns. This ball definitely fits in between the Viral Solid and Viral Pearl. For those that did not throw any of the Viral balls yet, but have used any of the Vibes back in the day, this one reminds me very close to the original Cherry Vibe, but a touch earlier. With the Hybrid coverstock, it blends out the over/under while providing easy length with a controllable ball motion in the backends. I am extremely impressed with what I seen in this ball so far.

With the Carbon Fiber outter core and the new 3 year warrantee that Hammer provides for this ball, this is the BEST bang for your buck!

I think the Viral Hybrid will be a great addition to the bag for those looking for a ball to control the midlanes while turning the corner too. The coverstock really makes this ball shine compared to the other Virals that have been released to date. Very versatile ball... You will be impressed!

6/13/2016
By
Amber - Amateur Track Staff Player
from Indianapolis, IN
Pros:
Great Length, Midlane Roll, Overall Hook
Best Uses:
Medium - Light Oil
Bottom Line:
Yes, I would recommend this to a friend
Must Have Ball!!
This ball rolls exceptionally well for me and complements my Viral Pearl nicely. The hybrid starts rolling sooner than the pearl but never stops downlane. This balls actually hooks more than i expected but rolls great on a typical house shot and even lower volume sport patterns. If you're missing a ball than is clean through the fronts but still picks up and makes a nice continuous motion, this is the ball for you!!

6/14/2016
By
jkaseehammer
from Knoxville, TN
Bottom Line:
Yes, I would recommend this to a friend
Viral Hybrid!!!!
Disclaimer: I love the Viral line. I drilled my ball the same way that I have my Viral which is pin above the bridge and cg is kicked to about 5 o'clock. This ball is earlier than my Viral but provides more back end pop than my viral solid does. I didn't make any surface changes to the ball. This ball will get a ton of use for me during league nights!

6/28/2016
By
Danielek7
from Valencia, Ca
Bottom Line:
Yes, I would recommend this to a friend
I would buy again
Hits very hard. Flips and drives through pins

6/9/2017
By
Covfefe
from Tampa, FL
Bottom Line:
Yes, I would recommend this to a friend
Perfect ball for light oil and broken down THS patterns.
Bought this ball for dry, broken down THS conditions, and it fits the bill perfectly. I was skeptical the first few times I threw it but that was because it was on fresh oil. Once the pattern breaks down and dries up, this ball really shines. It offers a smooth, predictable, consistent reaction with a nice little snap in the backend. I found it to be very forgiving as well, even when I missed my target by several boards it didn't leave me any difficult spares to convert.

8/17/2017
By
Superdaddy
from Palm Bay, Floridq
I love this product, it is so awesome.
The ball is going to hit arrow pin, it is beautiful playing.

Customer

Questions

& Answers

| Reviews