Take $5 off your purchase of $50+ today!
Coupon excludes instant bonus items, hot deal items, and gift certificates.
Radical Incognito
You will want to keep the powerful performance of the Radical Incognito under wraps. The Incognito introduces two new technologies from Radical the Incognito core design, and the S.H.A.R.P. coverstock. The core design provides a strong overall hooking motion while focusing on the down lane performance. The S.H.A.R.P. coverstock stands for Strong Hooking Angular Reactive Performance. This coverstock creates a sharper, quicker, and more aggressive reaction from the breakpoint. This high-performance bowling ball provides the most overall hook to date from Radical along with a longer hooking period and incredible continuation through the pin deck.
Color: Black/Blue
All colors do vary somewhat from the picture shown
Coverstock: S.H.A.R.P. (Strong Hooking Angular Reactive Performance)
Core: Asymmetric with DynamiCore
Finish: 500, 1000, 2000 Siaair Micro Pad
RG: 2.487 (15# ball)
Differential: 0.053 (15# ball)
Recommended Lane Condition: Heavy Oil
Hook Potential: High
Length: Early
Warranty: 2 Years from date of purchase
A few tiny pit holes in the cover stock of the ball are normal
SKU: RB60106420
Product ID: 13067
Brand: Radical
Category: Bowling Balls
Ball Performance: High-Performance Balls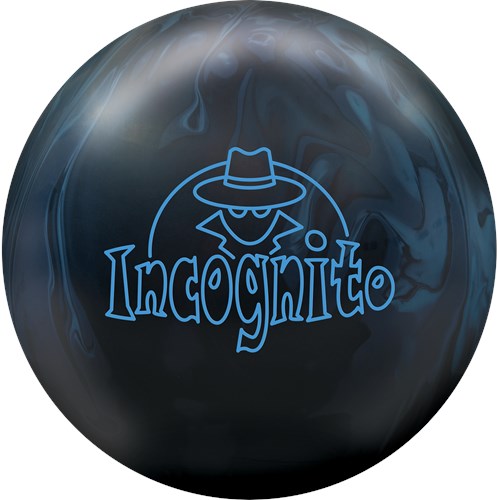 1/21/2021
By JAMES from Maine
Pros:
Medium-heavy oil, big backend
Cons:
Light oil volume, spotty house shots
Best Uses:
First ball out of your bag, benchmark asymmetric
Bottom Line:
Yes, I would recommend this to a friend
Radical Incognito: THE benchmark asymmetric!!
Radical Incognito
30 x 4.75" x 30

I drilled the Radical Incognito to be my benchmark asymmetric ball, and it did not disappoint! It has arguably the cleanest solid cover I have ever thrown in an asymmetric ball, and finishes strong and crisp through the pins. I have used it on two different patterns, Holman 37' sport shot, and 41' THS (typical house shot), and in both cases it has performed exceptionally well. The Incognito handles medium-heavy volumes of oil very well, the only area where you would want to put it away is lighter oil patterns, or spotty house shots, where you may want something with a lower differential, like a Bonus Solid, for instance. Otherwise, the Incognito will fill the spot in your bag when you need a bigger, reliable ball that will hook when you need it, but give you the length you expect every single shot. This ball works perfectly in tandem with the Results+, a big asymmetric pearl, to give you the best 1-2 punch on the market. Call your local pro shop to order your Incognito today and join the Radical Revolution!

James Goulding III
Radical Staff
1/10/2021
By Cody G from Middletown, OH
Bottom Line:
Yes, I would recommend this to a friend
Strong Backend Motion
The Incognito is a great piece in the Radical line. I have it sharper off the spot then a Zing Solid. Overall hook is about the same for me. It's weaker and goes longer than the Results Solid for me. I have used this ball slot. Most of the time it is the first ball out of the bag. If you're needing strong down lane motion, this is what you want.
1/10/2021
By Robert from Sanford,N.C.27330
Pros:
Smooth asymmetrical ball
Best Uses:
All lane conditions
Bottom Line:
Yes, I would recommend this to a friend
Incognito
Incognito

I recently punched up this ball. I must say very impressed by this ball. I would call it a asymmetrical benchmark ball. I can use it to play up the boards. Or I can swing it. It doesn't read the mids. To strong. And it has plenty of backend motion. I would have to call this my go to ball. I'm a left handed bowler with ball speed around 14.5 mph. My Rev Rate is around 280 rpms. This is a great ball to have in your bag. Great job Radical bowling technologies.

Robert Way
12/24/2020
By Christina L. from Las Vegas, NV
Bottom Line:
Yes, I would recommend this to a friend
Strong backend motion!
Bowler stats: PAP 4 over 3/4 up, 18 degrees tilt, 275 revs, speed 14.5 mph
I drilled two of these balls. A pin up at 55x4x25 and a pin down at 15x4.25x80. The pin up is a touch later than my Results solid, has plenty of overall hook, and a strong backend motion. The pin down offers me control and hook. It is a great option when a short pin is just not enough hook, but I need that type of control. The Incognito is perfect for me on medium to heavier oil conditions.
Video Submitted by Reviewer:
12/15/2020
By Sweetpea Bowl from Worcester, MA
Bottom Line:
Yes, I would recommend this to a friend
Radical Incognito
Here is my take on the new Radical Incognito. The new Incognito features an asymmetric core wrapped by a brand new coverstock called S.H.A.R.P.- designed to create a sharper downlane motion. Factory finish is 2000 Siaair. Like all balls from the Brands of Brunswick, the Incognito comes with a 2 year warranty.
My "vitals" are a 405 rev rate with a PAP of 5 9/16 over and 1/8 up. I drilled an Incognito with an 80 x 5 ¼ x 30 layout. I have thrown it on THS (fresh and burnt) as well as Kegel Tungsten and have worked with the Incognito at box surface.
What was most interesting about the Incognito, even at box surface, was the fact that the Incognito allowed me to stand further right and play a little straighter compared to other asymmetric core equipment. When I first worked with the Incognito, I warmed up with a Hammer Web MB, another asymmetric core ball that has become a favorite of mine. Given the surface of the Incognito, I figured I had to stand a little further left. To the contrary, to get lined up, I ended up being about 3-4 boards further right and throwing to the same spot. That being said, once lined up, the Incognito, true to its expected motion, did show a very defined and strong motion off of the spot. The Incognito will work on any pattern length/volume where asymmetric equipment will work but where a little straighter angle is preferred.
See your local proshop for more information about the new Radical Incognito!
12/9/2020
By Brian from Batavia NY
Pros:
Aggressive downlane motion, Continues through the pins, Great shelf Appeal
Best Uses:
Benchmark ball reaction, Heavier oil
Bottom Line:
Yes, I would recommend this to a friend
Incognito = must have
I drilled this ball 64 x4 7/8 x 65 as a complement to my Black Widow 2.0. What I wasn't looking for was a ball that when the widow wasn't quite enough on the backend that I could pull a ball out and stay in the same zone with more down lane. I got exactly what I was looking for with the Incognito. When the widow isn't enough I can pull the Incognito out and stay in the same area and not miss a beat. With The SHARP cover stock and dynamicore the pins do not stand a chance. Put your favorite layout on the incognito and you will have a ball a first ball out of your bag on the heavier oil patterns that will turn heads when you start lining up strikes.
12/7/2020
By Tim Martin from Harrisville, RI
Bottom Line:
Yes, I would recommend this to a friend
Benchmark Asymmetrical
Drilled my Incognito with a 40,4.5", 50 layout, as I wanted to get the ball started a little sooner based on my ball speed and it gave me a really predictable but strong ball reaction. The ball reminds me of the original Conspiracy, but seemed a little harder off the friction...so more angular in my opinion.
11/18/2020
By HOWARD E. LILES from Clarksville, Tn
Pros:
Attractive, Comfortable Grip, Flawless Surface
Bottom Line:
Yes, I would recommend this to a friend
Radical Incognito
The all new Radical Incognito. Drilled 45 X 4 X 35. It is the first ball out of my bag for league. I usually try to start with it straight up the 5 board and move left as the pattern break down. This ball is very clean through the heads. But with the all new S.H.A.R.P. cover stock(strong hooking angular reactive performance) the ball is very responsive to friction and is very continuous. The more you open up the lanes the more responsive the ball is. This is going to be a very special ball. Can't seem to put it down. #radicalrevolution #wowthatsradical
Customer Questions & Answers | Reviews
Thanks for answering another customer's question! Once approved it will be posted here.