We'd like to offer you $5 off your purchase of $50 or more today!
Coupon excludes instant bonus items, hot deal items, and gift certificates.
Storm Code Black
WARNING: You need a Code Black on the lanes! The Storm Code Black features a RAD4 core. This high torque, high differential core technology was very successful internationally so Storm is introducing it to the US through this high performance bowling ball. This core is paired with Storm's proven R2S Pearl Reactive coverstock and finished with a 1500 grit polish. This combination causes the ball to glide through the front part of the lane then create the unique breakpoint shape and backend reaction that Storm is known for.
Color: Black/Charcoal/Silver

All colors do vary somewhat from the picture shown.

Core: RAD4
Coverstock: R2S Pearl Reactive
Finish: 1500-grit Polished
RG: 2.50 (based on 15# ball)
Differential: 0.058 (based on 15# ball)
Recommended Lane Condition: Medium-Heavy Oil
Fragrance: Orange Chocolate
A few tiny pit holes in the cover stock of the ball are normal
SKU: STBBMTCK
Product ID: 10357
Brand: Storm
Category: Bowling Balls
Ball Performance: High-Performance Balls
Back to Top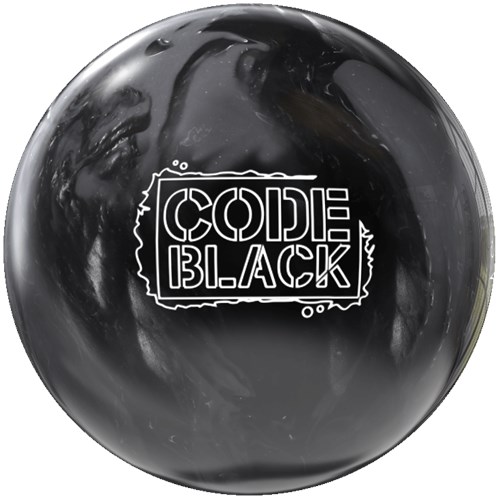 Similar Balls: Same Hook Potential, Lane Conditions & Coverstock as the Storm Code Black.
5/19/2017
By
Joeycal
from Chicago
Bottom Line:
Yes, I would recommend this to a friend
Well it's about time I got It
I have only bowled for a year now or so and I have the phaze 2 which is my favorite well was... I got the code black today and I struck almost every time my average is 163 and tonight I averaged 201 I can't believe it and I'm really happy I chose this ball. Go get one if you don't have a pearl in your bag yet.

1/6/2017
By
FJCallahan
from Newington, CT
Bottom Line:
Yes, I would recommend this to a friend
Storm CodeBlack
When I heard we were getting this ball I was excited. The RAD core and R2S combo was a great idea to include in the line. I drilled mine 70x3/34x30, I have lower tilt than average, so I keep my drilling angles high. I bowl twice a week, once on a lower volume THS and the other with a higher volume. The CodeBlack on low volume is very fun to roll, clean down lane with great energy retention. I struggled to get comfortable on the higher volume shot, to much conditioner for the R2S to dig into. My ball speed hovers around 18 plus, so I really had to square up and get the shell to see some friction. For a comparison, my Snaplock is about 3 to 4 boards stronger and rolls a few feet earlier. I have a bit more miss room on the higher volume pattern with the Snaplock. Overall the CodeBlack looks great on the shelf, it has enough backend motion to satisfy my customers and I've had no negative comments yet. If you want to replace your older Pearl Asymm, then this is the rock for you

12/7/2016
By
Wes
from Georgia
Bottom Line:
Yes, I would recommend this to a friend
I would buy another code black.
172 average bowler right now. Average has been higher in my younger days. First night out of the box I rolled a 174,234,and 254 in league play. I love the pin action with this ball. I never left a 5 pin all night.

4/7/2017
By
RMH
from Phila, PA
Pros:
Never stops driving towards the headpin.
Best Uses:
Moves threw the oil with ease
Bottom Line:
Yes, I would recommend this to a friend
Greatest ball ever!
Bowl in 2 leagues at different houses. Averaging 220 in both leagues. As long as I hit my mark it walks into the pocket no matter what the lane conditions are. Even when the lanes start to dry up i just lift a little less a i still strike. Light hits are fun to watch as the pins fly all around.
Only negative is sometimes i leave a 9 pin because the ball os just to strong sometimes.

3/26/2017
By
Buzz
from Elyria, Ohio
Bottom Line:
No, I would not recommend this to a friend
Possibly the worst ball I've bought
For a ball that's suppose to hook, mine didn't. I'm a 200 average bowler and rarely hit 200 with the ball. I'm trying to re-sell now

1/18/2017
By
Spoon
from Norfolk Virginia
I would get another
Oh and I believe the code black will be in my bag

2/7/2017
By
Rev
from Fairfield, CA
Bottom Line:
Yes, I would recommend this to a friend
Code Black performs very well!
After one week in use, it has given me more confidence on oily lanes.

2/26/2017
By
Russmeech
from Kansas City mo.
Bottom Line:
Yes, I would recommend this to a friend

4/9/2017
By
KRB61
from Alex, VA
Bottom Line:
Yes, I would recommend this to a friend
Great ball
This ball is a beast . It has great hook potential, continuation, and hits like a wrecking ball. Since I avg 160 during practice with other equipment and rolled a 3 game 188 avg the very first time and set using it , I am quite happy. This ball shows no signs of weakness and it's very predictable.

6/2/2017
By
The Dude
from san jose, ca
Pros:
great roll, snappy, strong
Cons:
None
Best Uses:
Year Round
Bottom Line:
Yes, I would recommend this to a friend
Amazing Ball!
I'm a high speed high rev two-hander. I have pin above ring finger with pin and CG in straight line. Even with my rev rate I can throw this ball over 1st arrow. It rolls great of the spot. If you love strong backend and lots of pazaz you'll love the code black. Carry and power is amazing with this ball. Highly recommend!

7/11/2017
By
Bob
from Enid, Ok
Bottom Line:
Yes, I would recommend this to a friend
Great ball for me
I sincerely appreciate the help from Scott at Bowling.com who took his time talking with me about my bowling style and recommending the Storm Code Black from a list of about 6 different balls I was researching. My average is about 190 and first game out of the box was a 261. Not all my games have been that high of course. If the ball wasn't performing like I wanted it to, it certainly wasn't the balls fault. I would recommend this ball to others but still Scott was a great help.

8/18/2017
By
10 FRAME JOHNNY
from WINTER GARDEN FL
Bottom Line:
Yes, I would recommend this to a friend
THIS BALL HAS A NICE LATE HOOK. LOVE THIS BALL
STRAIGHT DOWN AND IN

Customer

Questions

& Answers

| Reviews