Brunswick Teal Rhino Pro
Whether you've been a bowler for three decades or are relatively new to the game, chances are you're familiar with and appreciate the legacy of the Rhino Pros. When Reactive Resin first emerged in the bowling world, Brunswick wasted no time in making a splash with the Rhino Pros. It's incredible to think that the Teal Rhino Pro was introduced a staggering 30 years ago. What's even more incredible is that a ball with such vintage charm has risen to the top of Brunswick's most requested reintroductions. Brunswick is thrilled to bring back the Teal Rhino Pro to satisfy the nostalgic cravings of bowlers and pay tribute to this significant piece of history.To ensure the ball performs exceptionally well on modern lane conditions, Brunswick has upgraded the cover technology to the robust Activator Plus 3.0 Solid. However, they have stayed true to the core concept by retaining the original lightbulb shape without an outer ring, just as it was produced three decades ago. This ball is a true powerhouse, delivering impressive durability, outstanding performance, and carrying the weight of history. Don't miss out on this extraordinary opportunity to experience a piece of bowling history.
Color: Teal
All colors do vary somewhat from the picture shown
Core: Vintage Light Bulb
Coverstock: Activator Plus 3.0 Solid Reactive
Finish: 500, 1000, 2000 Siaair Micro Pad
Reaction: All Purpose
RG: 2.568 (15# Ball)
Differential: 0.032 (15# Ball)
Hook Potential: Medium
Length: Middle
Recommended Lane Condition: Medium Oil
Manufacturer's Warranty: Two years from purchase date
A few tiny pit holes in the cover stock of the ball are normal
SKU: BRU60106989
Product ID: 14552
Brand: Brunswick
Category: Bowling Balls
Ball Performance: Mid Performance Balls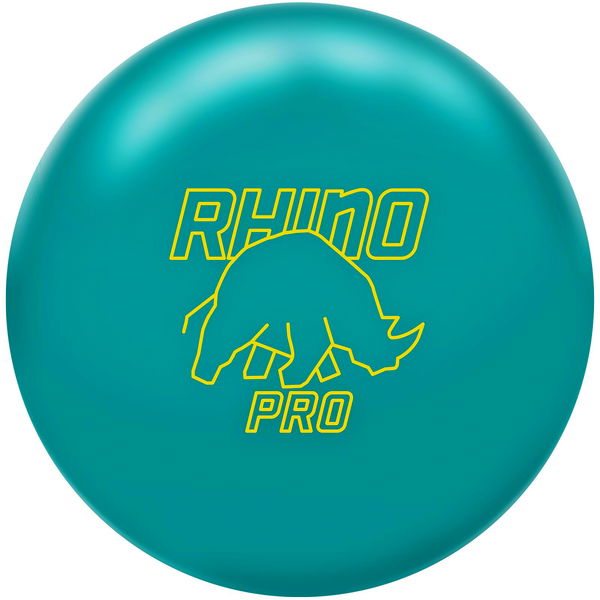 9/14/2023
By Kg from Calumet area
Pros:
Great carry. Predictable motion.
Cons:
Maybe not heavy oil.
Bottom Line:
Yes, I would recommend this to a friend
Awesome for straighter angles.
This will probably be my new goto ball. For comparison, to me it's just a bit more ball than a Hustle. Ball does most of the work, and seems to be a very controlled motion. Cover is pretty strong and earlier read but still has good down lane continuation. I actually hit mine with 3k pad after the first game to get just a bit more length and am really loving it now. Nice smooth shape and hits hard. If you give it a good roll into the general area, chances to strike are good. It seems to "hold" or "get up" at just the right time. Not a lot of over or under reaction, and ball has great carry percentage. Less than 10 games on it so far, but will be in my bag all season for sure. Have a lot of confidence in this ball after it leaves my hand. Plus it's fun to be rolling a classic Rhino. I would say not to be afraid to change the surface to fit your game or house. Seems like a very tunable coverstock. I'm just your average league guy stroker, playing around the second arrow at 16mph. Shot multiple 200+ games already.
7/26/2023
By Joe G from Discovery Bay, CA
Bottom Line:
Yes, I would recommend this to a friend
Amazing
This ball definitely lives up to the hype and reminds me of the smooth continuous motion of the original. Out of the box it's smooth and predictable with plenty of down lane motion once the lanes start to transition. I've been able to play up the boards and swing the lane with success and it has quickly become a go to in my arsenal.
7/18/2023
By Sweetpea Bowl from Worcester, Massachusetts
Bottom Line:
Yes, I would recommend this to a friend
Brunswick Teal Rhino Pro
So, recently there has been a lot of buzz about the remake of the Brunswick Teal Rhino Pro. Recently, I drilled 2- 1 with my favorite pin down layout, 60 x 5 x 70, the other with a stronger pin placement, pin up. I have tried the new Teal Rhino Pro on THS and 2023 PBA Scorpion. I used it at box surface. I also, for fun, I went to the basement to find an original Teal Rhino Pros from 1993 and put the same 2000 Siaair surface as the remake.

The idea behind the remake was to use the exact same core/thick shell as the original Teal but with an updated cover to handle the volumes of oil used nowadays but yet, be faithful to the original motion of the ball. From what I see...mission accomplished. On PBA Scorpion, the original gets "there" but it's laboring. The remake clearly reads the lane better with much clearer definition. What is interesting is that BOTH the original and remake have the rolly/smooth/slower response type of motion. At least for the pin down one, I could see this on wet/dry house shots and medium to shorter sport patterns. My gut tells me the pin up one with a stronger pin placement would be best on longer patterns which shows the versatility of the new Teal Rhino Pro. I have every confidence that this remake Teal Rhino Pro will easily earn a place in my bag. Also, as I recall from back in the day, the Teal Rhino Pro worked for every style and type of game…the remake should be no different.

The new Teal Rhino Pro releases I believe August 17, 2023- see your pro shop for more information!

Customer Questions & Answers | Reviews
Thanks for answering another customer's question! Once approved it will be posted here.
Question:
how does teal rhino pro compare to the gold rhino pro
8/8/2023 - By
rolly
Have an answer to this question?
Answer:
The Vintage Gold Rhino Pro had a stronger weight block inside but the pearl coverstock and polished finish out of the box made the ball go longer on the lanes to give it a more angular backend hook. The Teal Rhino Pro weight block has a lower flare potential but the solid coverstock and 2000 grit finish out-of-box help to give this ball an earlier bite on the lanes for a smoother arcing hook. Because the Teal Rhino Pro can grip earlier it can handle a little more oil than the Vintage Gold Rhino Pro. Both bowling balls are great mid performance pieces and a good fit in most bowlers bags.

8/8/2023 - By

Bowling.Com Staff

0

of

0

customers found this answer helpful. Did you? Yes | No Did you find this answer helpful? Yes | No Thanks for your feedback!
Question:
Would this be good on house conditions? Maybe light-medium oil conditions?
10/26/2023 - By
Reed
Have an answer to this question?
Answer:
Yes, this would be a good option for typical house conditions. This ball is designed to read the midlanes for a smoother arcing hook. If you have a slower ball speed then you may find this reacts too strong and too early for medium oil and may need to throw more in heavier oil. But if you have an average to fast ball speed this ball would work fine in medium oil conditions or most house conditions.

10/31/2023 - By

Bowling.Com Staff

0

of

0

customers found this answer helpful. Did you? Yes | No Did you find this answer helpful? Yes | No Thanks for your feedback!