We'd like to offer you $5 off your purchase of $50 or more today!
Coupon excludes instant bonus items, hot deal items, and gift certificates.
Hammer Scandal
Shock your competition with the Hammer Scandal bowling ball. This ball introduces the Scandal core which is covered with the Semtex Solid CFI (Carbon Fiber Infused) coverstock and is finished with a 2000 grit Abralon sanding pad. This core and cover combination produces a ball that has an unbelievably strong hook on medium to heavy oiled lanes. This bowling ball is Carbon Fiber Infused! Carbon fiber is one of the toughest materials on earth. Hammer decided to add this material to the inner core of this ball for added strength and durability allowing them to offer an incredible 3 year warranty.
Color: Blue/Green/Black

All colors do vary somewhat from the picture shown.

Core: Scandal with Flex-Resin Additive, Ceramix Surfacing Process, and Carbon-Fiber Outer Core
Coverstock: Semetric Solid CFI
Reaction: Aggressive Overall Hook
Finish: 500, 2000 Abralon
RG: 2.48 (15# ball)
Differential: 0.054 (15# ball)
Recommended Lane Condition: Medium-Heavy Oil
FCC Rating: Total- 27.75, Finish- 9, Core- 8.75, Cover- 10
Manufacturer's Warranty: 3 Year Limited
A few tiny pit holes in the cover stock of the ball are normal
SKU: HAMHMSCANDL
Product ID: 9782
Brand: Hammer
Category: Bowling Balls
Ball Performance: High-Performance Balls
Back to Top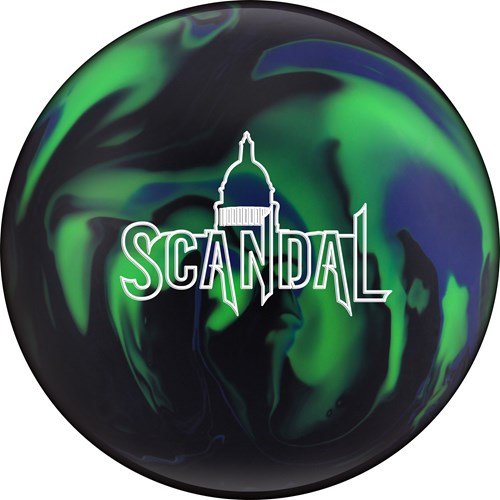 Similar Balls: Same Hook Potential, Lane Conditions & Coverstock as the Hammer Scandal.
2/23/2016
By
DSA-1
from Lynnwood, WA
Bottom Line:
Yes, I would recommend this to a friend
Simply amazing
I was so impressed with this ball I want everyone to know about it. Right out of the box I bowled a 713 series, 245,246,222, it would have better but I choked a little, I give all the credit for such an awesome series to this hammer ball scandal. You need this ball in your bag.

8/5/2016
By
Freeswing
from Washington, DC
Bottom Line:
Yes, I would recommend this to a friend
Who Doesn't Like A Good Scandal
Pattern was Fresh PBA Chameleon
This is the really the only pattern (other then badger) I could use the Scandal at box surface and it really does hook. However that is not the impressive part it was league night trios, my teammates were playing the around the same line as I was a by the start of game to you can really see were the Scandal created a nice path to the pocket for us. What I like most about the Scandal is the ability to get down the lane and still store the energy even with the heavy box surface. This is a must have ball for the oil also if you want something to help break a pattern down this ball can help.
Tournament Challenge 44ft pattern
I played around with the surface on the Scandal and used it at a challenge pattern tournament I believe the pattern was 44 ft in length. I was pleasantly surprised the Scandal with wet sanded 3000,4000 was the ball of choice and I was able to use it all 6 games as well as during match play. I played around the 12 and 13 board. The Scandal had no problem finishing, and toward the last two games when the pattern was starting to break down I had miss room to the right and it came steaming back to the pocket. This is a excellent ball and it can take surface adjustments well.

9/25/2016
By
Hammer Staffer Bradley Crouse
from Wichita, KS
Bottom Line:
Yes, I would recommend this to a friend
Hammer Scandal Review
I have many positive views on this ball. The Hammer Scandal is one of the biggest, strongest balls that I've ever thrown. I went with one of my favorite layouts (Pin under bridge) on the one I most recently drilled. It hooked in the right part of the lane and the ball shape fit my eye really well. It hooks from just about everywhere and I can see many uses with this ball. The Scandal will look great on most high volume patterns that will be encountered. I can see this ball being a great fit for anyone who's looking to add a very high performance, strong bowling ball to their arsenal.

2/12/2016
By
Sweetpea Bowl
from Worcester, Massachusetts
Pros:
Durability, Shelf appeal, Will excel on heavy volume patterns, Will excel on longer patterns
Cons:
Not for lighter volume patterns
Bottom Line:
Yes, I would recommend this to a friend
Lots of hook and continuation
Scandal by Hammer. The core is symmetrical featuring a 2.48 RG (15# ball) & a differential of .054. The coverstock is Semtex Solid cover infused with carbon fiber for increased durability. The new Scandal is bright green & black and box surface is 500/2000 Abralon. Like with all Hammer equipment featuring carbon fiber, the Scandal comes with the industry leading 3 year warranty.
My "vital statistics" are that my PAP is 5 ½ over and 1/8 up with a rev rate of 405. Additionally, I have thrown this ball on USBC White pattern as well as a variety house shots/surfaces. I have thrown the ball at box surface & at 500 Abralon finished with Clean N/ Sheen. I drilled the Scandal with a 90 x 5 ½ x 15 layout.
Prior to drilling my staff ball, I threw the Scandal at a demo. The ball came with the standard demo ball layout & box surface. On a fresh house pattern, I still found myself standing 35 shooting over 20 to about 5. This ball is one of the most hooking balls that Hammer offers. Yet, the Scandal continues through the back part of the lane. Thus, after throwing the demo ball, I immediately went to a smoother surface to generate additional length. Even with the smoother surface & the very weak layout, I still found myself standing on the far left part of the lane and taking a steep angle through the front to give the ball enough room.
In a nutshell, this ball is all about hook and lots of it. As such, this ball is best suited for heavier volumes of oil with longer pattern distances. With sufficient oil, the ball will retain sufficient energy and go through the pins properly. I believe that people with lower rev rates would benefit very much from the strength of this piece of equipment. People with higher ball speeds combined with a higher rev rate will also benefit from the Scandal where other pieces of equipment do not read the lane fast enough. Those who have medium speed/medium rev rate will need volume to get ball down the lane.
See your proshop for the Hammer Scandal!

2/2/2016
By
jkaseehammer
from Knoxville, TN.
Bottom Line:
Yes, I would recommend this to a friend
Holy Hook In A Box!!
Holy hook in a box!! This ball is easily the most aggresive ball in the Hammer line! I used a 70 x 5 x 35 dual angle lay out and this ball is amazing! With the new Semtex Solid CFI (Carbon Fiber Infused) coverstock this ball gives a strong read to every part of the lane and has great continuation from having a symmetrical core. This ball is a MUST HAVE ball for your bag.
jkaseehammer

2/16/2016
By
Plowboy300
from Sarasota, FL
Pros:
Perfect for Medium Heavier - Heavy Lane Patterns
Cons:
Drier Lanes
Bottom Line:
Yes, I would recommend this to a friend
BIG Hook ball from Hammer!!
The Scandal is one of those special motion balls that arrives on scene, which every type of bowler will love this ball motion. The Scandal offers the a new technology that infuses Carbon Fiber into the coverstock to offer the most hooking potential in the Hammer brand on the heavier medium to heavy lane patterns. The great thing about this strong rolling piece is you can keep moving left and the ball does not stop moving toward the pocket. I am really impressed with this ball motion from the Hammer brand. The Scandal is about 3-5 more than the Red Legend Solid, but offers a much strong movement in the backend part of the lane than the Red Legend Solid.

With the new 3 year warrantee that Hammer provides for this ball, this is the BEST bang for your buck!
I think this ball will be a must have ball for those that are looking for something offers a great motion that does not stop rolling in the backend - it really continues through the pin deck! Very versatile ball... You will be impressed!

8/17/2016
By
jpaoli
from Des Planies IL
Bottom Line:
No, I would not recommend this to a friend
I would not buy this product again
Great back end reaction on medium-heavy oil.

4/12/2016
By
NHLWLD
from Minneapolis
Pros:
Hooks as advertised., When not covering a lot of boards carried A+
Cons:
If covering too many boards leaves lots 9s, found non consistent reaction o/u
Best Uses:
Have not had a chance on heavy heavy oil, but for now the scandal is in it underperforming
Bottom Line:
No, I would not recommend this to a friend
Scandal maybe the right name
It does hook. Over hyped in my opinion. Doesn't hit like Widow or Taboo line. Lots of over/under. Have not used it on heavy heavy long length oil so may be a better match. Bowl on Med/Heavy to Light Heavy 40 ft.

5/25/2016
By
Herculee
from Hollywood Fl.
Pros:
good control and great hook
Best Uses:
Heavy oil
Bottom Line:
Yes, I would recommend this to a friend
great ball
Using this ball has been a pleasure. My average has steadily increased.

7/20/2016
By
King K Roll
from Ohio
Bottom Line:
Yes, I would recommend this to a friend
Learned to love it.
Bowled my first 300 with it. Struggled for months with angle, but obviously figure it out (for 10 frames).

1/20/2017
By
Doug Moss
from Dayton, OH
Pros:
3 year warranty on all hammer balls, Can throw it on 99% of house shots, Can throw it on very slick conditions, Carbon FIber Infused
Best Uses:
House shots, Very slick lanes, sport shots
Bottom Line:
Yes, I would recommend this to a friend
One of my favorite releases in a few years.
This has been the best surprise of the season for me. I thought this ball would be wayyyy to strong to throw on house shots, but i have been surprised over and over by this ball. I have higher ball speed and a higher rev rate and this ball is perfect for the fresh and i can throw it later in the day too. If i want to hook it, i just open my angles up and throw it right and the ball responds very aggressively to the friction. If you have higher ball speed like me (18+mph), over throwing a ball can sometimes be an issue and i have put well over 100 games on this ball and i havent been able to overthow it.

Also, i love this ball because i know it has a Hammer only, 3 year warranty. If you love balls that you can play the track area with and also play the 4th arrow with, then this ball is a winner for YOU. This is one of the best HP balls i have had in my 10+ years of competitive bowling.

Customer

Questions

& Answers

| Reviews