Take $5 off your purchase of $50+ today!
Coupon excludes instant bonus items, hot deal items, and gift certificates.
Hammer Scorpion
The Hammer Scorpion is ready to strike! This performance ball takes the successful LED core and wraps it in a Symtex Hybrid coverstock that provides a medium RG and high Differential. This core and cover combination helps create a strong mid-lane and backend reaction on medium oil conditions.
Color: Black/Red/Gold
All colors do vary somewhat from the picture shown
Core: LED 2.0 (14-16#) (modified core for 12-13#)
Coverstock: Semtex Hybrid
Finish: 500/1000/2000 Siaair Micro Pad
Reaction: Strong midlane and backend
RG: 2.520 (15# ball)
Differential: 0.043 (15# ball)
Recommended Lane Condition: Medium to heavy oil
FCC Rating: Total- 25.25, Finish- 8.75, Core- 7, Cover- 9.5
Manufacturer's Warranty: Two years from purchase date
A few tiny pit holes in the cover stock of the ball are normal
SKU: HAM60106564
Product ID: 13204
Brand: Hammer
Category: Bowling Balls
Ball Performance: Mid Performance Balls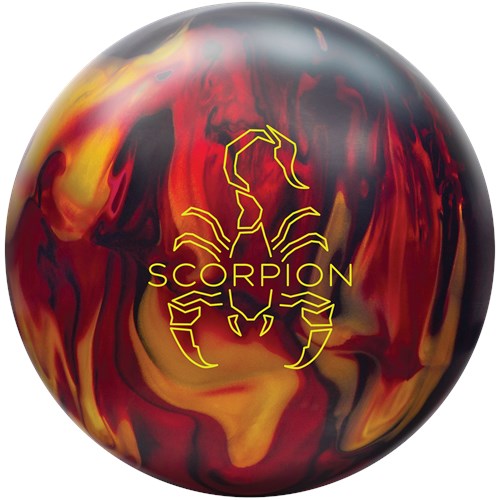 7/2/2022
By PimpJuicE from NJ
Pros:
Great amount of length, great continuation through the pin deck
Cons:
None that I've encountered so far
Best Uses:
Good game 2-3 ball in an arsenal
Bottom Line:
Yes, I would recommend this to a friend
Excellent compliment to my Widows
Just got mine drilled Pin Down. It has great length with excellent continuation thru the pin deck. It definitely compliments my BW 2.0 and BW Pink Reactive. Bowled 247, 267, 279 fresh out of the box. Loving this ball so far.
5/9/2022
By Skylor from MN
Pros:
Can work inside and outside lane, cool looking, solid on house lanes
Bottom Line:
Yes, I would recommend this to a friend
Solid Ball
Took me 2 weeks to find the groove but once I found it I could drop strikes left and right.
1/27/2022
By Petro from California
Bottom Line:
Yes, I would recommend this to a friend
Scorpion
The Scorpion is the next must-have for Hammerheads. The Scorpion uses Symtex Hybrid to create a strong mid-lane and backend on medium conditions. Strong, predictable, and deadly. Qualifies in the WOW factor. This is a great symmetrical ball that picks up the lane with an extremely strong backend reaction. A benchmark ball for all tournaments.
1/2/2022
By Michelle from Oregon
Bottom Line:
Yes, I would recommend this to a friend
Packs quite the punch!
Continuous, smooth and great on a variety of conditions. This hybrid ball packs much more punch than I expected. Hammer has done it again and you will be extremely happy with this purchase.
10/12/2021
By Rushjo from Indiana
Pros:
Great through the heads, picks up roll easy - continuous through the pins!
Cons:
Bigger then I thought it would be, especially for mid performance!!
Bottom Line:
Yes, I would recommend this to a friend
Bigger then I thought, it is controllable
I just got this ball drilled. I was on left over league conditions. It tool me a fee to find where to through it. It still made it through the heads very clean. I was surprised how easy it picked up rolling and looked like it went fast!
It was very continuous and controllable in the backend. Looking forward to league night!!
10/1/2021
By Mike R from Monterey, CA
Bottom Line:
Yes, I would recommend this to a friend
Scorpion is AMAZING!!
The Hammer Scorpion review is going to be short and sweet! GO GET THE BALL NOW!!!! Hammer got it PERFECT with this ball and for the price point, you'll get more than what you are expecting! I drilled mine 55 x 4.5 x 30 and it's been the best at all events (league and tournaments). For a dull surface, this ball is clean through the front part of the lane but packs a punch with a strong but controllable backend.
8/24/2021
By Jkaseehammer from Hamilton, OH
Bottom Line:
Yes, I would recommend this to a friend
Hammer Scorpion
I used a 60 x 4 x 25 layout on this ball, which put the pin at 2 o'clock. This ball has been very versatile. I have been able to use this ball, with 1000 surface, on shark and red square challenge patterns and also on my local house shot (with 3000 surface). This ball is a great first ball out of the bag on fresh conditions. It is smooth, continuous, and for me, is a great ball to use before stepping down to my Web Pearl, when the fronts start to dry up!
8/24/2021
By Jim P from Pittsburgh, PA
Bottom Line:
Yes, I would recommend this to a friend
Hammer Scorpion ball review
The Scorpion is much more ball than I expected. I put my favorite symmetrical layout on it and it picks up earlier than I expected but doesn't quit down lane as I would expect from balls that are that early. It will be the first ball out of my bag when I'm on heavier volumes or longer sport patterns. It also gives me the control I like to see out of a stronger, heavy oil ball.
7/14/2021
By Phil from lake dallas TX
Pros:
picks of the mids great
Best Uses:
house shot killer
Bottom Line:
Yes, I would recommend this to a friend
sting the competition
Drilled 4 ¾ x 35 this ball is the ULTIMATE house shot killer! At 63 my rev rate is not what it used to be, at a rate of 300 rpm with my axis tilt at 12 degrees, axis rotation at 70 degrees and ball speed at 16 mph. This ball picked up the mids extremely well and instead of dying on the back it blasted thru the rack (even on a used pattern). Having the same weight block as the Purple Hammer and a proven coverstock will be the perfect combination for any bowler.
7/14/2021
By Sweetpea Bowl from Worcester, Massachusetts
Best Uses:
medium/heavy volume patterns, sport patterns
Bottom Line:
Yes, I would recommend this to a friend
Hammer Scorpion
So, here are some initial impressions on the new Hammer Scorpion. The Scorpion features a modified LED symmetrical core (similar to those used in the Purple Urethane Hammers) with a Semtex Hybrid cover. I have had a chance to try it on fresh THS and a 42' 5:1 challenge pattern with 27 ml of oil. I did a bit of an experiment in going with a 60 x 4 x 25 layout. I have not drilled such a strong pin placement in a long time. I tried the ball at box surface which is 2000 Siaair on THS and then put a 4000 Siaair surface on it when I again tried it fresh THS and the fresh challenge pattern. My "vitals" are a 405 rev rate with a PAP of 5 9/16 over and 1/8 up.

Surprisingly, the Scorpion covers more boards than I expected at either surface. The motion is a little smoother and continuous but again, it covers a lot of territory so to speak. I prefer the 4000 Siaair surface simply because it creates a little easier length. At that surface there was no issue with the Scorpion properly reading the midlane on either THS or the challenge pattern. It is easy to see the earlier read at 2000 Siaair.

I see this ball in play on medium to higher volume patterns with medium to longer distance patterns. It does not have the quickest response off the friction...but it is absolutely smooth and continuous and again should be in play in many different environments.

The Scorpion already made one TV show in Portland, ME several weeks ago and is formally available as of July 30, 2021. See your local pro shop for more information on the Hammer Scorpion.

7/9/2021
By Mathew J from Arizona
Pros:
Great on variety of patterns
Cons:
When the fronts start to go and backends tighten
Best Uses:
Most flat patterns or house patterns
Bottom Line:
Yes, I would recommend this to a friend
Massive sting
The scorpion is a great hybrid and a very strong piece for its price point. Even though it's in our mid range category this ball rolls more like a strong upper mid. Reads the lane just early enough to still be able to maintain enough continuation downlane to get through the pins properly. This ball definitely has the versatility to be used on variety of patterns.
Customer Questions & Answers | Reviews
Thanks for answering another customer's question! Once approved it will be posted here.