Take $5 off your purchase of $50+ today!
Coupon excludes instant bonus items, hot deal items, and gift certificates.
Brunswick Rhino Red/Black/Gold Pearl
The Brunswick Rhino bowling balls balance control and power and don't react extremely to dry or oily areas on the lanes. These factors make this ball great for an entry level bowler or any bowler who isn't looking for a big hooking ball. Brunswick achieves this reaction by combining the R-16 reactive coverstock with their Light Bulb core.
Color: Red/Black/Gold
All colors do vary somewhat from the picture shown
Coverstock: R-16 Pearl Reactive
Core: Light Bulb (12-16#)
Finish: 500 Siaair / Royal Compound / Royal Shine
Reaction: Slight Hook
Recommended Lane Condition: Any
RG Max: 2.554
RG Min: 2.524
Differential: 0.030
Hook Potential: 95 (scale 10-250)
Length: 160 (scale 25-235)
Breakpoint Shape: Medium 90 (scale: smooth arc 10-angular 150)
A few tiny pit holes in the cover stock of the ball are normal
SKU: BRU60105813
Product ID: 9860
Brand: Brunswick
Category: Bowling Balls
Ball Performance: Entry Level Balls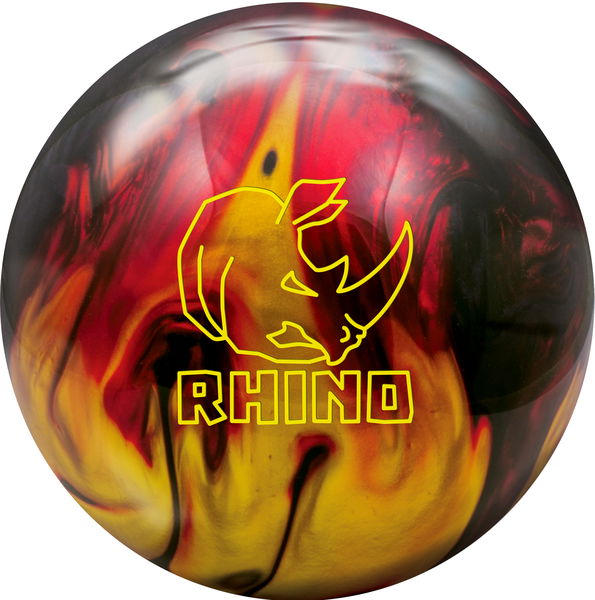 5/14/2023
By Major Paine from Ohio
Pros:
Great pin action, Top shelf quality at economy price
Cons:
Economy price makes it look like a cheapy ball
Best Uses:
Your best overall ball in your bag!
Bottom Line:
Yes, I would recommend this to a friend
Technology Advances
Hi, SURPRISINGLY great pin action. Stringing strikes together is no problem with this ball. I'm retired now and needed more aggravation in life so I have just started to bowl again. I have not bowled in 45 years and yet it all comes back to me like riding a bike. I had (bowling.com) predrill it to a conventional grip to try out to see if I could even bowl after all the years? Technology has advanced with the bowling balls. I certainly have not gotten better over the years by not bowling except I already see an 18 pin game improvement over what I use to average and that has to be due to the better balls on the market now and this is one worth using. Thanks guys!

4/16/2023
By Kingzilla10123 from Crossville IL
Pros:
Great for beginners, great for having fun, great for practicing
Cons:
Doesn't react as much as I want it to
Bottom Line:
Yes, I would recommend this to a friend
Very good ball I can get it to have reaction and not have reaction
It was my first reactive ball and great I was getting really good scores immediately after I got it.
7/28/2022
By Dafonzi01 from Pennsylvania
Pros:
Great graphics that light up under blacklight, goes where you want it, has some Hook potential.
Best Uses:
Beginners that want their own ball.
Bottom Line:
Yes, I would recommend this to a friend
Great first ball
Great first ball to learn with that you can keep even when you had higher performance balls since it reacts very well in all lane types. I would suggest this ball for anyone wanting their own ball .
5/22/2022
By Ryan from Pittsburgh, PA
Pros:
Good Hook, Good Finish, Easy to control
Bottom Line:
Yes, I would recommend this to a friend
Love this ball
I bought this for my 10yr old son who had just started his second year of bowling. He absolutely loves this ball and after getting it almost half way through the season he was able to raise his average by about 16 pins by the end of the season. For a 10 pound entry level ball it does have the capability to have a pretty decent hook and finishes strong.
5/26/2021
By Utah Bowler from Utah
Pros:
Unprecedented control, hit power, any lane conditions
Bottom Line:
Yes, I would recommend this to a friend
Secret Gem
This is the best ball on the market hands down. It is a bit of a secret. I do not see to many people with it even though it is usable in any conditions, by just about any level.
I have been contemplating buying a few more and having them each drilled a little different just to see what can be done.
Also it is great because it still has a full core in a 12lb ball if you are on the smaller side.
1/9/2021
By G.G. from Verona, Wisconsin
Pros:
Good on dry to medium conditions.
Cons:
Not a coast to coast breaker.
Best Uses:
When playing from right to left for right handers.
Bottom Line:
Yes, I would recommend this to a friend
Looks great, and solid performance.
Brunswick Rhinos and Twists are some of the best looking bowling balls that are out there today. Also great bowling balls for the money, and out perform the price point. Outstanding value for sure.
11/25/2018
By dd from ashland ohio
Bottom Line:
Yes, I would recommend this to a friend
great ball
great ball lot of hiting power I use a 12 lbs ball
8/26/2017
By Jalepeno from Colorado Springs
Bottom Line:
Yes, I would recommend this to a friend
wonderful
The Rhino is a perfect fit for my bag. It has everything I need when I ball down.
5/27/2017
By Groberts Brunswick/radical/dv8 staff from Oklahoma
Bottom Line:
Yes, I would recommend this to a friend
Great entry level ball
I'm right handed med speed drilled pin above ring finger and cg to right 1inch very smooth rolling ball
2/28/2017
By Waynecz from Ocean Springs, MS
Bottom Line:
Yes, I would recommend this to a friend
Brunswick Rhino Red Black Gold Pearl
This is my second review on this ball now that I have used it three times. I have just started bowling again and this was my first personal ball ever. This ball gets down the lane smoothly and pops with good power on the pins. I have noticed as I bowl more I am getting really good straight control with this ball to go where I would like it to go, providing I line up right of course. I have since purchased another ball from bowling.com and I use this one for my 2nd roll to pick up spares more frequently due to having this straighter control. Highly recommend this ball if you are starting into bowling or starting again.
2/13/2017
By Wayne C Z from Ocean Springs, MS
Bottom Line:
Yes, I would recommend this to a friend
Brunswick Rhino Review February 2017
Just got back into bowling with my spouse and wanted to have my own ball. This is the purchase I made with pre-drilled holes which I determined a measurement to do from another on line web site and the holes were drilled perfectly for my hand size (X-Large). Bowling.com placement of order is next day typically and I had this ball by the end of the week and was bowling with it that weekend. Absolutely phenomenal speed of placing the order and shipping and notifying by email waht is going on. I highly recommend this company. Thanks!
10/1/2016
By Ry from Fort Wayne, IN
Pros:
HITTING POWER at the price point!, Predictable Strong motion off the dry, VIBRANT COLORS
Best Uses:
Beginning Bowlers, Drier Conditions, Shorter Patterns
Bottom Line:
Yes, I would recommend this to a friend
SO MUCH BANG FOR YOUR BUCK!
Very impressed with how hard this ball hits! Dont really see that out of balls at this price point. Very easy length down the lane with a predictable move off the backend but really drives through the pins. Great piece for me on shorter patterns and late in the day dry lanes. Have seen guys with slower ball speeds or guys with a ton of revs really crushing racks with this ball on a fresh house shot
7/23/2016
By Justin Knowles from Okemos, MI
Bottom Line:
Yes, I would recommend this to a friend
Low price point for high performance
This Rhino was an exceptional amount of backend for the price point on house. Effortless length and strong motion off the dry was exactly what Brunswick wanted to deliver and they hit the mark. I found it to be about 3-2 off of my Strike King, so they've upped the ante of low performance results. On the 37 ft high volume sport pattern, the Rhino had a tough time getting back to the pocket as expected with the shiny finish, so I took it down to 1000 and found that it was very handy as the fronts and mids began to break down. The surface helped even out my reaction as well and became a great tool for tough patterns when you need to clear the fronts and not be violent on the backend. Another great Brunswick product! #TeamBrunswick
5/28/2016
By Jim S from Scranton, Pa
Bottom Line:
Yes, I would recommend this to a friend
Brunswick Entry Level Rhino
Rev Rate ::: 300
Ball speed:::: 16 mph
Right Handed
PAP 4 3/8 over by 1/2 up
Condition:::::40 ft. House shot
This is my review of the New Entry Level Brunswick Rhino. I selectd the Black/Silver .
What I was looking for in this ball was a ball that can get me more right than I have been instead of spotting 17 out to 10 .
What I got was just what I was looking for. The New Rhino got me lined up on20 with my left foot and playing straighter than I ever have before. I can play 8 or 9 and get the ball down the lane longer than and a little sharper break down lane. This ball gave me the down lane movement without over reacting. This is going to be an excellent ball for me when the lane breks down later in the session.
This will give me the control on shorter patterns also. I will recommend the New Rhino is you are looking for a ball that is controllable and predictable as you move right and play the outside lines.
The opinions expressed are solely those of the writer and not Brunswick Bowling .
Jim Sabatell
DV8 Regional Staff
5/13/2016
By Cng260 from Greenville, SC
Pros:
Length, amount of hook, smooth strong transition, value
Best Uses:
breakdown, drier lanes, track area on league conditions
Bottom Line:
Yes, I would recommend this to a friend
Awesome Bang for your Buck
Pin Length: 4
Starting Top Weight: 2.3 oz
Ball Weight: 15 lbs 4 oz
DRILL PATTERN
Ball: 65 x 5.5 x 35
X Hole (if there is one): none
BOWLER STYLE
Rev Rate: 375 rpms
Ball Speed:17.5 mph
PAP/Track: 4 3/4 over 3/4 up
SURFACE PREP
Grit: High gloss polish
Type: (Matte, Polish, Sanded): Polished
LANE CONDITIONS
Lengths of patterns: 34 foot sport and 41 foot house
Volumes: moderate to lower
Type: house and sport
BALL REACTION
Length: Clean through the heads and midlane
Back End: skid/flip
Overall Hook: not very aggressive
Midlane Read: none
Breakpoint Shape: skid/flip
COMMENTS
Likes: Strong move off of friction and easy length on lighter conditions
Dislikes: none
The Rhino is a strong and smooth entry level ball from Brunswick. It is a great value and hooks a bit more than you would expect. It is a little longer than the Strike King it replaces and a bit more angular at the breakpoint. I plan to use this ball when my benchmark balls, like the Danger Zone, are hooking too much. When comparing it to the Danger zone it is about a 5 and 3 move right on the lane with my feet. The Rhino also hooks a few feet later. I believe it will see a good bit of use later in tournament blocks and when I need to start out playing right in the drier part of the lane during league. If your looking for a great performance for a good value I recommend checking out the new Rhino.
5/1/2016
By alex from richmond, va
Bottom Line:
Yes, I would recommend this to a friend
sweeeeeeeeet
If your new to the sport of bowling this is a awesome place to begin. This ball is perfect for THS during leagues or practice. The ball is a pearl which helps on the back half of the lane to create some backend .
8/26/2021
By IceWater from Texas
Pros:
Gets down lane, Good enough hook
Best Uses:
House Shot, Medium Oil
Bottom Line:
Yes, I would recommend this to a friend
Good Ball Definitely Would Recommended
Love the ball it allows me to somewhat still use angle if i want but also does well with a straight shot. Definitely a good ball doesn't break as hard but it will if you use a good amount of rev
7/10/2018
By Ruthie from Terre Haute Indiana
Best Uses:
No, I would not recommend this to a friend
I would not buy this ball again
I don't know if this ball was drilled correctly or not. What I do know is that I'm not getting the reaction that the specs say that I'm supposed to get. This ball hooks so bad its ridiculous. I have to stand almost in front of left-hand channel, swing it out between center & third arrow & it still comes back screaming. There is nothing long length, late hook, slight hook or low flare about it. Its violent, I through my money away.
Customer Questions & Answers | Reviews
Thanks for answering another customer's question! Once approved it will be posted here.