Radical Deadly Rattler
The Radical Deadly Rattler: a pearl variant of the acclaimed Rattler, now enhanced with the cutting-edge HK-22 (Hyperkinetic-22) coverstock. This innovative cover sets a new industry benchmark for performance. With the HK-22 addition, the Deadly Rattler delivers a cleaner front-lane projection and a sharper, more relentless down-lane motion compared to its predecessor.The Deadly Rattler maintains the same core as the original Rattler, boasting an RG of 2.48 and a differential of .035. When combined, the Rattler and the Deadly Rattler create a venomous one-two punch on the lanes. Experience the evolution of precision and power with the Deadly Rattler.
Color: Red/Silver
All colors do vary somewhat from the picture shown
Coverstock: HK22 - HyperKinetic Pearl Reactive
Core: Rattler Symmetric
Finish: 500, 1000, 1500 Siaair/Factory Compound
RG: 2.480 (15# ball)
Differential: 0.035 (15# ball)
Recommended Lane Condition: Medium Oil
Manufacturer's Warranty: Two years from purchase date
A few tiny pit holes in the cover stock of the ball are normal
SKU: RB60108023
Product ID: 14810
Brand: Radical
Category: Bowling Balls
Ball Performance: Mid Performance Balls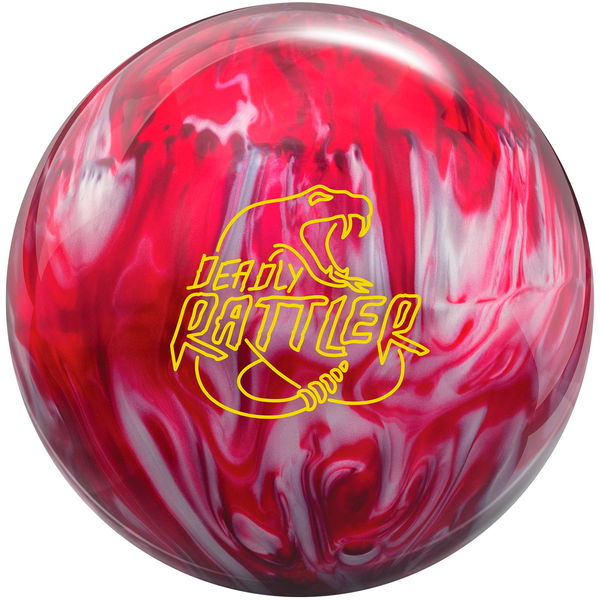 11/16/2023
By Robert way from Sanford,N.C.
Best Uses:
Medium to light lane conditions
Bottom Line:
Yes, I would recommend this to a friend
Deadly Rattler
he Deadly Rattler
I'm a left handed bowler. With a ball speed around 14.5 mph. My Rev rate is around 275rpms. I recently punched up the new piece of equipment. My layout choice is 70 x 3 1/2 x 20. With the HK22 cover on it. It is clean through the front part of the. And has a very continuous backend motion. This layout and ball allows me to get deeper. When the shot opens up. If you're looking for a ball for light to medium condition. Well this would be a great choice. It is a great addition to the Radical Bowling Technology.

Robert Way
11/2/2023
By Bob Newman from Pacifica
Bottom Line:
Yes, I would recommend this to a friend
Radical Deadly Rattler
I picked up the Deadly Rattler because the first Rattler became one of my favorites when it came out last year. A smooth motion ball that carried. As soon as I threw this ball, I recognized the shape it created. It reminded me not of the Rattler, but another of one my favorites from the Track line-up, the Sensor Pearl. I did a little looking and the numbers are really close & the cores (Regulator & Rattler Symmetric) are very close in shape. Yes!!! A ball I already liked and now it has HK22 thrown into the cover??? Awesome. Super clean through the front, not flippy, and very continuous. Then you have the Red & Silver that mesh really well and look great going down the lane. I see this ball working great on shorter patterns, low volume patterns, for higher rev players, or any time the lanes starts to hook. I Like it!!
10/29/2023
By Tmarlow from Hanford,ca
Bottom Line:
Yes, I would recommend this to a friend
The deadly Rattler is very deadly
How do you make one of the best Symmetrical balls even better you add HK22. I drilled mine 60x5x30 same as my Rattler and it was cleaner and stronger.this one is quickly becoming one of my favorites.
10/12/2023
By James G from Maine
Pros:
consistent, smooth, controllable
Cons:
light volume, super heavy oil
Best Uses:
medium to medium heavy patterns, sport shots
Bottom Line:
Yes, I would recommend this to a friend
Radical Deadly Rattler review (with video)
RADICAL DEADLY RATTLER REVIEW (with video)

The Radical Deadly Rattler is the pearl complement to the phenomenal Rattler Solid. The Deadly Rattler uses an HK22 base pearl resin coverstock and the rattler symmetric core to give bowlers length and continuation on most medium, to medium heavy, oil patterns. I drilled my Deadly Rattler 70 x 4.5 x 35 for a true benchmark layout, and this ball delivers big time. I get about 2-3 feet more length than the original Rattler Solid, and a sharper angle off the spot. It is a great 1-2 punch when you want control mixed with performance. I have used it on Kegel Stone Street and Beefy Burrito (sport pattern) with great success on each. The Deadly Rattler releases 10-19-2023 and is available for pre-order now from Bowler Builders Pro Shops. Get your hands on a true benchmark symmetric pearl and join the Radical Revolution today! Here is the three-shot video of the Deadly Rattler:

https://www.youtube.com/shorts/z-NUkiQqrLs

Thank you for considering Radical for your next purchase!

10/8/2023
By Clancy from AZ
Bottom Line:
Yes, I would recommend this to a friend
Deadly Rattler
I drilled mine 4 ¾ by 30 looking for increased downlane motion and this ball did not disappoint. I was hoping for later and quicker response to the friction along with continuation compared to the OG Rattler. The Deadly Rattler delivers this and then some.
Customer Questions & Answers | Reviews
Thanks for answering another customer's question! Once approved it will be posted here.